Everyone knows you shouldn't judge a book by its cover, but what about a restaurant? The Suburban Room, a cozy little watering hole tucked along Dormont's West Liberty Avenue, was like a set piece from the early Mad Men era. Its frankly provincial name, shiny turquoise Carrera glass storefront and elegant chrome-script signage enticed us on a few occasions to experience the time capsule within. (Whiskey sour, anyone?)
Then, a few years ago, The Suburban Room closed, taking its gloss of midcentury sophistication with it. The storefront's new occupant, Jamison's, struck us as just another sports bar, and we didn't go back.
Until last week, after a friend had sung the praises of Jamison's food. He was right, we were wrong, and now we atone publicly for our aesthetics-based abandonment of this excellent tavern.
Outside, promotional banners still cover much of that gleaming storefront we loved, and inside, the setup is standard-issue sport-bar: dark-ish, with lots of flat-screen TVs and a heavy emphasis on wings, burgers and other salty, beer-friendly foods. But, with two pork-based moves, Jamison's menu separates itself from its myriad peers. The first: Bacon Stix. The second: Basi burgers. Allow us to explain.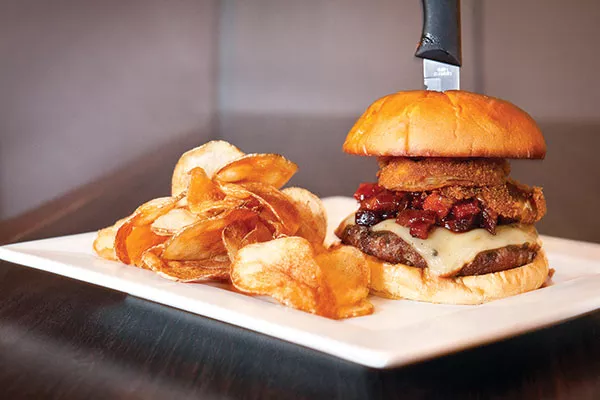 Even Jason has grown a bit weary of the recent bacon mania, but still: Bacon is delicious. Even more so are Jamison's Bacon Stix, four-ounce slices of hickory-smoked bacon (an ordinary slice is about one ounce), fried and balsamic-glazed. The vinegar's sweet-tart richness, judiciously applied, can be the perfect enhancement to balance bitter flavors, and a foil to salty ones. That's how it works on the Bacon Stix, upping the interplay of sweet, sour, smoky, salty and savory notes to positively symphonic levels. This balsamic bacon's texture is chewy like a snack and meaty like a meal, and it lends itself to all sorts of applications. Indeed, Bacon Stix show up all over the menu: on pizzas and sandwiches, in salads and even pasta carbonara.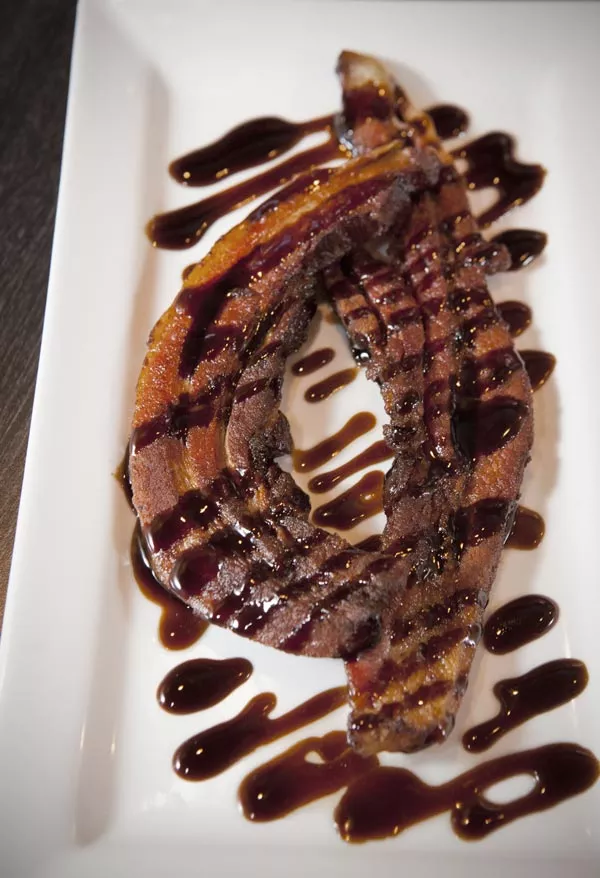 Basi — short for kielbasa — puts an often-overlooked form of pork, uncured Polish sausage, at center stage. Any burger at Jamison's is available with beef or basi patties, and you can also get just about anything — pierogies, quesadillas, a nachos-like mountain of potato chips — stuffed or topped with it.
We held off on the Basi until burger time, though, and began with traditional potato pierogies. Their thick, almost pastry-like wrappers were fried crisp, which might be a problem if those wrappers weren't so good: tender and flaky, not tough or chewy, despite their time in a searing-hot pan. The contrast with flavorful, creamy potato-cheddar filling and plenty of buttery onions was effective.
Burgers are available in various tantalizing designs, from the Memphis (barbecue sauce, Swiss cheese and cole slaw) to the Sunrise (with egg). A simple, unadorned quarter-pound beef burger was a cross between diner-style (well-griddled with crisp edges) and the current fashion (plump and fire-charred) with good quality, beefy-tasting meat. We liked that all the burgers were available in four- or eight-ounce portions.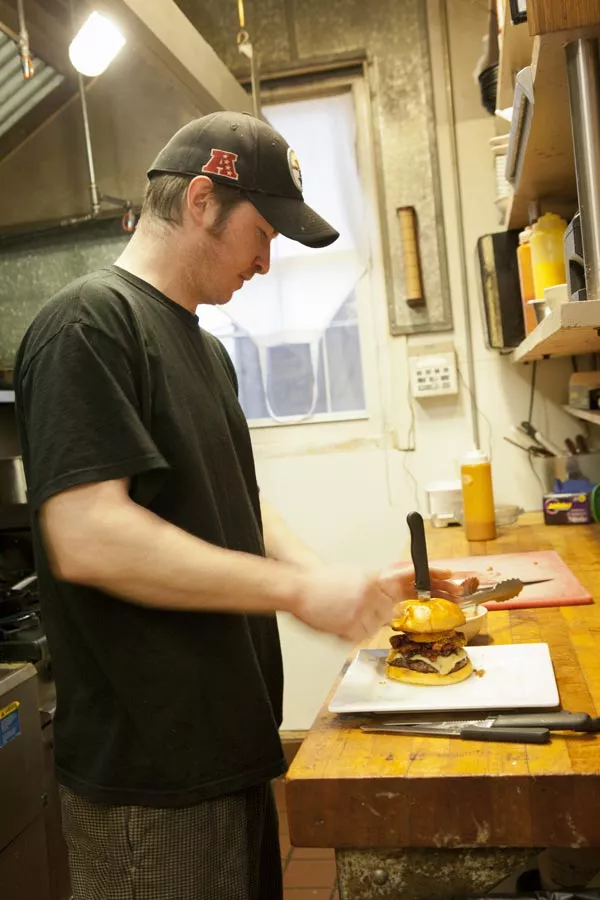 We tried our Basi burger smokehouse-bacon barbecue style: topped with smokehouse-aged white cheddar, Bacon Stix, barbecue sauce, homemade onion rings and a pickle. Unsurprisingly, this towering combination was taller than it was wide, with a stack of three onion rings contributing much of its mass. But wow, was it good, especially in bites where the smoked white cheddar stepped forward. Among all of these ingredients, though, it was a bit hard to tease out the particular contribution of the Basi patty. Jason thought the seasoning of the kielbasa might have contributed to a bit of salty overkill in this particular combination. Next time, he'll order a Basi burger naked to savor its full effect.
Sweet barbecue sauce in the pulled-pork sandwich lived up to its name, unfortunately overwhelming the pork, which seemed to be pretty good underneath it all. A slice of red onion was a nice touch, its pungency a welcome counterbalance to the sauce.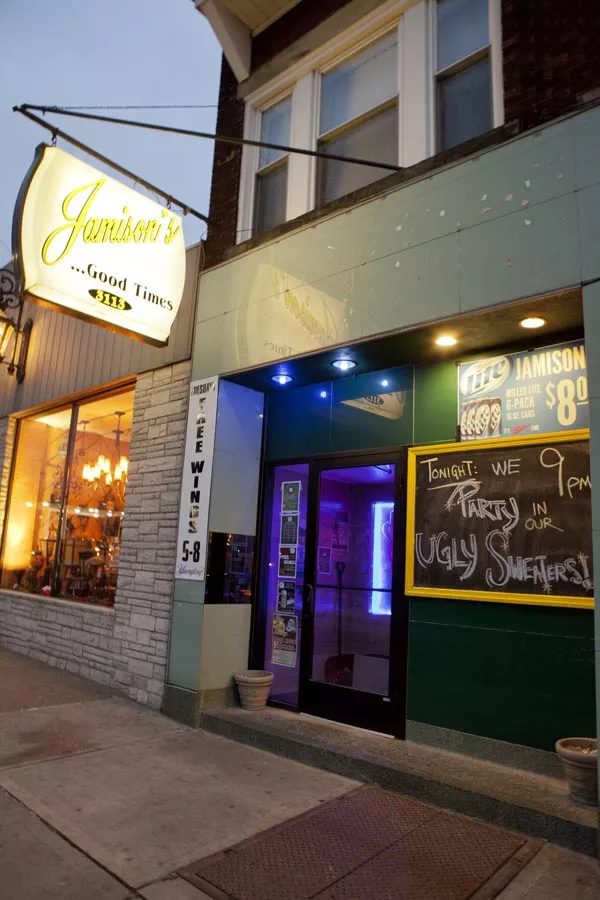 Jamison's offers several full-on entrees in addition to its full array of burgers and "sammiches," and if the spaghetti carbonara was any indication, the kitchen's knack extends to knife-and-fork fare. A moderate portion balanced the caloric creaminess of the homemade sauce, and the bowl was liberally studded with pieces of flavorful grilled chicken breast, plenty of peas and diced Bacon Stix.
The Suburban Room had style, but Jamison's has substance. Mad men never had it this good.