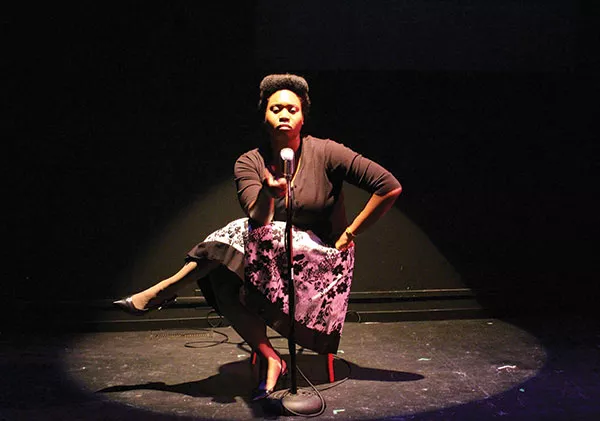 No, there's nothing X-rated in In the Raw: (R)evolution. But the Bricolage Production Co.'s play-development festival is definitely adult entertainment — that is to say, for grownup intellect and perspicacity. What's "raw" is the creative process, laid bare for and with the audience. The result is two new works with different takes on the themes of community and its subsequent displacement.
While each piece has its own playwright and director — all are relative newcomers to Pittsburgh — what's on stage is a group effort. Each cast, comprising two men and three women (one of them African American), brought a range of talent and input to its script, still a work in progress. The creative process started last month with an audience "town hall" brainstorming session about Pittsburgh, followed by four weeks of collaboration, improvisation and revision.
The offering from #TeamIncline ("A" group) is Dis Place, which starts in 1952 with the "urban removal" (as it was often called) of the Lower Hill District to make way for the Civic Arena. I'm not sure about the "team" name, except that there indeed once was the Penn Incline from the Hill to 17th Street in the Strip, still in operation back then but never mentioned in the play.
The "B" group's moniker, #TeamBlastFurnace, is easier to relate to: Hymns to Future Tense is set in Homestead, both past and present, with a dose of magic realism. Mountains and rivers literally move (offstage, of course), serving as a metaphor for the cataclysmic changes that continue to hit this former über-steel town.
Dis Place, written by Maureen McGranaghan and directed by Cynthia Croot, is a straightforward narrative. First there's the breakup of the Lower Hill's diverse community of blacks, whites, Jews and Christians of many denominations. Jump several generations to today, and we see their plugged-in descendants detached from the sense of neighborhood, and discovering that "place matters."
Bria Walker plays a pivotal role in both eras as the communicator: a DJ and blogger, respectively. Other actors similarly portray generational echoes: Andrew Wind plays a dashing ne'er-do-well and failed father; Jill Keating provides comic relief as the '52 comic-relief girl pal, then morphs perfectly into modern spirituality with a sense of humor. Lara Miller is a fragile but special flower, while Joel Richardson is the down-to-earth guy.
Despite some historical problems and the occasional anachronism, Dis Place rings true. Former Pittsburgh city councilor and activist Sala Udin provides an important cameo and analysis.
Hymns, written by Connor Shioshita Pickett and directed by Risher Reddick, is far more ethereal, even exotic, with totally different demands on its ensemble. For one thing, it's very musical — not just the canned variety but also live singing and strumming. There's even an original song, "Bridge to Nowhere," by cast members and improv masters Connor McCanlus and Missy Moreno.
The "bridge" symbolizes the disharmony between father and daughter portrayed by Chris Josephs and Kelly Trumbull: Their more personal plotline weaves through the larger story of the Coming Change, and how the people prepare and react. Lauren Ashleigh Bethea comes into her own as a soul-singing preacher (a contrast, perhaps unintentional, to Keating's modern priest in Dis Place).
All the actors are multi-cast, often seamlessly moving from children to adults and seniors, and from swingers to churchgoers. Moreno and McCanlus bring a yinzer sensibility to the classic notion of "wise fools," and add drama to the plight of a young woman and her teenage brother hanging onto the remnants of "family." Josephs plays not just one geezer but two, kindly and otherwise, plus a bar stud.
The ambitious Hymns nevertheless fails to really gel. The characters are still unformed, the sub-themes about race and sexuality too timid. Where Dis Place jumps into potential controversy with both feet, Hymns shies away. In structure, the former is very literal, the latter more literary.
But both provide engrossing entertainment and talkbacks after each performance — of which there are only a few left. The proof of their success will be in whether there are future productions.
Thanks for this one to dramaturge and project manager Annie DiMario, assistant Tyler Crumrine, production manager Alicia DiGorgi, lighting designer Mark Bailey and stage managers Katie Keirs (Dis Place) and Brandon Martin (Hymns to Future Tense).