Post Written by Dan Willis
Imagine: your favorite beer, your favorite couch, all your favorite movies on Blu-Ray, popcorn with real butter, and a few seriously hospitable guys.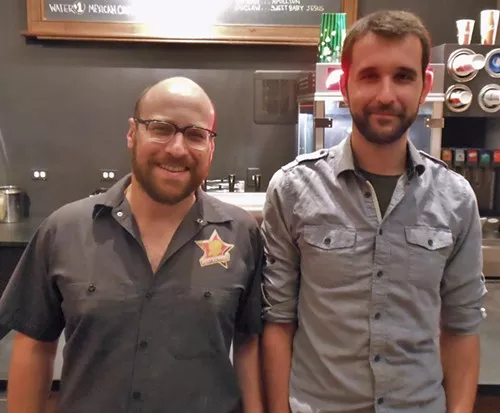 Mendelssohn (left) and Sanderson
Attending a screening at
Row House Cinema
feels kind of like watching a movie at your friend's place — if that friend were crazy enough to install an 83-seat stadium-style movie theater in his house.
This new boutique movie house in Lawrenceville consists of two storefronts. First, there is the theater, warmly decorated in a style which the operators describe as "Bette Davis 1920s glam meets industrial Lawrenceville."
Then, there is neighboring Atlas Bottle Works, which offers bottled craft beer to theater-goers as well as pumping its draft options through to the concession stand.
Row House, which opened in June, is the first theater of its kind in Pittsburgh. But owner Brian Mendelssohn doesn't see it as too groundbreaking, saying instead, "we want it to be an old-fashioned neighborhood theater, where people feel like it's theirs."
Mendelssohn, a local real-estate developer, toyed briefly with the idea of turning the former Star Discount Store at 4115 Butler St. into a hotel. But running a movie theater is something he considers a lifelong dream.
And Row House's repertory-style programming clearly suggests a lifelong passion for film. What might be scattershot is instead virtuosic thanks to their themed weekly programming, where five or so movies rotate throughout the week. The themes will range from French New Wave to Schwarzenegger.
These weeks also encourage viewers to stay all day — for only $6 on Discount Thursdays. Otherwise, showings are $9 a piece, or $6 before 6 p.m., with $1 off for students and Lawrenceville residents.
Tonight begins a week-long Wes Anderson Festival, including most of his films before this year's Grand Budapest Hotel. It starts at 6 p.m. with Fantastic Mr. Fox, followed by Moonrise Kingdom and two showings of The Royal Tenenbaums, the second of them at midnight.
Next Friday begins Tragical Magical, a week celebrating the dark mysticism of films like Edward Scissorhands, The Science of Sleep and The Eternal Sunshine of the Spotless Mind.
Also scheduled for the near future are a blockbuster week later this month, featuring box office hits from Shrek to Top Gun, and an introduction to Japanese cinema in late August.
While it might seem redundant in the age of Netflix to have a theater that shows exclusively older films, the owners of Row House Cinema insist on the importance of knowledgeable curation, professional presentation and welcoming atmosphere.
Says manager Geoff Sanderson, "The goal is to get people off the couch and onto a better couch."