Last night, in the thick of the already-busy fall season, familiar names Andrew Paul and Mark Clayton Southers announced a four-show first season of all local premieres for their start-up professional troupe The Phoenix.
Paul is the co-founder of Pittsburgh Irish & Classical Theatre company, abruptly fired as artistic director earlier this year. Southers, founder and artistic director of Pittsburgh Playwrights Theatre Co., was likewise laid off from his full-time job as director of theater initiatives at the August Wilson Center for African American Culture, the result of budget constraints.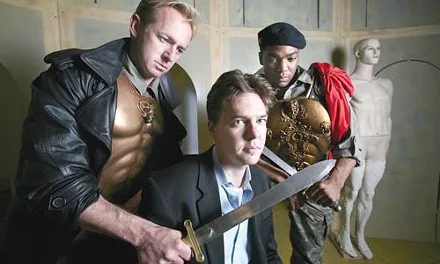 Andrew Paul (center) during his production of "Julius Caesar" at Pittsburgh Irish & Classical
Speaking last night at the season-announcement event, Paul promised that the troupe will add something new to the local stage scene. "It's unlike anything else being done here," he said at Pittsburgh Playwrights' Downtown venue. He noted that the mythical phoenix was not only capable of rising from its own ashes, but also thrived across borders, in many cultures, as the new troupe hopes to do, perhaps particularly crossing racial borders.

Photo courtesy of Pittsburgh Playwrights
Mark Southers in Pittsburgh Playwrights' 2013 production of "Radio Golf"
"Through The Phoenix, we propose to explore our shared vision of a new kind of Pittsburgh theater — one that is not a "white" or "black" theatre but rather diverse and welcoming to all," says a statement on the new company's web site.
At any rate, the Phoenix is wasting no time getting started with a season of Pittsburgh-premiere shows.
The first production, British playwright Joe Penhall's Olivier Award-winner Blue/Orange, opens Nov. 1 at Playwrights. Paul will direct this drama about a young Afro-Caribbean man being treated at a London psychiatric hospital. The production has a top-notch cast led by longtime PICT favorites David Whalen and Sam Tsoutsouvas plus Dayton, Ohio-based newcomer Rico Parker.
Blue/Orange is sponsored by local arts philanthropist Richard E. Rauh, long a backer of PICT.
The season will continue next May with Blood and Gifts, American playwright J.T. Rogers' critically acclaimed, darkly comic 2011 spy thriller set in Afghanistan in 1981, during the Soviet invasion. Paul will direct.
Next year's slate will also include Tony-winner Passing Strange, "an autobiographical comedy-drama rock musical about a young African American's artistic journey of self-discovery in the European cities of Amsterdam and Berlin." The play is written by Stew, of the band Stew and the Negro Problem. Southers, who earlier this year directed a production of the play at Short North Stage Co., in Columbus, will direct. This one will be staged at the New Hazlett Theater.
The season will wrap a year from now with Southers' new adaptation of Strindberg's drama Miss Julie, which Southers says will add race to Strindberg's study of class and gender politics.
The Phoenix's first season is in some ways a blend of Paul's work at PICT and Southers' resume at Playwrights and elsewhere.
At PICT, Paul produced plays mostly from the Anglo-European tradition, from Shakespeare to Stoppard and Pinter. (Paul, whose 2011 move to Las Vegas was one reason for the falling-out with the PICT board that led to his firing, will continue to live there.)
Playwrights (which Southers will continue to run) specializes in work by local playwrights. In its first 10 seasons, it staged critically acclaimed productions of all 10 of August Wilson's Pittsburgh Cycle. (Wilson was a mentor to Southers.)
Though in recent years Southers has spent most of his time producing and directing, it was in fact through his work as a playwright that he met Paul. Southers was working on one of his "culture-clash" series of plays, this one set in Ireland, when, as Paul tells it, Pittsburgh Post-Gazette theater critic Chris Rawson suggested he meet Paul, who had traveled extensively in that country.
Paul and Southers became traveling buddies throughout Europe and had long planned to work together. But it was only the near-simultaneous loss of their respective full-time jobs that made The Phoenix happen.