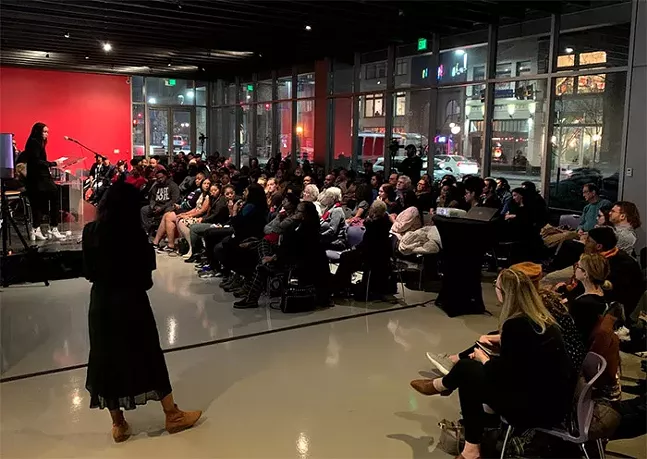 The Pittsburgh Black Media Panel, held at the August Wilson African American Cultural Center earlier this month, addressed what local media is getting right — and wrong — when covering the city's Black communities.
The panel, hosted by
Pittsburgh City Paper
and
PublicSource
, was open to all members of Pittsburgh media organizations and originated from
an idea by Pittsburgh artist Tara Coleman
, who moderated the panel along with PublicSource community correspondent Jourdan Hicks, with introductions by
City Paper
writer Jordan Snowden. The video in its entirety is posted below.
---

UPDATE, Sat., March 7
: After discovering this week that names of panelists were incorrectly added to the video during editing, we've deleted the original video from all of our sites and a new video can be found below. W
e sincerely apologize for the mistake.
Panelists included Letrell Crittenden, program director and Assistant Professor of Communication at Philadelphia's Thomas Jefferson University, and author of "The Pittsburgh problem: race, media, and everyday life in the Steel City"; Brentin Mock, reporter at CityLab; Thomas Agnew, editor of Jenesis Magazine; Tereneh Idia, contributing writer for City Paper and PublicSource; sarah huny young, creative director of Supreme Clientele and event producer of Darkness is Spreading; Lynne Hayes-Freeland, reporter with KDKA-TV news and host of "The Lynne Hayes-Freeland Show"; Markeea "Keea" Hart, of Girls Running Shit; and Brian Cook, president of the Pittsburgh Black Media Federation.

Attendees at the panel were also invited to leave a video message for local media in a testimonial station, which can be seen here: How could Pittsburgh media better cover the city's Black communities? Here are some thoughts from residents.

Pittsburgh City Paper believes it's important that this conversation continues long after the panel and welcomes community feedback as we work further on making sure our company and coverage is inclusive. Readers are encouraged to send feedback, story ideas, and suggestions to lcunning@pghcitypaper.com.