You might have seen them amazing the host on Letterman — Mark Hayward using a yo-yo to light a match stuck betweeen Jonathan Burns' teeth. Or maybe you've heard of Stunt Lab, their well-reviewed comedy show that's played New York City.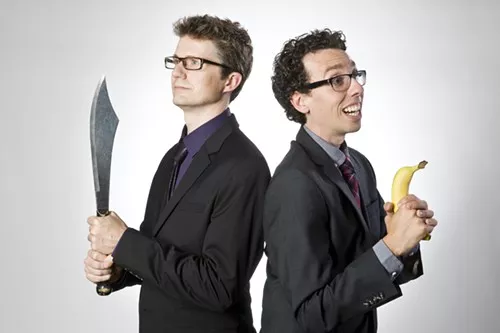 Well, Hayward lives in Pittsburgh, Burns in Lancaster, and on Friday they bring a brand-new act to Downtown's
Arcade Comedy Theater
.
Mark & Jonathan's Fireside Chat is a vaudeville/talk-show hybrid Hayward describes as "Ed Sullivan meets Johnny Carson." Basically, they'll host guest performers, then interview them about their work.
Friday's two performances of Fireside Chat feature Cleveland-based magician Michael Kent and local musical-comedy troupe Bait & Switch. Also on the bill are comedy commercials from the resident Arcade Comedy Theater.
Hayward and Burns are longtime solo performers who recently teamed up. (Basically, as you can see in the photo, Burns is the goofy one, Hayward the serious one.)
Hayward is a top yo-yo artist and juggler who in addition to The Late Show with David Letterman has been on America's Got Talent. Burns is a contortionist who's had gigs around the world.
Their best-known collaboration might be Stunt Lab, which The New York Times called "extremely funny." The show involves the pair using an array of everyday items — garbage bags, whipped cream, marshmallows, rat traps — to create comedic stunts.
Fireside Chat premieres with two performances Friday, at 8 and 10 p.m. Tickets are just $5-10.
Arcade Comedy Theater is at 811 Liberty Ave., Downtown.