For the last three years, donations on Giving Tuesday have been growing for Light of Life Rescue Mission, which provides food and shelter to the homeless at its facility in the North Side.


The Tuesday following Thanksgiving has become an unofficial day to donate to charity, and locally, Give Big Pittsburgh compiles all the donations on that day and ranks which organizations have garnered the most support.
In 2017, Light of Life raised about $69,000 on Giving Tuesday. That figure grew in 2018 and jumped to more than $153,000 in 2019. According to Give Big Pittsburgh, Light of Life has topped the list of local nonprofits the last three years.


Pittsburgh is clearly experiencing a surge in support for homeless advocacy and causes, and Jerrel Gilliam, director of Light of Life, says it's happening at a vital time. Gilliam says the homeless population in Pittsburgh has been growing, stretching the already limited dollars of local shelters, religious groups, and organizations that provide services for homeless people.


"We have been tremendously blessed by the outpouring to help us and other similar organizations," says Gilliam. "I am appreciative of the attention it's getting. I have noticed personally a change in homelessness this year, and the Downtown businesses will tell you there were more homeless people on the street."


But the increased attention hasn't all been good. Reports of homelessness in Downtown this summer were lumped together with reports of violent crime and panhandling. News coverage and pressure from a local foundation led to demands for Pittsburgh Mayor Bill Peduto to increase police presence, to which he reluctantly obliged.


"It's not simply a police issue," Peduto told the Pittsburgh Post-Gazette in August. "It is an issue that deals with mental health, homelessness, and addiction."
Gilliam says this kind of reaction, one led by legal and punitive actions against homelessness, isn't helpful. Currently, Light of Life is transitioning to a harm reduction strategy, which means housing will be provided, even if people are still using drugs or alcohol.


"One of the answers is not making it a legal issue, like hardening our loitering laws," says Gilliam. "If you just get tough on them, they just move along. We need to humanize homelessness. Each of these people are someone's son or daughter or father or mother."
One of the issues in treating homelessness is the unreliability of the numbers. While there's anecdotal evidence of increasing numbers of homeless people in Pittsburgh, the data tells another story. Allegheny County Department of Human Services reports that homelessness numbers have decreased over the last three years, from 1,573 homeless people in Allegheny County in 2014 to 774 people in 2019.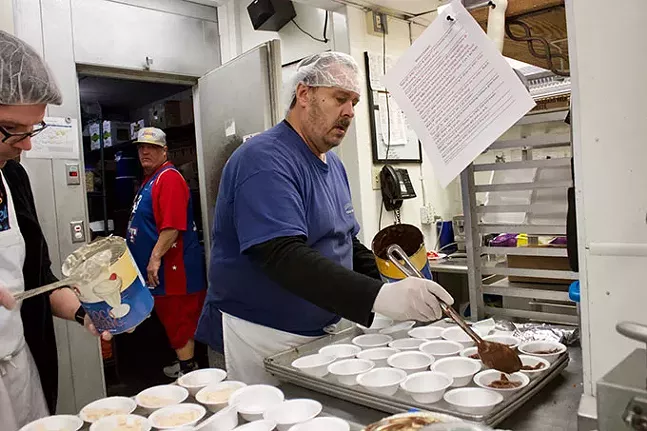 But advocates say this data is incomplete because the weather and the number of volunteers can affect the count, not to mention that people in transitional housing situations who are staying with friends or relatives aren't included in the count.


Gilliam says the current federal guidelines for how the homeless population is counted underestimates the scope of the problem, since people need to participate in certain programs related to homelessness for 30 days to be counted.


"It changed from people being counted if they don't have a permanent address, to now they need be 'certified homeless,'" says Gilliam.


He acknowledges that Pittsburgh's homeless populations are nowhere near the figures of cities like Los Angeles, but that doesn't mean homeless advocates in the city should rest on their laurels. For one, according to the National Alliance to End Homelessness, Pennsylvania saw the largest decrease in homeless shelter beds between 2016 and 2017, losing 382 beds.


Gilliam adds that Light of Life, which is faith-based, has increased its outreach and started providing services to homeless people in camps, instead of just waiting for people to come to their kitchen or shelter. Another area of Gilliam's work is in changing how homelessness is perceived. Light of Life is starting a public relations campaign showcasing four different portraits: a person with a homeless sign, a college student with a backpack, a mom and child in a park, and a typical middle-aged person. The idea is to show how all of these people can be homeless.


"Which of these people are homeless? It can be anyone," says Gilliam.
For example, Gilliam says he has spoken with Community College of Allegheny County president Quintin Bullock, who said there has been an increase in homeless students at CCAC.


Gilliam hopes the campaign will help change people's attitude on homeless people in city neighborhoods and throughout the county. He says Light of Life is starting to change by making the entrance to their shelter more welcoming, more like being greeted by a hotel concierge than entering a Department of Motor Vehicle office.


"There was a situation a while back where a homeless person died on the North Side, followed by a big outcry," says Gilliam. "The people most angry didn't even know this person's name. And there were no drugs found and no paraphernalia, but the assumption was this person overdosed and was another nuisance in our society. We need to quit that."
Allegheny County human services, which is responsible for the tens of millions in federal funds the county receives to address homelessness, is also is looking to change the way homelessness services are perceived.


The county recently awarded a contract to Pittsburgh Mercy to operate a "low-barrier" shelter that would reach the homeless population not being served at existing shelters. This kind of shelter has flexible rules, like allowing participants to continue drinking or using drugs. This plan has been supported by the Pittsburgh Foundation, which has directed about $8 million towards addressing homelessness this year, according to the P-G.
"It's tough to find a space that we can afford in this community right now and that meets the needs of the people," Jeanne Pearlman, senior vice president for program and policy at the Pittsburgh Foundation, told P-G in September.


Allegheny County officials are also looking to prevent evictions throughout the county, and provide help to people who are in danger of being evicted.


Pittsburgh city officials are collaborating with the county, community groups, and area nonprofits to figure out how best to address homelessness. Laura Drogowski works on homeless policy for the city, and acknowledges the county numbers on decreased homelessness.


But she also notes that issues around homelessness are more complex than just counting who checks into certified homeless shelters.


"Experiences of homelessness (particularly Downtown) are visible and continue to attract attention," Drogowski said in an email to Pittsburgh City Paper. "Shelters across the region are often at capacity or may not be equipped to accommodate individuals with problematic substance use or other complex unmet mental health or medical needs."


To address these complex issues, the city allocated $1.18 million out of the city budget to homeless service providers in Pittsburgh in 2019.


Drogowski notes that Pittsburgh Public Safety officials and Pittsburgh Police are undergoing training to help officers engage with homeless Pittsburghers better and funnel them to services that might address some of their needs.


"Harm reduction is essential and means that services need to adapt to people, not vice versa" writes Drogowski. "If something isn't working, are we asking how programs can evolve? We can reflect, examining the service by not just blaming the person or labeling them as a 'problem.'"


In the end, Drogowski hopes that conversations will start changing surrounding homelessness, and that compassion for those experiencing it never waivers.
"Acknowledge people. Be kind. Have a conversation," writes Drogowski. "A person experiencing homelessness is a person."