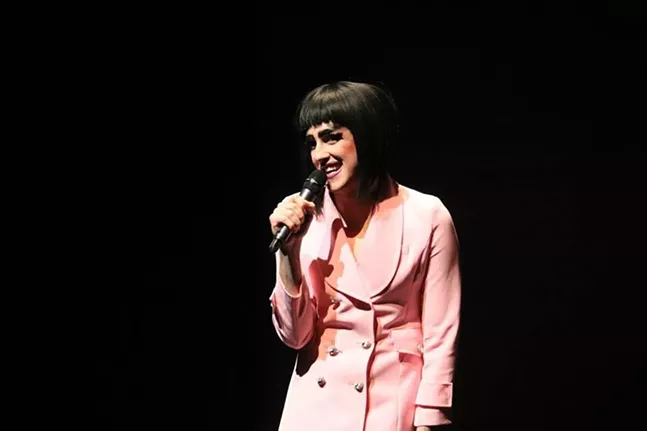 Last December, Pittsburgh drag sensation Princess Jafar debuted her late-night, adult-themed variety show "inspired by '90s era sitcoms and Disney movies, after-school specials, and live-action Nickelodeon specials" at Kelly Strayhorn Theater. It kicked off a busy year that included a handful of memorable appearances and single releases. Now, she's capping it off with two shows this weekend at Club Cafe and BOOM Concepts.

Initially, they were supposed to be all one show, featuring Gia Gunn of RuPaul's Drag Race and YouTube drama vlogger Jakeyonce, but it turned out that her two headliners had some bad blood and couldn't "share a stage for personal and professional reasons." Princess Jafar didn't want to lose the opportunity or disrespect anyone, so she split them into two nights.

Thankfully, in a reflection of her strong and supportive network in the Pittsburgh arts community, Darrell Kinsel of BOOM Concepts "saved the day" and offered his space for a second show.

And so it was booked: Club Cafe would host The Princess Jafar Hour featuring Gia Gunn and Dwight Penney, head pastry chef at the Fairmont Hotel, on Saturday; Jakeyonce would be her guest at BOOM Concepts on Sunday for "Pittsburgh's answer to The View." Audiences can attend both at a discounted rate of $25.

Pittsburgh City Paper reached out to Princess Jafar for more insight into her work, her influences, and Alf. The interview has been lightly edited for length and clarity.
Your first show is five days away. How are you spending that time?
I spent the last five days working full-time, serving and bartending because I have to still make some funds for the weekend. When I'm not at work, I am rewriting my opening comedy monologue, I am finding new stories to add because I want it to be current. So I'm just looking through Twitter and saving more stories and [writing] what I would tweet-respond to these stories and saving it for the monologue.
Is preparation for these two shows different than your show at Kelly Strayhorn in March?
This is different because of the scope of the venue and the vibe of Club Cafe. When I was at Kelly Strayhorn, it was an opportunity to do a really large, grand-scale [performance] — Club Cafe offers a more micro view. I'm really shedding off a lot of the glitz and glamour of the last show, boiling it down to interviews with people that I find fascinating. The last show had a lot of talent, a lot of costars and people helping out, but this is just me and my guests.
For someone attending these shows without knowing Princess Jafar, what would you want them to know going in?
I guess a good term for me would be an insult comic, but I have a lot of love for the audience in front of me. If I'm sharp, then it comes from a place of humor. We just have a really fun time at the Princess Jafar shows and I would love for you to come and see what we do.
What TV are you watching recently?
I've been rewatching the Dick Cavett interviews. They've been more widely available recently and I've been trying to run through those. I watch a lot of Johnny Carson episodes; I watch a lot of Rodney Dangerfield. I've been obsessed recently with Alf. If you like Garfield, you'll like Alf, he's just hilarious. It's the kind of humor that I want to embody, so I fill my brain with Alf. I've also been watching Holiday Baking Championship and RuPaul's Drag Race season six featuring Gia Gunn.
Growing up, did you have a culture of playful ribbing/insults with friends and family?
Yeah, that was a love language in my household growing up and it definitely isn't like something that you want to hear all the time — constant comedic insults from your mother — but it definitely did shape my humor. My comedy was based on, like I said, Rodney Dangerfield and Joan Rivers and Pee-wee Herman, who all have almost a disdain for the audience.
A lot of my audience is from many groups in Pittsburgh from queer communities, Black communities, non-binary communities; they have enough spaces that critique them and make them feel unsafe and attacked. My sets, even though I do come for a lot of different people, the groups that are usually already degraded in our society are not the butt of the jokes at Princess Jafar shows. They're the subjects of the narratives.
As I said, I watch a lot of '80s and '90s content and with this 2019 eye, I'm watching them and I'm seeing they do mention trans people, they do have black actors, but it's always as a token or a trope. It's never anyone leading a storyline or a whole series. We try to — not to use the word radical too loosely — we try to radically change the narrative at the Princess Jafar show. I'm a trans Arab drag queen and I'm putting myself at the forefront of the late-night talk shows. This next show is like The View or [Real Time with Bill Maher]. That's just not what's happening on TV, but that's what's happening in Pittsburgh. I think that's what Pittsburgh audiences want right now is a fresh take on old themes.
You recently did an interview with yourself, which included this line: "Being loud and proud is for cis white men. When a queer Arab does it, it's unbecoming. But if I don't promote myself who will? If I don't interview myself who is going to?" In that context, how has your approach to self-promotion changed since you first started performing?
I've separated my name from the project. When I first started, I was using my [legal name] and used a stage name, a quick funny pun for the night, but I found that I was making statuses that were mean-like, humorous, people were taking it personally because I was posting it as myself. Especially because Pittsburgh is a small town, you get to know people on stage; in New York, you might never see the comedian that you go to see that night. But in Pittsburgh, you have dinner with them, you go to the grocery store and meet them and become friends with them. So when they post things in their character, it can be very confusing. So I did a hard divorce of my legal name and Princess Jafar, so pretty much online now you can only find Princess Jafar.
That's one way that I've separated and that really has allowed the character to grow. Because now Princess Jafar has different social media outlets, she can really develop her voice and my audience is getting to know me and my humor.
I'm basically taking a Republican approach to socialist leftist ideas. As I said that being loud and proud is for cis white men, it's also for republicans but not for any other party. When [Alexandria Ocasio-Cortez] is loud and proud, she is shunned and reprimanded. But when Donald Trump is proud, he is praised. The word "pride" is only allowed when it's nationalism or religion, but not when it's a gender or identity that you have created. That's something I'm very proud of — the curation of yourself to the form you really want to be.