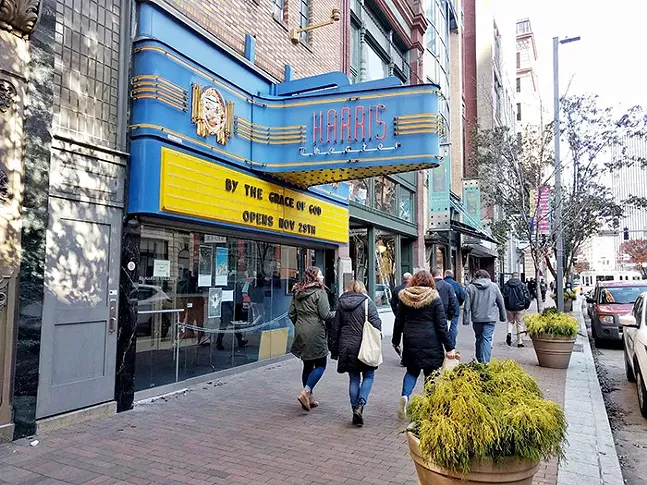 Just two days after the end of the
Three Rivers Film Festival
, its host organization, the Pittsburgh Center for Arts and Media (PCAM), fired all film staff, including employees of the Harris and Regent Square theaters, and will end its cinema arts programs, as well as any programming in its galleries.
The announcement and firings happened this morning during a mandatory meeting.
An official document, signed by PCAM executive director Kyle Houser and provided to
Pittsburgh City Paper,
said the group was ending its theater programs, as well as all programs housed in the Marshall Building, and reducing personnel accordingly. PCAM is offering former employees severance benefits totaling $300 before taxes.
See the opening page of the document below:
In a formal letter sent this afternoon to "Friends of Pittsburgh Center for Arts & Media," PCAM's board president Christine Holtz wrote: "Unfortunately, as part of this shift in approach, we have closed the Regent Square Theater while we determine the future of that asset, and screenings at the Harris Theater have ended. Our final exhibit in the Marshall building, 'What Have We Done, The New Collective,' featuring 14 artists from six local guilds, will run through the end of the year. Our annual Holiday Shop will remain open until December 31st, showcasing an array of unique, handcrafted art gifts."
Tina Dillman, who served as the director of exhibitions and programming at PCAM, was among those fired during the meeting this morning. She claims those fired were then escorted out of the building and told they must make arrangements if they needed to return for any belongings.
Dillman says the staff received an email about the meeting last Friday and knew what was coming.
"The writing was on the wall," she says.
Those also out at the center are Director of Film Programming Joe Morrison and Chief Administrative Officer Dorinda Sankey.
Dillman says that while the PCAM show she curated,
What Have We Done
, will stay open until the end of the year, she's unsure of what will happen with any of the workshops or talks planned to go along with it.
"I am new to Pittsburgh and I knew that the organization had a very complicated past," she says. Dillman adds that she knew PCAM was not in a "stable place yet financially or as an organization" when she started working there five months ago.
"It still felt very splintered," she says.
Dillman also expressed frustration with the organization's leadership and felt "set up to fail" because of how it limited her ability to apply for any grant funding. She was also only able to work part-time, 20 to 25 hours a week, which she says was not sufficient time to run any kind of gallery programming.
"It had so much potential, and it was never run properly," she says. "It was one of the most disorganized, toxic environments I've ever worked in my entire life. But I saw the potential and I wanted to try and help it."
However, Dillman hopes the organization can regroup and make the center successful, saying that it has played a pivotal role in the development of artists in the city for 74 years.
"I wish them the best of luck in their new business strategy, and I hope that they can pull themselves together and they stay relevant in the community," she says.
CP
will add updates to this story will as they come in.