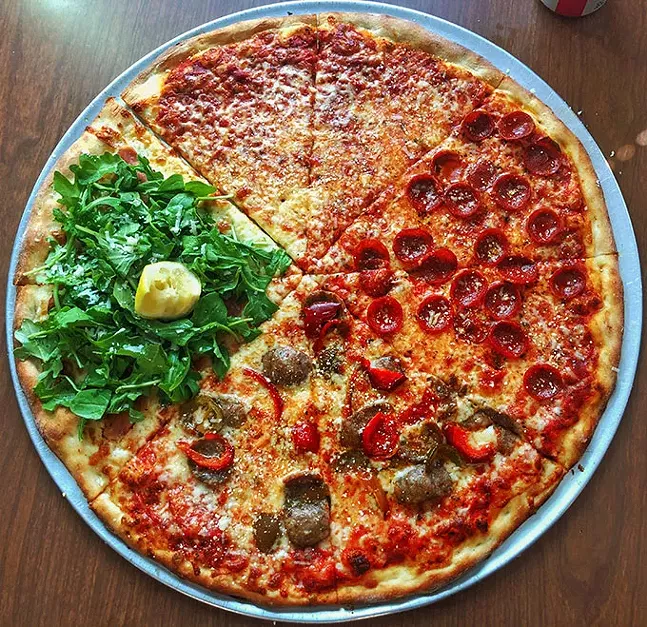 For a pizza journalist living in Pittsburgh, Dan Tallarico is surprisingly uninterested in the city's spiciest pizza controversies. He has no strong opinion when it comes to Aiello's and Mineo's, no hot take on the cold cheese of Beto's or
Police Station Pizza
, no particular preference for Sicilian vs. NY-style vs. wood-fired. It's unclear where he stands on pineapple.
It's not that he doesn't care, he just thinks that those headline-grabbing pizza debates overshadow more compelling slices and stories in Pittsburgh's food scene. And he'd know: Tallarico has been chronicling Pittsburgh's pizza scene for years on his blog,
Pizza Walk with Me
, and now, he's publishing a collection of his favorite stories in a new book called
Pizza Walk Pittsburgh: A Pizza Guidebook
. The book is already written and Tallarico has raised the money for printing through a
Kickstarter
campaign (which ends Wed., Oct. 30 at 6:16 p.m.).
The book is described as a "delicious, greasy guide to the Pittsburgh pizza places that have defined the recent 10 years of the city," but Tallarico's interest goes beyond food reviews.
"Pizza itself is great but it's so hard to keep describing pizza in interesting ways," says Tallarico, who has a full-time job in addition to his pizza journalism. "'OK, it's greasy, it's not greasy, it's cheesy, it's overly cheesy.' And so I tried to pivot to just talk to the people and understand the stories and history. Behind all these pizzas, there's this whole world of inspiration and stories behind every pie."
Among the pizzerias featured in
Pizza Walk
are Pizza Cono, Driftwood Oven, Mercurio's, Caliente's, Spak Brothers, and more.
Rockaway Pizzeria
, the White Oak NY-style pizza shop opened by Josh Sickels in 2016, is a particular favorite of Tallarico's. (The book's cover and the image for this story are a Rockaway creation.)
On Oct. 17, with two weeks left in the Kickstarter campaign,
Pittsburgh City Paper
caught up with Tallarico at Mama Lucia's in Downtown Pittsburgh during the lunch rush. Over bites of thick-cut square slices (they don't call them Sicilian there), Tallarico explained how the explosion of Pittsburgh's food scene over the past decade has been reflected in and partially fueled by pizza. While there are still the reliable standbys of more traditional pizzerias like Fazio's, Spak Brothers, and Mama Lucia's, the gourmand market for "fancier" pies has seen the proliferation of more upscale pizza restaurants like Pizza Taglio and Driftwood Oven. He says it's shown that there's an appetite here for "better ingredients, better pizza," catching himself before accidentally shilling for Papa John's.
In addition to photos, interviews, and histories of local pizza shops,
Pizza Walk
will leave space for readers to add their own notes as they visit each shop. Tallarico is hoping to get the books, once published, into pizza shops across the city, as well as into the hands of any tourists planning to do a pizza crawl during their visit.
Throughout lunch, Tallarico checked his Kickstarter app to monitor his campaign. As we finished our slices, he was $36 short of his $3,500 goal, which he ended up reaching later that night.
For more information on
Pizza Walk
or to give to the campaign before it closes, head over to Tallarico's
Kickstarter
page.