President
Donald Trump
visited Pittsburgh today and gave a keynote address at the Shale Insight conference taking place at the David L. Lawrence Convention Center in Downtown. His speech was given in front of a mix of conference attendees enjoying a fancy luncheon at the front of the room, and public attendees in the back, who were there to support Trump.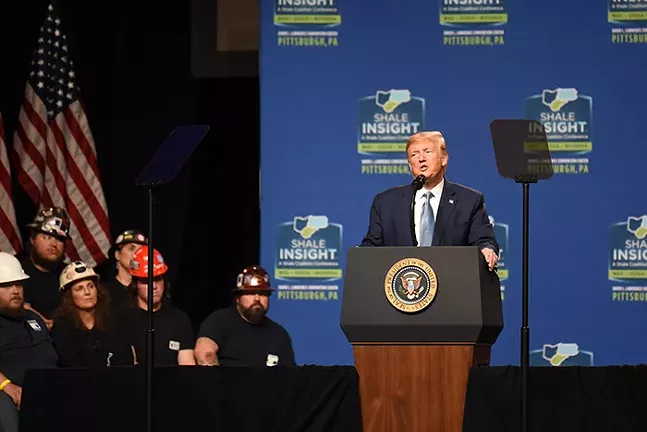 Trump spoke about natural-gas drilling (aka
fracking
) and praised some of the
growth the industry has experienced
in Southwestern Pennsylvania, but also spoke of the economy at large, New York pipelines, Pittsburgh sports, and U.S. Rep. Conor Lamb (D-Mt. Lebanon).
Trump is going after U.S Rep. Conor Lamb (D-Mt. Lebanon)

Says he never votes with him and the GOP, which is so obviously false. He has on many occasions. Here is one. https://t.co/5TOvftRvue

— Ryan Deto (@RyanDeto) October 23, 2019
During the speech one protester started to yell, but the protester was eventually removed. Other than that, the event was pretty mild and lasted about one hour.
Trump lauded his decision to pull out of the
Paris Climate Accords
environmental agreement and repeated his now-famous line, "I was elected to serve the people of Pittsburgh, not Paris." (City of Pittsburgh voters backed Democrat Hillary Clinton by about 75 percent of the city's vote.)
Trump also said that the country's air and water are the cleanest they have been in decades. While air quality in the Pittsburgh region has improved greatly from when the region was predominantly known for steel production, the area still has some of the worst air quality in America, including the
fourth highest occurrence of air-pollution related deaths
of any large metro area in the U.S.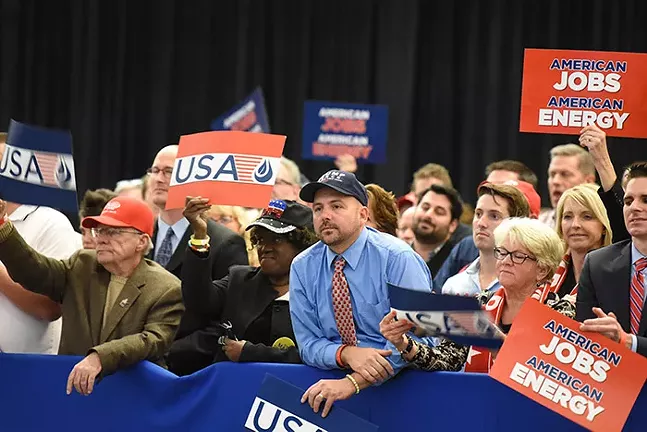 The president also vowed to continue to support the natural gas industry and said he would support lowering regulations so it would be easier to construct gas pipelines.
Trump took some swipes at local and national Democrats and environmentalists who want to regulate, curb, or end the practice of fracking for natural gas. The speech ended with Trump shaking hands with energy workers who shared the stage with him inside the convention center.
Meanwhile, several protests occurred throughout the day in response to Trump's visit.
In the morning, Jewish groups condemned Trump's presence in Pittsburgh saying that his rhetoric around immigration and
antisemitism
encourage hate and violence, citing the Tree of Life mass shooting that happened at a synagogue in Squirrel Hill last year. About a dozen of them
were arrested
after they entered the intersection at Liberty Avenue and Commonwealth Place and locked arms.
Outside of the convention center, protests continued during Trump's speech.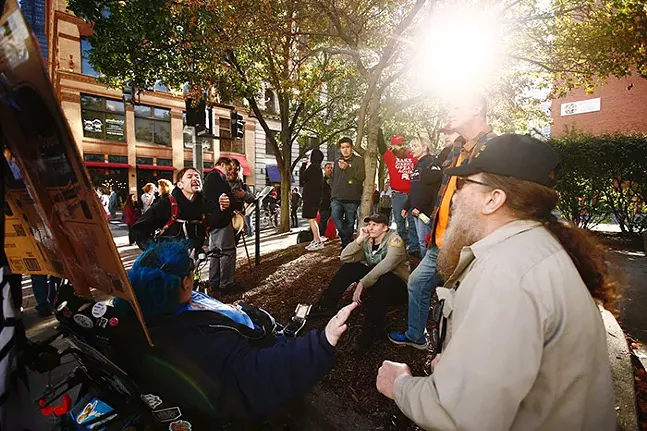 Pittsburgh Police have created a perimeter between protestors and Trump Supporters along 10th/Penn Ave. @PGHCityPaper pic.twitter.com/OfZLkxzhvo

— Jared Wickerham (@WickPhoto) October 23, 2019
Pittsburgh Mayor Bill Peduto arrived outside the convention center after the speech ended.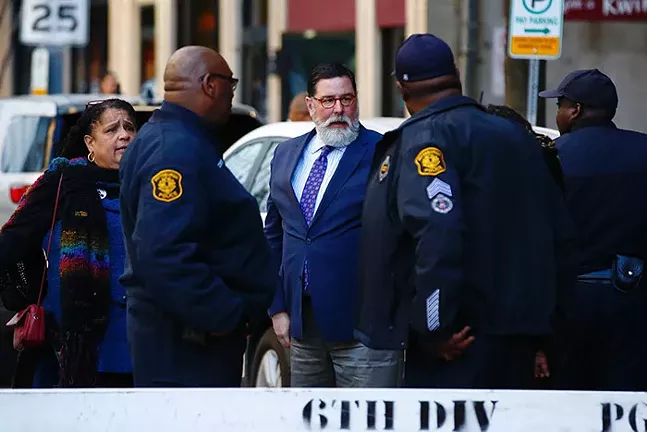 Peduto has had a Pinned Tweet at the top of his Twitter feed since June 1, 2017 in response to Trump first posting, "I was elected by voters of Pittsburgh, not Paris."
"As the Mayor of Pittsburgh," Peduto's post reads, "I can assure you that we will follow the guidelines of the Paris Agreement for our people, our economy & future."
A final anti-fracking protest began at 10th Street and Penn Avenue, with speakers including political candidates
Gerald Dickinson
and
Bethany Hallam
, with a small crowd remaining until after 8 p.m.