In January 2019, hip-hop artist Aesop Rock released a song with electronic musician and Pittsburgh artist TOBACCO called "Churro." The song's lyrics describe, in specific detail, the scene of an eagle caught on camera eating a cat to the shock of its viewers. It's a reference to a 2016 incident in which a live-cam set up in a Pittsburgh bald eagle nest by the Audubon Society of Western Pennsylvania captured footage of the eagles carrying a dead kitten into the nest to feast on. At the time, Audubon spokesperson Rachel Handel released a statement on Facebook to ease the disgust of some viewers. "To people, the cat represents a pet, but to the eagles and to other raptors, the cat is a way to sustain the eaglets and help them to grow," she wrote, according to the Pittsburgh Post-Gazette. Or, as Aesop says it, "We overlook the fact that while sometimes a cat'll eat a bird/Sometimes a bird'll eat a cat like it's a fuckin' churro."

Live-cams at zoos and parks started becoming available for public viewing sometime in the early-to-mid 2000s. People have always loved watching animals in zoos or in nature documentaries, so something that allowed people to watch real animals in real (or semi-real) habitats was a thrilling creation. You rarely get to see animals just hanging out unedited in their homes.
While there isn't data readily available on animal live-cam popularity over the years, it's fair to hypothesize that it has declined (if it was ever a thriving industry). It's not as much of a novelty to watch anything live anymore. And while the jury is still out on whether technology has decreased attention spans, it's almost certainly more difficult today to commit your time to a video of a piece of land in which an animal may or may not appear. As I was watching various live-cams, there were never more than four other people watching at the same time.

There are several animals live-streaming in the Pittsburgh area. The eagle cam is still active. The Pittsburgh Zoo has a new camera setup in its cheetah enclosure, where viewers can try to spot the cats from eight different angles. When I first used it, I saw no cheetah and looked through all the angles, assuming I'd have to watch a blank patch of grass until a cheetah wandered in. Then I realized it was hiding in plain sight, blocked by some branches.
The National Aviary hosts a live-cam of the peregrine falcons that live atop the Cathedral of Learning at the University of Pittsburgh. I watched this camera for a while, but it only has one angle, a gravel cubby where the falcons hang out. I didn't see the birds.
I did spend some time with another city-dwelling falcon — the 15th floor of the Rachel Carson State Office Building in Harrisburg is home to falcons, which are watched by a four-angle camera. While not all live-cams have sound, this one does, and you can hear the city sounds swirling around the falcon lair. I caught the falcon several times, mostly when perched on the edge of the building, picking at its feathers.
One of the more active live-cams I found is described as being located 30 miles outside Pittsburgh in the middle of the woods (it's simply called "Wildlife Cam" and isn't sponsored by an institution). Near the camera is a feeder to attract animals like deer and raccoons, but even if there aren't any in the picture, there are usually birds, and the stream offers the peaceful sounds of live nature. I watched it, waiting for deer to appear, aware that I could walk across the street to the Allegheny Cemetery and see deer almost immediately. Even dog daycare business Camp Bow Wow has live-cams so owners can watch their pups, or me, a stranger, watching other strangers' dogs play with each other.
While these live-cams do provide mild and leisurely entertainment, they are also used for research purposes. Institutions and researchers can better assess an animal's behavior if there's a camera on watch 24/7. They have a log of its eating, sleeping, mating, and birthing patterns. In 2018, the Aviary's falcon cam allowed bird experts to speculate why Hope, a female falcon, had eaten two of her newly hatched eggs.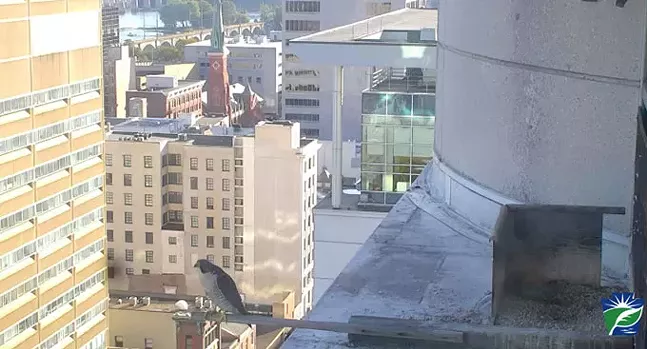 Most of the time spent watching animal live-cams is boring. They come in and out when they please, and there's no guarantee of seeing them on screen. Even when the animal is in the frame, it's still just a mid-quality video stream of a deer eating or a cheetah sleeping. But the boringness is also part of the thrill. It's so boring it's almost exciting. Nothing is happening, but it's nature, so anything could happen.
Maybe Aesop Rock put it best in "Churro," when he said, "You could stare into a portal/That reminds you there is more/Than what your awful nine-to-five permits you."
Cheetah cam at Pittsburgh Zoo & PPG Aquarium: pittsburghzoo.org/cheetah-webcam
Pixcams Wildlife Camera: pixcams.com/WebCam
Falcon cam:
hdontap.com/index.php/video/stream/harrisburg-pennsylvania-falcon-live-cam