Pittsburgh City Paper
asks you to spill it for What's In Your Bag N'At?, a look at the lives of people through the things they carry around with them every day.
When
CP sex advice columnist
Jessie Sage emptied out her purse, she pointed at its contents and said, "This is very representative of my life." Besides writing about sex and social justice in her weekly column and co-hosting the Peepshow podcast with her husband, PJ Sage, she juggles advocacy work with SWOP Pittsburgh, phone sex, motherhood, and so much more. Jessie explains the contents of her bag, from lipstick, to diapers.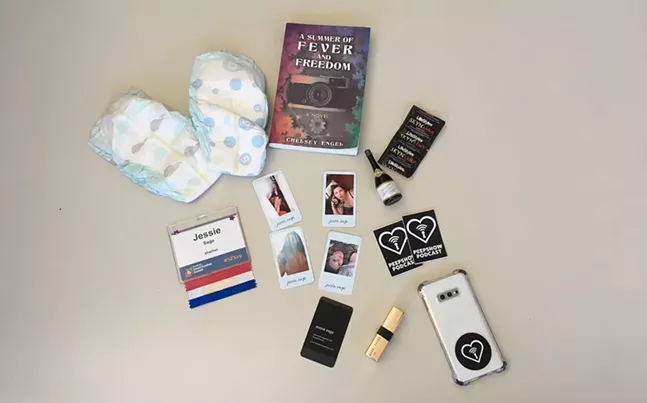 A Summer of Fever and Freedom by Chelsey Engel (2019, Labor of Love Communications)
I'm gonna do the audio for Chelsey's book. So I'm reading that and trying to finish it up … She had posted something on Twitter. Or maybe it was Facebook? I can't remember. She was saying, "Hey, I'm looking for somebody who wants to do the audio recording of this, and I was like, "I can do audio recording, I have a whole recording studio in my office." So we got together and started talking about the book.
I'm nervous because I've never done that before and I'm not sure how to do different characters. Just reading it is one thing, but just trying to have a voice for all of the different characters and keep track of that. That's what I'm worried about. I don't listen to audiobooks either and that's why maybe I'm a little bit nervous because I don't actually know that much about the genre. But it'll be fine.
Bobbi Brown Luxe Lip Color in Parisian Red

That's my favorite lipstick. It goes on really smooth and it's a nice color ... I went with PJ one time to Macy's because we were going to a party and I needed new lipstick, and we sat for an hour while the lady tried a hundred different lipsticks on me, and then we ended up with that one.
Diapers
I have diapers because I have a diapered child. He's not three yet, so he's still in diapers, so I keep them in my purse, you know, just in case.
Media pass for the 2019 Woodhull Sexual Freedom Summit in Alexandria, Va.
I just came back from a conference, so this was my media badge for that conference. I went with PJ and we recorded a bunch of interviews for the podcast.
Champagne bubbles party favor
This was from Woodhull. The last night, there was an event called Bubbles and Burlesque and at the table, those little bubbles were party favors. My little boy loves bubbles so I keep them in my purse because they entertain him.
Business cards
I just order them on MOO. You can send in several different pictures.
Lifestyles Skyn Large condoms
You never know! (
When asked if this is her favorite brand
) I usually defer to the person with the penis.
Do you have a sex or social justice-related question for Jessie? Email
[email protected]
with "Ask Jessie" in the subject line. You can also follow her on Twitter (@sapiotextual).