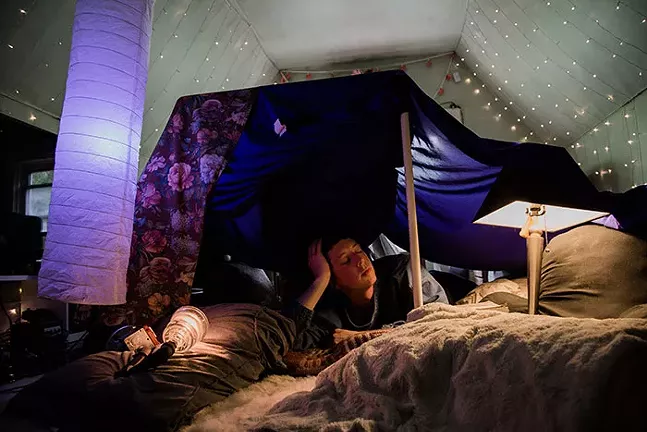 After five very busy years living in Pittsburgh, Pat Coyle is moving on. The songwriter and multi-instrumentalist of bands like IT IT, Blød Maud, Soft Gondola, and more, is moving to California this fall to pursue his music career further and be closer to family (he was born in Oakland, and his sister recently moved back as well). But before the move, Coyle is releasing a seven-track solo EP that serves as a something of an epilogue for his life here.

Iridescent Cue is layered with found sound captured with Coyle's field recorder around Pittsburgh, voicemails and conversations with his family, home movies, as well as excerpts from videos on Incognitube, a site that plays a randomized selection of YouTube videos with fewer than 100 views (Coyle says they are frequently just kids playing Fortnite). But it's in the more personal samples that Iridescent Cue —released Fri., Aug. 23 with a show at the Government Center with Natural Rat, Anthony Heubel and the High Lonesome Band, and The Childlike Empress — that Coyle's ideas come to life.
"Emerald Call," the first song released from Cue, introduced this approach with a music video (directed by Andre Pavlenko and Coyle) that mixed home movies with present-day footage of Coyle and his friends. On the recently released single "Long Soft Life," Coyle layers in samples recorded of members from his immediate family — voicemails, quick conversations, a loop of what sounds like children wishing their grandfather a happy birthday. But mostly, the samples are chopped into imperceptible blips of sound, more percussive than emotive, but the effect is powerful. Mixed with Coyle's melancholic voice and smart songwriting (LIYL: The Antlers, Sufjan Stevens), "Long Soft Life" captures that bittersweet feeling of becoming your own person at the cost of being distant from your family, geographically or otherwise. It's about the regret and guilt of not calling back a loved one and finding a way to forgive that feeling and get better.
This all may seem like a heavy-handed guilt-trip, but it's lighter than it sounds. Coyle isn't as much finger-wagging as he's allowing himself to thoughtfully explore these feelings of guilt vs. growth, bitter vs. sweet. Take the album art, illustrated by April Zhu, which features an old fashioned TV whose screen doubles as a windowsill, the wind blowing in the curtains. A person leans on top of it, hands folded, looking away from the screen, more contemplative than sad, as if they're just enjoying the summer sounds of the street below. It looks like the moment before a nap. Above their head is a thought-bubble that says, "Iridescent Cue."
As Coyle puts it, the album may be about vague ideas, but the emotions are strong.