National Thrift Shop Day (Aug. 17) is upon us, and to celebrate,
Pittsburgh City Paper
reached out on social media and to staff members in search of treasured finds from thrift stores, vintage shops, flea markets, yard sales, and other places selling secondhand goods. The responses ranged from the cute to the weird to the nightmare-inducing (looking at you,
CP
editor-in-chief Lisa Cunningham). Overall, though, one thing is clear — there's something for everyone out there in the thrifting world.
For me, it's this purse I found at a Goodwill in Monroeville. Clearly old, but in good condition, its vintage look definitely caught my eye. When I opened it, however, I discovered the real surprise — a bunch of currency, possibly francs from before World War II. I knew then that this item had some history and absolutely had to have it. I've had it for years and have never used it because I'm too afraid it will get destroyed. I've also never researched the bills I found. If anyone can provide me with answers, please feel free to email
awaltz@pghcitypaper.com
.
Lisa Cunningham
–
CP
Editor-in-Chief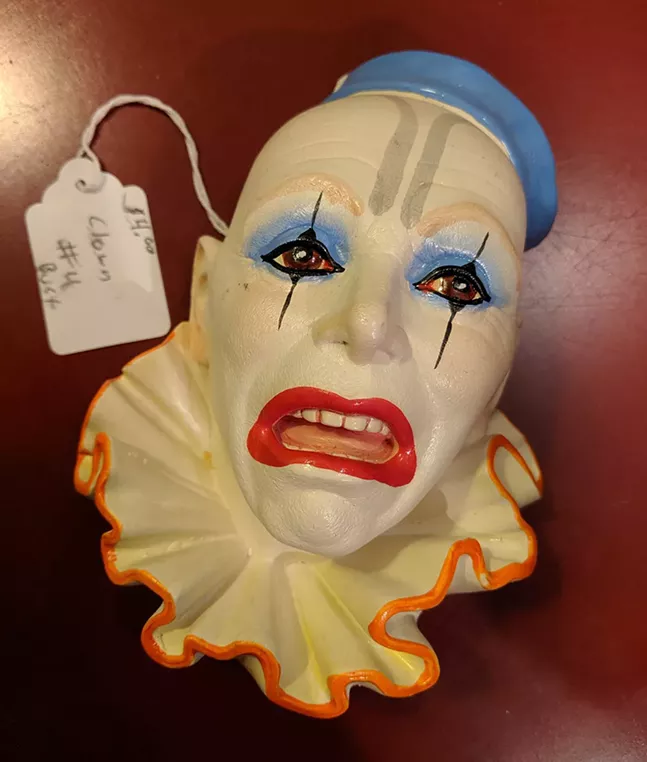 Send in the clowns! The first thing I seek out when entering any thrift shop or antique store is circus memorabilia. I love it all: old posters, sideshow artwork, carnival games ... most I can't afford, but I really love just admiring the pieces and dreaming of living in a circus-themed castle full of funhouse mirrors and life-sized freak show signs. I have been lucky enough, though, to find a few affordable circus posters and smaller carnival-themed pieces, including this little guy I rescued earlier this year from Bits of Time antique store in Bedford, Pa. The $4 painted ceramic bust was hanging on a wall, screaming out for me to take it home. I couldn't resist how the artist turned what was probably once simply the bust of a sad clown into a horrifying demon clown, just by taking that red paint a little further outside of the lips than necessary, and really going the extra mile with the details in his teeth and tongue.
Hannah Lynn
–
CP
Staff Writer
This denim shirt from Thriftique is not the most exciting thrift find, but it's one of the pieces I wear the most. It's hard to find a perfect denim shirt in this cold world. When I first saw it, I almost didn't buy it, but my friend convinced I'd get a lot of wear out of it. She also said, "I really don't need another denim shirt, but if you don't buy it, I will because it's too good." Now I leave it at the office and wear it almost every day as my office "sweater" because it goes with every possible outfit.
Bryer Blumenschein
–
CP
Events and Sponsorship Coordinator
This silk striped blazer (I wear it normally and as a Halloween costume) was purchased at the Mexican War Streets yard sale! Twas a girl's grandma's.
Tereneh Idia
–
CP
columnist/ Founder and Designer, Idia'Dega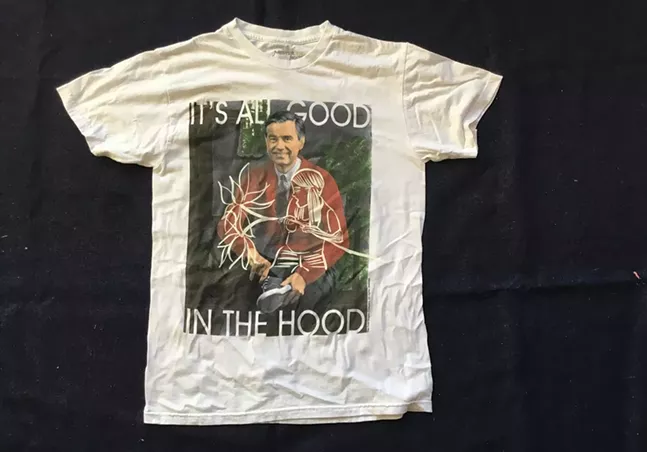 So I make these screen-printed tees from shirts I find at resale shops. I found this one at [Red, White & Blue Thrift Store] in Pittsburgh. And I thought it would be perfect for [
REC.T.T. recycled hand-printed tees by T
] because the drawing is based on a photo of me from an actual Mister Rogers book when I was a kid. All true, you cannot make this up.
Jared Murphy
–
CP
Photography Intern
As you can tell, it's a beautiful seashell chicken! It's like an old B-horror movie because it's so horrible but yet amazing at the same time. This beauty was found at the Salvation Army in South Side. It's just so ridiculous that I instantly fell in love.
Kahmeela Adams-Friedson
– Program Coordinator, Office of Public Art/Founder, RuggedAngel podcast network
Years ago, at that old used toy store in South Side, I found some
Peanuts
memorabilia. I am a huge
Peanuts
fan. It was a week or so after Charles Schultz died. Someone had cut out years-worth of
Peanuts
strips from the Sunday paper and put them in a scrapbook. There was also a Peanuts drinking glass from the '80s from a McDonald's happy meal.
Elyse Explosion
– Twitter: @elyseexplosion/Youtube:
Elyse Explosion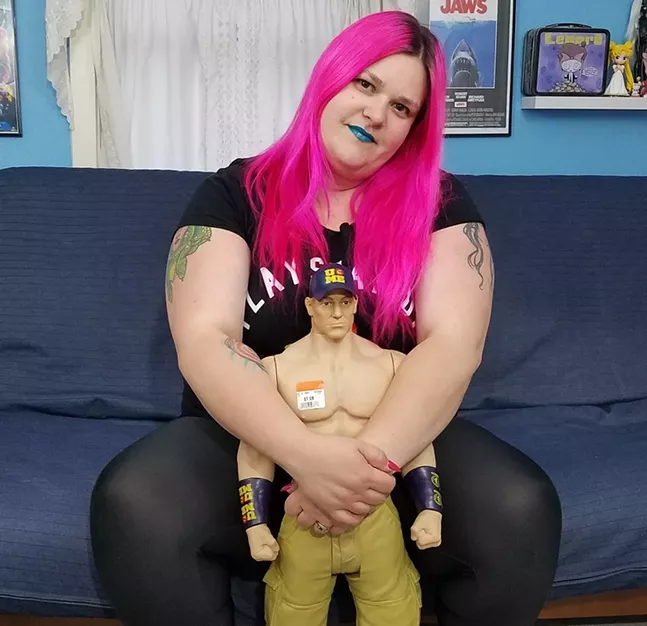 Absolutely the best thing I have ever found thrifting was a 3' tall John Cena figure. I got him for $8 at a local thrift store in central [New Jersey], and he's the best. I use him in all of my taste test
videos
to hold things for us.
MrHenry
– Twitter: @Henryleonjr
I'm always on the lookout for strange records. I've found a ton of them. In Fairmont, W.V. I found this jaw-dropping record.
Found this massive Satan wood carving in a Humane Society Thrift Store in Clarksburg, W.V. It weighs about 20 pounds. Wish I could tell you that the store owner said, "Ever since we got this cursed object in, we've noticed strange goings-on in our store." Alas, that didn't happen. Despite it not being cursed it's easily the weirdest thing I've ever picked up at a thrift store. Well worth the bargain-basement price of …16.66.
Toddy Tondera
– Host,
Thrifty Podcast
(
Winner: 2019 CP Best Of Pittsburgh, Best Local Podcast
)/Co-founder, Brick Body Boys
I have been purchasing secondhand items since I was a little kid. Over the years I've found trendy trinkets and useful unusuals. Ranging from JFK Assassination Picture Books to a pristine vintage couch that stretches about 8-foot wide, I've seen it. Sometimes I even see gross stuff. Actually, yeah, I find gross stuff pretty much all the time … All the cool and uncool things I've found over the years has already brought delight. Plus, it helps me save money. That's what this is sort of about.
But one thing you can't put a price on is FRIENDSHIP. Am I right? Not so long ago I was digging through Goodwill Outlet bins with my headphones on, probably blaring sad hip hop. I noticed a young man sort of taking a look at the same types of items as me. Even later on while we were somewhere else in the store, he was also looking at the same style/era of clothing that I was. I don't exactly remember how it went down but I assume he was the first one to speak. We said hello and he introduced himself as Shane. He told me that he saw me looking at the same stuff as him and at first he thought I was one of his friends who happened to be a lady. Very cool! He even complimented my tattoos. Five minutes go by and he asks if I want to take some stuff off of his hands for free, that he had in his SUV named "Debbie." For a small amount of time, I thought he was just messing with me, to see what I possibly had in my cart or in my car. He wasn't. He gave me a vintage Mario Lemieux Practice Jersey for free. It fits me huge, more like a dress, but it looks decent with the right pair of shorts. I really like it.
So over the course of a couple of months, we started to hang out and become buddies. Fast forward a little longer and we now have our own thing together. We are the Brick Body Kids. We teamed up and combined our inventory and sell cool collectibles and vintage clothes. Finding friendship in the places I hang out isn't always the easiest thing, so something like this, I know its true value and I appreciate it. Just like a rare item you find digging under all the Christmas trees and old porch furniture, I found a friend. I found Shane.