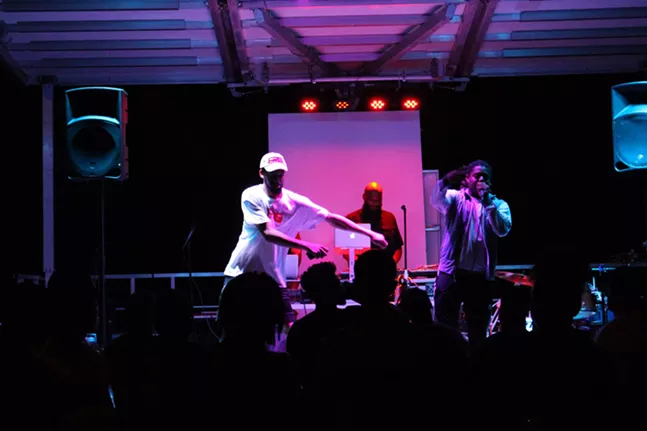 Unbeknownst to livefromthecity, the man behind the free Pittsburgh event Sun Fest, there's a festival of the same name that's been happening in West Palm Beach, Fla. since 1982. He recently realized the dilemma when someone contacted him online and mentioned being impressed that he had Florida's largest waterfront music and art festival listed on his resume. That's why this year's Sun Fest — going on its third iteration — will be the last one of that name in Pittsburgh. But it won't be the final free community-oriented music and arts festival put on by livefromthecity.
"Sun Fest is a manifestation of a vision of giving back," says livefromthecity. "I feel like it's almost my duty. ... It's truly a labor of love. That's a centerpiece of this whole situation: love. I don't do this for a pat on the back, I don't even make money."
Taking place on Saturday in collaboration with volunteer-run organization Community Forge, Sun Fest will feature performances from more than 10 Pittsburgh artists and musicians. The bill was hand-selected by livefromthecity and includes 7 City All-Stars, a showcase from The Pulse, The KRUNK Movement, Ayana Sade, Treble NLS, Sierra Sellers, Ky Vöss, Lolo Ree, INEZ, Back Alley Sound, Jack Swing, Jaybee Jackson, and Phillip Thompson.
"Everybody [performing] is somebody I'm a fan of," says livefromthecity.
Prior to the performances, visitors can check out Community Forge's annual BBQ and the Lost but Not Forgotten Outreach's Back-to-School Giveaway. From 1-3 p.m., free food and school supplies will be available, with music and entertainment kicking off at 4 p.m.
The first Sun Fest took place at BOOM Concepts in 2017 with 1Hood Media as the sole sponsor. BOOM gave livefromthecity the opportunity to do a First Friday event, so he thought, "Why not make it a music festival?"
The next year, wanting to put on another event, livefromthecity got in contact with Mike Skirpan, executive director at Community Forge.
"I was like, 'I want to do this festival but have nowhere to do it,'" says livefromthecity. "[Mike] was like, 'We're doing a community BBQ for Wilkinsburg, why don't we bring them together?'"
Now, for the third and final year of Sun Fest, the event has grown to include sponsorships from UMPC, Dollar Bank, Lyft, Steel City Indie, Wicked Pittsburgh, and Driving While Black Records.
"It's all about the love," says livefromthecity. "I love Pittsburgh and I love where I'm from. I love Wilkinsburg, it has a place in my heart, so this is from the heart."
Sun Fest '19. Sat., Aug. 17. 1-11:30 p.m. Community Forge, 1256 Franklin Ave., Wilkinsburg. Free. Search 'Sun Fest '19' on Facebook.