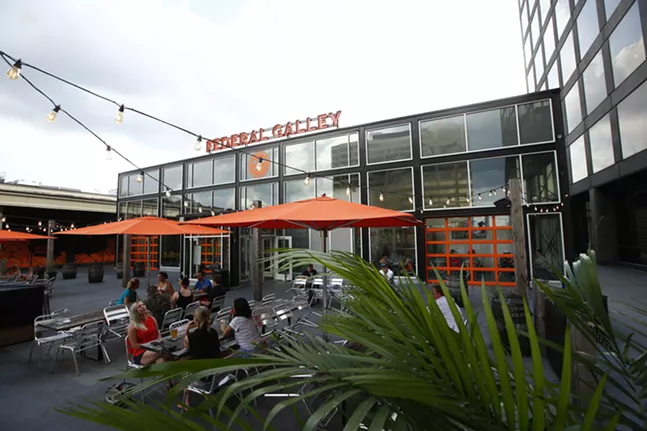 When Federal Galley opened in 2017, the headlines focused entirely on the incubator format. And why wouldn't they? Pittsburgh now had two restaurants from the Galley Group (Smallman Galley opened in the Strip District in 2015) to provide innovative, casual, delicious dining from a rotating lineup of amazing chefs. It's a novel concept without feeling laboriously hip. It deserves the love.
But that attention meant that Federal Galley's impressive bar program played second fiddle to the food during its first few months. Luckily, that's changed. In the two years since opening, Federal Galley's bar has become a favorite drinking spot for Pittsburghers and tourists alike. And what better reflection of a great bar than a great happy hour?
Happy hour at Federal Galley runs from 4:30 p.m. to 6:30 p.m., Monday through Friday (which is rare, considering most happy hours are used to draw in guests at odd hours, and Friday after work is not an odd hour). On paper, the specials — half off all beer, cocktails, and wine — doesn't seem all that special, but considering the creativity and breadth of the selections, it's a standout in the city.
Seasonal cocktails are divided into Fruits and Flowers, Vegetal and Herbaceous, Bright & Citrus-forward, and Tropical & Booze-forward, with each section thoughtfully kept to one or two options apiece. The beer selection goes for a deeper bench, with an average of 900 rotating beers being served on 25 taps throughout the year, from local favorites like Fat Head's, Threadbare Cider, and Yellow Bridge Brewing, to national favorites like Harpoon to Evil Twin. Additional perks include a charity cocktail each month, with $1 from every sale going to a local charity (it's Humane Animal Rescue in August).
The happy hour has been a wild success since Federal Galley opened, and a big part of that is the willingness to adapt to customer tastes, says Sophia Milinkovic, Federal Galley's bar manager.
"We are a bar program for the people," says Milinkovic. "We listen to the guests and provide for them what they want."