Pitcairn is now home to a brand new restaurant-slash-museum with the excellent name of Back to the Foodture.

The burger joint offers a wide selection of indulgent fried food in a space filled with pop-culture memorabilia and history lessons. According to owners Angela Randolph and Edward Magwood, it's a space to reminisce and show their kids what it was like to grow up before cellphones and the internet, but with incredible food.
There's a history walk on the bartop, taking customers through U.S. pop culture from the 1900s to the 2000s. Black-and-white photos start the timeline, showing early car models and soda shops; the bar ends with Britney Spears and butterfly clips. A few slightly startling mannequins dressed in neon side cases of ancient cell phones (remember the blackberry?), the first Game Boy, and lines of Cabbage Patch dolls.
But the restaurant isn't just about the past. Randolph, who runs the kitchen, aka the "foodture," is constantly growing her menu. Her menu, always a work-in-progress, is divided into four sections: burgers, wings, hot dogs, and fries. (Eventually, she hopes to list 100 wing flavors, 50 burgers, and 25 different fries.) The list is full of one-of-a-kind creations, including the Buggie, a new combination dreamt up by Randolph's son that swaps out buns for two grilled cheeses, and The Big Poppa, a burger sandwiched between two glazed donuts.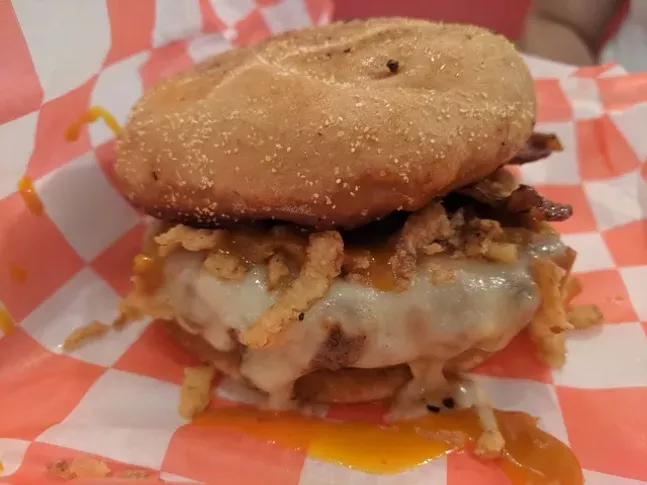 The Biggie references continue with the Ready To Die burger, though that's also an acknowledgment of its contents: five-and-a-half pounds of meat, stacked with steak, bacon, fried eggs, onion rings, lettuce, tomato, pickle, mushroom, and the restaurant's special sauce between two buns. If you finish the burger, fries, and a soda in 30 minutes, you can earn a spot on the joint's winner wall, $10 off a meal, and a "death" certificate. Since opening, only one customer has completed the challenge (in 15 minutes!).
I wasn't ready to die during my visit. Instead, I opted for another one of its best-selling burgers, the Down South. It was like returning to the diners of my childhood. The bun was soaked deliciously in butter with crispy edges, and the burger, smothered in cheese and South Carolina barbecue sauce, bit like butter.

Between maple waffle and salt and vinegar, Randolph's sauces cover sweet and savory. (Randolph's Steel Curtain wings, which she describes as "sweet with a little bit of heat," are literally black and gold.) My hot honey wings were as delicious as the burger, drowning in a sweet and spicy honey sauce.
Randolph might be known for her burgers and wings, but the Snoop Dog was not to be missed. The dog was bacon-wrapped, covered in 24-karat sauce (Randolph will not divulge any secrets to what makes this sauce so delicious) and cheese, and stuffed in a pretzel dog, sounded a little crazy at first. But somehow, Randolph made cheese whiz a winning ingredient.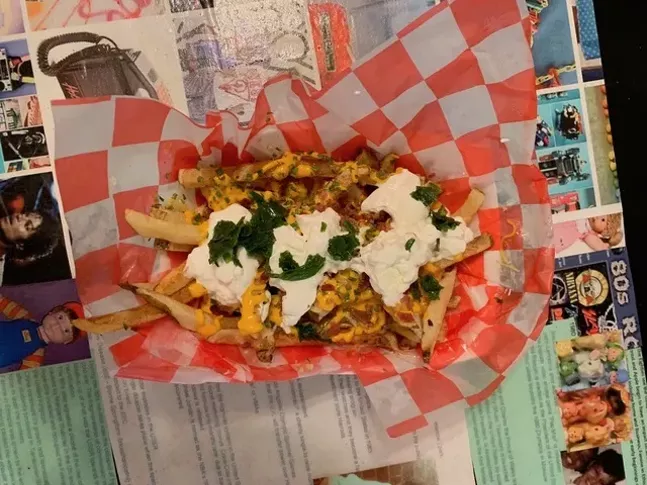 A friend summed up Back to the Foodture in two words: "delightfully tacky." There was no better phrase to describe the chaos of the restaurant's decor, or how fun it was to let Randolph and Magwood take me back to the days of payphones and pagers.
Favorite Features
Life After Death
Not ready to die? Try the Life After Death challenge, a basket of 12 wings tossed in Randolph's homemade Carolina Reaper sauce.


Fry Flavors
Pizza fries! Buffalo chicken fries! Back to the Foodture really does have it all.

3. Bow Wow
Can't handle the Snoop Dog? Try the Bow Wow, its smaller, less-dressed companion.