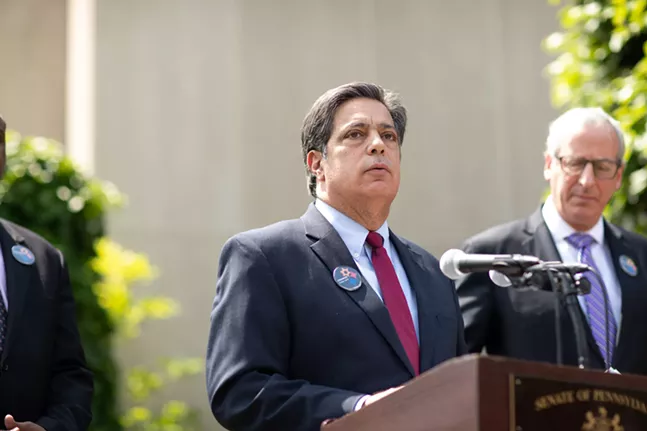 Critics often say legislators shouldn't "politicize" mass shootings and should avoid introducing gun-reform bills in the immediate wake of these tragedies.
But according to data from the nonprofit
Gun Violence Archive
(GVA), mass shootings in America are so common that there hasn't been a time for legislators to write bills that isn't in the wake of a mass shooting. As of Aug. 5, there have been
255 mass shootings in the U.S. in only 217 days
in 2019. GVA defines mass shooting as incidents where at least four people are injured and/or killed by gunshots.
State Sen.
Jay Costa
(D-Forest Hills) is renewing his and state senate Democrats' push for Pennsylvania gun reforms. Costa is the senate minority leader and is in charge of guiding the caucus' legislative agenda.
We need stronger sentencing guidelines for people that are unlawfully carrying firearms, to look at disqualifying criminal convictions that prevent an individual from possessing a firearm, and implement UNIVERSAL BACKGROUND CHECKS FOR ALL FIREARMS

— Senator Jay Costa (@Senatorcosta) August 6, 2019
In a series of tweets, Costa announced that the
senate Democrats
will push for universal background checks on all gun purchases, stricter Risk Prevention Orders to temporarily remove firearms from individuals threatening to harm themselves or others, increased funding for mental health services and detection, and a statewide ban on owning assault weapons.
Costa is urging his legislative colleagues in the senate to support these measures.
"Haven't we seen enough innocent victims?" wrote Costa in an Aug. 4 tweet. "We have the ability to make it stop. We have to act. We need reasonable and responsible gun safety measures, increased investments in mental health programs, and an end to the toxic-hateful rhetoric. If you don't want to act, move aside and let those of us who do step forward."
Pittsburgh Mayor
Bill Peduto
recently signed gun-restriction bills for the city of Pittsburgh, but they aren't being implemented because of a
court challenge
. The bills would restrict the use of firearms, not the ownership of them, since municipalities like Pittsburgh don't have the authority to enact such sweeping measures. That power lies with the state or federal government.
Peduto has been in favor of the gun reforms suggested by Costa and he urged state and federal legislators to vote on the bills.
Mayor Bill Peduto and Shannon Watts, founder of gun-control advocacy group Moms Demand Action, said this morning that they're asking legislators to vote on stalled gun-control bills in next 30 days. pic.twitter.com/ad6oew6awP

— Ashley Murray (@Ashley__Murray) August 6, 2019
But the state senate is currently controlled by Republicans, who have been less open to
changing the state's gun laws
. Senate Democrats have been united in their support of gun reform, but they would need three or more Republicans to join them to get the votes through the chamber.
Additionally, the Pennsylvania House is a bigger hurdle for gun reform since Republicans hold a larger majority there and that chamber includes several rural Democrats who don't support many gun-control bills.
Nonetheless, Democratic Gov. Tom Wolf has urged state and federal lawmakers to pass gun reform, including support for universal background checks and "red-flag laws" that remove weapons from people who are known to be dangerous.
"The commonwealth must also do more," said Wolf in an
Aug. 5 press release
. "I urge the House and Senate to address this issue. … All of these bills have been stalled for too long."