From outside, the SisTers PGH community center in Squirrel Hill appears fairly mundane: a typical storefront office flanked by a beauty salon and a tiny bridge. Looking through the large window, a table piled high with box lunches is visible.
But while they appear normal enough, the lunches serve an important purpose — they're for anyone who stops in and needs to eat. And while from the sidewalk this building seems commonplace, from the inside, what happens here — and the woman who makes it happen, is exemplary.
SisTers PGH is the brainchild of Ciora Thomas: activist, trailblazer, former sex worker, and trans woman on a mission to create safe and welcoming spaces for fellow trans people and fellow people of color, in a city where she herself has often felt unsafe and unwelcome.
The organization focuses on advocacy, housing, and visibility, along with the centering of trans people and establishing environments that are not only safe and welcoming, but dedicated. "We need a place where we can be us, where our tones aren't policed, and we can sit within community," Thomas says from a small desk covered with Post-its, laptops, notes, and work.
This location is a beginning, in terms of brick and mortar. But while the street front is new — the center's grand opening was held at the end of March of this year, the organization has been extant for eight years. Thomas says she was inspired to open SisTers PGH because of her own experiences. As a sex worker without a home, she used to sometimes sleep at Point State Park, alongside other women in similar circumstances.
As brief as these rests were, one time she slept for too long and was robbed. "I could have damn well whooped asses, but I sat there and cried," says Thomas. "Why the fuck do we have to keep going through this? Why are we out here selling our bodies to these old white men and not even making enough money to do anything?"
So, she took action. She went to rehab, got clean, and began a plan to create support and resources for other trans women. Eight years later, she's sitting in an office where food is plenty, waiting for people in need to come inside and be fed. She also offers clothing, a rest, a place to escape.
Thomas' journey includes numerous side trips that helped her learn how to navigate the structures of LGBTQ activism in Pittsburgh. Following her time in rehab, Thomas worked on a public access television show addressing the Black trans narrative in Pittsburgh. But she says that experience still had many issues.
"I found myself being tokenized to the extreme within organizations who would try to get me to go everywhere for free, do everything for free," says Thomas. "After a while, it started to wear on me because I was doing work for them instead of doing work for me and my community."
As she began to assert what was needed rather than accept what was parceled, she says she received criticism for being difficult to work with. She began to pull away from outside institutions and back into herself.
"I started to really home in on my Blackness," she says. "It was one thing for me to be learning this identity of trans; learning the identity of being a Black woman was yet another experience."
This exploration brought not only an enriched understanding of self, but the ability to move forward from a stance grounded by roots. "It turned me into this person who knew where I lived, knew the law of the land, knew the people in Pittsburgh and how it functioned."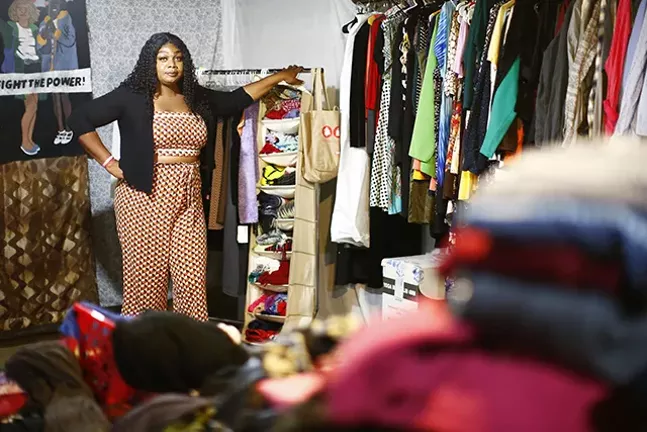 The person she became was one who felt more empowered to strike out on her own, building an organization with a strong focus on intersectionality and a mission to be wholly inclusive and adhere to its principles. Thomas also believes that being present in other community organizations is important, to support efforts and causes.
Only open for a few months, SisTers PGH's community center is still evolving. The next objective is to purchase a house to provide a more reliable source of shelter. More immediate is this weekend's People's Pride, first founded by SisTers PGH in 2017 after seeing a need for a more inclusionary festival and march in the city.
The City of Pittsburgh has also officially declared Sun., June 9 as the "3rd Annual People's Pride Day." Mayor Bill Peduto's proclamation reads, "SisTers PGH brings thousands of people together from multiple intersections, including local nonprofits, unions, schools, allies, and visitors to celebrate the importance of our trans POC forebears."
Thomas celebrates her recent successes, but doesn't forget the journey it took to get here. A little less than a decade ago, she was writing it all down in notebooks while in rehab. "I still got one of my old notebooks," she says. "If I get stuck on something, I go back to it, and I'm OK."