Redfishbowl and Wicked Pittsburgh could have easily become competitors. The artist collectives — both of which aim to unify local creatives through music, art, and performance —have instead chosen to work together and uplift each other.
"There is no room for competition in the Pittsburgh creative community," says Michael Schwarz, founder of Wicked Pittsburgh. "In a city with so much pride and talent - on the verge of an artistic renaissance — it [has] never been more important to collaborate, encourage, and empower each other as Pittsburgh artists."
About six months ago, Schwarz and Chris Boles, founder and manager of Redfishbowl, met and broke down the top three goals of their organizations. Upon realizing their intentions were almost identical, the two decided to be allies.
"We're helping each other promote," says Boles. "We have a similar concept, keeping art and music together, pushing multi-genre shows."
This weekend marks the first official collaboration between Redfishbowl and Wicked Pittsburgh. On Friday, April 26, Wicked celebrates its two year anniversary with live art and musical performances at Gooski's. The participating artists and musicians come from multiple Pittsburgh art organizations. Musically, there is Jack Swing, Atlantic Wasteland, and Black N Mild of Wicked Pittsburgh Records, Brittney Chantele, Jordan Montgomery, and Treble NLS of 1Hood, and Lyn Starr of High Five Productions. Anton Bachman, Camo Customz, Joe Craft, and Jerome Charles are all creating live art. Twenty percent of the proceeds will be donated to Assemble Pittsburgh.
"Seeing so much cross-collaboration, conversation, and socialization between the many sub-sections of the Pittsburgh creative community couldn't be more exciting," says Schwarz. "This communication manifests broader-reaching and more lucrative projects for artists, while simultaneously promoting Pittsburgh as the arts-centric community it has been striving to become these past 10 years."
Then, on Saturday, April 27, Redfishbowl hosts Wilkins Block Party in Schenley Park. In its fifth year, Wilkins Block Party originated when Memphis Hills band members, who were all attending Carnegie Mellon University and living on Wilkins Avenue, rented out the block for a block party. Redfishbowl got involved three years ago when Shane McLaughlin of Buffalo Rose introduced Boles to the Memphis Hill members. They were looking to change the location, add an art element, and generally spruce up the event.
"They used to donate to really big organizations that would kind of just get a random check in the mail and not know why," says Boles. "So I was like 'Hey, we should do local organizations where we can actually see a change and contribute the funds to a cause that you know what it's going towards.'" This year, proceeds go to BOOM Concepts.
Boles also diversified the musical lineup and made sure to juxtapose almost opposite acts when creating the schedule.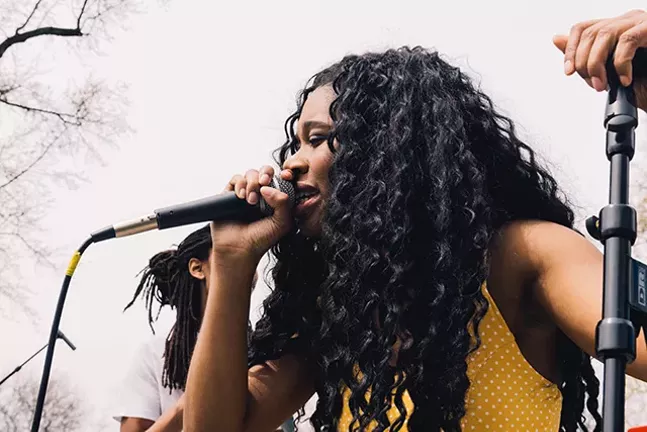 "Last year it went from Jack Stauber to Jasiri X," he says. "I was honestly really worried about that, for that drastic of a change, but it works and if you're open-minded enough to have that happen, that's what I think is really cool and people should get geared in more to just good music, whatever genre it is."
The 2019 lineup includes Benji., Memphis Hill, Brittney Chantele, BBGuns, Meeting of Important People, Chet Vincent and Biirdwatcher. There's also art from John Muldoon, Redd Vision, and more than 30 other artists.
"The opportunities are there," says Schwarz. "The talent is there. The funding is there. It's just a matter of coming together to actualize these incredible projects. We are most certainly stronger in numbers — and we can all succeed together."
Wicked Pittsburgh's Two Year Anniversary Showcase. Fri., April 26. 8 p.m.–1 a.m. Gooski's. 3117 Brereton St., Polish Hill. $5. wickedpgh.com
Wilkins Block Party. Sat., April 27. 1–10 p.m. Schenley Park, Vietnam Veteran's Pavilion Driveway, Oakland. Suggested donation of $5. redfishbowl.com