While you were taking summer vacation, city officials were wrangling over the politics of natural-gas drilling. Pittsburgh City Council sought to put a referendum on the November ballot allowing voters to ban such drilling in city limits. The effort failed in the face of opposition from Mayor Luke Ravenstahl.
So should you expect a crop of drilling rigs in your backyard? Judging from trends in the buying and selling of drilling rights over the past two years, the answer is "no."
Allegheny County real-estate records track the leasing of drilling rights, and the transfer of those leases to other parties. According to an electronic database of those transactions, 60 percent of the county's 130 municipalities have seen some kind of leasing activity since August 2009. In most of those communities, however, fewer than 10 such transactions were completed; the busiest markets have been the outermost suburbs. Pittsburgh, by contrast, barely cracks the top 10 for leasing activity. And while the map doesn't reflect the total acreage at stake, those leases amount to less than 1 percent of the city's 55 square miles. By contrast, data compiled last year by the University Center for Social and Urban Research suggests that in other "top 10" municipalities, as much as 40 percent of the land may be leased.
What's more, drillers seem to be losing what little interest they had in Pittsburgh. While the airport-area communities of Findlay and North Fayette have seen increasing lease activity in the past 12 months, not a single new lease has been signed within city limits for more than a year.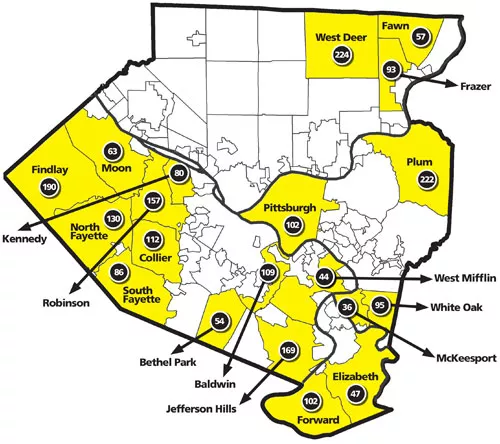 Methodology: Numbers reflect oil-and-gas lease transactions between August 2009 and August 2011, available online at https://pa_allegheny.uslandrecords.com/palr/. The numbers track only the total number of transactions; since property boundaries vary, they do not reflect total acreage leased in these communities.