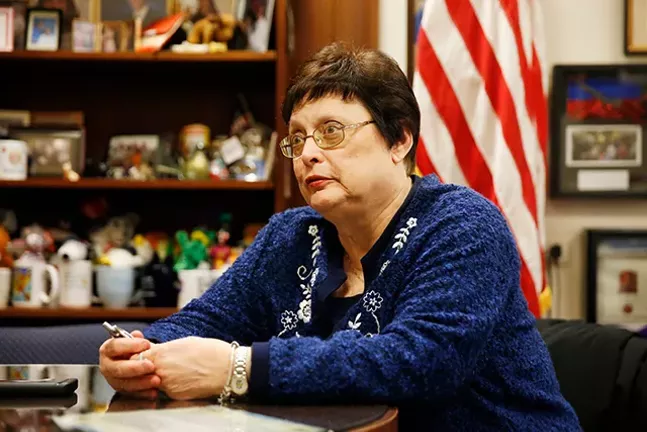 As the May primary approaches, Pittsburgh City Councilor Darlene Harris is buffing her image as a contrarian who pushes back on Mayor Bill Peduto's agenda.
Her role as the antagonist in many city council debates and her unorthodoxy has garnered Harris support, and even her opponents say she gets things done for constituents, albeit often a narrow subset of District 1 residents.
"I'm not what your everyday politician would be, someone who takes the job for the money," Harris says. "I took the job to serve the people and I think I'm serving them well." She adds that she frequently puts in 80 hours a week at work. "You need to care about the people, sincerely care."
Harris says her proudest accomplishment on city council was "getting the pensions done" when she was council president in 2010. The city prevented a state takeover of its ballooning pension fund by allocating money from a parking tax to get the pension fund to a 50 percent threshold. But it's been some time since Harris introduced a significant piece of legislation; instead she handles things like trash complaints and other constituents' concerns via her social media presence or through phone calls, she says.
Harris' opponents in the May primary say her style of public service is becoming a detriment to the district's future. Harris' brand of politics, which they say is focused on the micro-issues, doesn't look enough at the bigger picture.
"Really, it's about the level of services that folks are getting, or not getting, from the city, and being listened to," says Chris Rosselot, a former aide to U.S. Sen. Bob Casey challenging Harris for the District 1 seat. "She has the reputation of being an independent thinker on council, but the last couple of years, particularly right before she decided to run for mayor, there's been a lot of distractions, and she has focused primarily on political bickering back and forth with the administration and other council members."
Quincy Kofi Swatson, another contender for the District 1 seat, says Harris does connect with her constituents, but on a limited scale. "She is responsive to the small, tiny issues there," he says, likening them to "cat in the tree" issues that affect a small number of people.
The larger problem with Harris' governing style, Swanson says, is that residents in District 1 have become accustomed to receiving subpar services.
"A common theme I'm seeing in communities that are marginalized is the interpretation that city resources are scarce, because the track record of the resources they have is indicative of the resources that are out there," Swatson says. "You are getting an unfair share of the resources, and part of that process means people being told 'you should be thankful and grateful for what you get.'"
With a record number of women running for president and a new class of women in politics, how does a longtime politician like Darlene Harris fit into this woman-powered mindset?
"It's harder for women because they're expected to take on more," she said, adding she has her eye on a few of the female up-and-comers (she declined to say who, however). But she says taking on extra work is a role she's always embraced. "I try to do as much as I can, and I do think I have a motherly touch."
Few local politicians in Pittsburgh — with the possible exception of Peduto — are as polarizing as Harris, who has served 13 years on city council and, before that, for eight years on the Pittsburgh Public School board. In her last re-election campaign to council in 2015, Harris eked out a primary win with 47 percent of the vote. This time around, Harris is facing primary challenges from Rosselot, Swanson, and Bobby Wilson, who's running for the seat a third time.
On Friday, Harris announced she won't comply with a city law requiring candidates to file monthly campaign finance reports. Her attorney says the campaign finance rule in question is "illegal" because it pre-empts state campaign finance rules.
Harris' adversarial relationship with Peduto has long been a dominating feature of her political identity. Examples of Harris supporting Peduto-backed legislation are few and far between, but it has happened. For instance, Harris voiced support for a proposal by the Peduto administration to raise the mandatory retirement age for city police officers to 70 (she voted for the measure which passed in a 6-0 vote last February).
"I think with this [mayor], it's a little unusual compared to the [other] mayors I worked with. All the other mayors were here in Pittsburgh and knew what was going on. I think he's on the road more than he's in Pittsburgh," she says.
When pressed about whether she thinks Peduto's travel hasn't benefited Pittsburgh, Harris digs in. "We've raised the profile with every mayor we've had."
When asked if she and the mayor share any common ground, she says there might be some, but fails to specify.
Even when prodded that maybe she and Peduto can become friends and grab an after-work drink, Harris bristles. "Well, I don't drink," she says, adding, "He's not here enough to get a cup of coffee with."
Peduto's spokesperson Tim McNulty says Harris is merely repeating herself when criticizing the mayor.
"This is a tired complaint," says McNulty, "which could only be worse if it somehow incorporated bike lanes."
Both Swanson and Rosselot say they aren't running "anti-Darlene" campaigns, but Wilson makes it plain: "I'm running against Darlene Harris," he says. While he acknowledges that Harris does connect with constituents, he says it's time for a change in District 1.
"At the end of the day, people want to know if you're going to listen to them, whether it's someone in the Mexican War Streets, or Marshall-Shadeland. There could be a lot of progress, whether it's getting the Garden Theater done or affordable housing. The North Side has a lot of need and we need to fill the gap and make sure these projects are done."
For her part, Harris does not seem overly worried about any of the contenders to her seat. She said she's readily available via telephone to any of her constituents, and says her pitch is simple: "I've been involved in the community for at least 45 years, I come to the community with issues that are going to come up, and I never vote for just me, it's 'we.'"
Asked what her first priority will be if she's reelected, the biggest issue affecting the future of District 1, Harris takes a long pause. "I haven't really thought that far ahead."