Becca Hegarty and Jason Oddo, the team behind Bitter Ends Garden & Luncheonette, captured Pittsburgh's attention with their mom-and-pop counter-service restaurant in Bloomfield. The small menu presents dishes with intention and care. Bitter Ends quickly topped restaurant charts, the often-present "Sold out! See you next week :)!" sign a display of love for the quirky cafe.
The co-owners started out with a garden in Verona, clearing off a plot of land to fuel their farm-to-grill operation. When Hegarty's mother headed into the late stages of ALS, Hegarty wanted to make something meaningful with the farm. Bitter Ends Garden & Luncheonette was opened in time for Hegarty's mother to see a dream come to fruition.
Despite high demand, Bitter Ends stays small. It allows the owners to source a majority of their menu from the humble half acre of land in Verona. Oddo, who manages the little farm, sprouts a mix of heirloom and open-pollinated vegetables, all with rich ancestry. It's a history lesson in seeds.
In summer, 90 percent of the dishes are sourced directly from the farm. But, without a greenhouse, it does not produce year-round. In sub-zero temperatures, Bitter Ends sources from their "farm friends," including Who Cooks for You?, Be.Wild.Er Farm, and Grow Pittsburgh.
Hegarty and Oddo's approach to sourcing is intimate, as they say, "We never write a menu without first meeting the product." It's a harvest-driven eatery that lets crops take the lead, dishes a vibrant showcase of the farm's diversity. The two get down and dirty with food, treating their farm as a living, breathing organism, not a manufacturing agent. Their garden is the heart, soul, and spirit of Bitter Ends.
Next to Spork, Garfield's small plate-centric restaurant, sit four raised beds and a greenhouse. In winter, it's nothing special. Raised beds sit empty, barren against the winter's bitter chill.

In summer, it's a different story. The beds overflow with spiny vines, beanstalks crawling up pre-set archways and tomatoes beaming from the corners of cages. The garden displays a playful taste in seeds, hand-picked by chief gardener Jonathan Corey.
This year, Corey plans to plant more than 100 varieties of seeds. He is sticking with heirloom seeds — diverse plants with names like Pineapple Tomato, Mitoyo Eggplant, and Aji Charpito — to fill the garden space.
Along with endless dry seeds, Corey plans to incorporate live plants on the plots. Strawberry bushes and Chicago fig trees travel to the restaurant, covered and cultivated in the greenhouse until warmer days.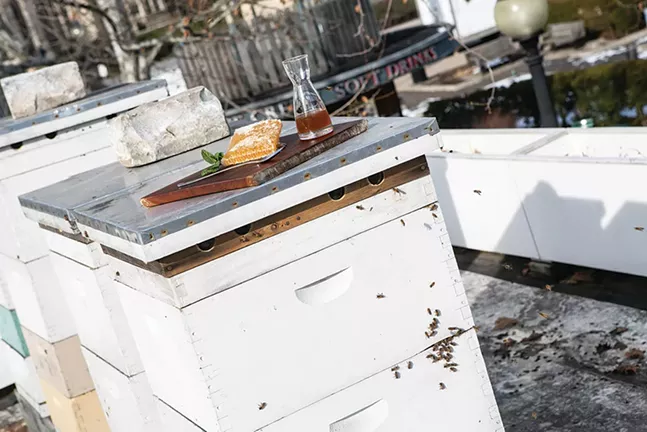 Corey, who moonlights as a cook during the winter months, has full control over what the garden grows. It's only challenged the kitchen a few times, the worst being a Rat Tail Radish. No one had seen or worked with the spindly bean (is it a bean or a vegetable?), but after a few tries, it found its place in Kimchi.
Spork Garden harvests year-round. In winter, the greenhouse harvest is small, featuring greens that can withstand Pittsburgh's winds. As March rolls around, Corey slows down the microgreen production for an early harvest of root vegetables, rapini, and other produce that can handle temperatures below 15 degrees. By May, Spork Garden is nearly fully planted; the garden is in full swing by June.
Since the garden operates year-round, a garden-grown product is always on the menu. In fact, every dish on the menu uses a house-grown item. It might be a garnish — Corey plants a wide-range of edible flowers — or it might be something preserved from an overzealous crop. During prime harvest, what's picked in the morning will be on a plate that night.
In a city of steel, The David L. Lawrence Convention Center offers a sea of green. The massive building, teetering on the edge of Downtown, hosts multiple gardens and outdoor spaces that expand a combined 81,300 square feet around the center.

To the south, a terrace houses native plants. The garden showcases a diverse range, including perennials and sedums (an indigenous plant genus). It's not edible, but environmentally proactive all the same. Native plants produce clean air, store water, and help absorb heat.
The terrace to the north overflows with medicinal plants, pollinators, a range of vegetation that supports monarch butterflies, and of course, edible plants and garden boxes.
Edible plants, cared for by the convention center, are made into jams, sugars, and other treats. Blueberries, mountain mint, strawberries, and prickly pear can be found in the space, all native to the area.
Garden boxes are under the care of Levy Convention Centers, the venue's food service company. Twenty-seven boxes line the terrace overlooking the Allegheny River. Boxes feature a variety of tomatoes, strawberries, cucumbers, Brussels, and more. Over 80 percent of the herbs grown in the boxes go directly back into the convention center.
The Porch is a satellite restaurant from the Eat'n Park group but polar opposite in taste. Even located in a college neighborhood (with a second location in Upper St. Clair), the eatery delivers high-quality, accessible dishes. There's a focus on freshness and sustainability with a dash of creativity missing from straightforward Eat'n Park dishes. Head chef Andrew Jacobson and his team focus on local sourcing. Cue the beehives.

Bees have been part of The Porch since about 2013, two years after the official restaurant debut. Each hive produces around 100 pounds of honey and this year, maybe more. Jacobson notes that the hives are "healthier than ever."
Previously, The Porch worked with local businesses to exhaust the 400 pounds of honey. A partnership between a local brewery resulted in a Porch-honey mead. Chocolate Bee Hive ice cream was a collaboration with Millie's Ice Cream. Jacobson paired the black walnut fudge ripple honey cardamom ice cream with house-made baklava.

Honey isn't the only hyper-local product at The Porch. On top of the restaurant, Jacobson and his crew tend to a seasonal garden that snakes along the rooftop. Fifteen wooden planters hold herbs, tomatoes, peppers, and more, the garden heading into its eighth active year this season.
It's rare to see a restaurant of this volume attempting in-house growth, especially with The Porch's quick table turning. For Jacobson, it's a constant learning process as he approaches the small-harvest packed-restaurant conflict.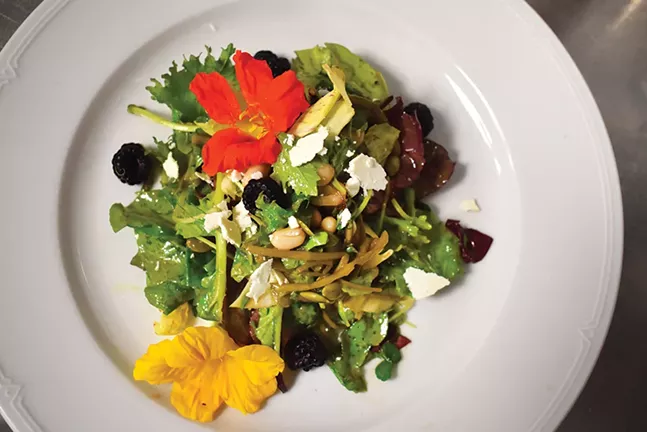 Every year, through Eat'n Park's strong relationship with Grow Pittsburgh, Jacobson picks seedlings from Phipps Conservatory. Jacobson keeps his range of vegetables modest, in order to offer a house-grown dish for three or four days. He sticks with heirloom varieties for better flavors and floods the planters with herbs.
Rather than misrepresent the size of his garden, Jacobson crafts featured plates around the rooftop during growing season. He uses the harvests in hot sauce for wings, stuffed peppers, or heirloom tomato salads. And fresh-grown herbs are sprinkled throughout static menu items.
Jacobson is new to gardening but sees it as a "labor of love." For him, there's nothing better than using ingredients cultivated in-house and watching customers be amazed by the freshness of the flavors.