New local bands and musicians could learn a thing or two from veteran Pittsburgh reggae rockers, The Flow Band. Formed in 1980, the six-member group has established themselves so well in the music community that they can pretty much play where they want, when they want.
"We stay pretty booked," says The Flow Band guitarist and vocalist Uzell Finney. They have shows scheduled all the way up through September 2019. "A lot of places booked us already because come December and January, they like [to plan] the summer days. Everybody wants that Flow Band, that sunshine calypso vibe."
From June to September, The Flow Band plays every Friday, Saturday, and Sunday night, in addition to a sprinkling of weekday shows. They have standing gigs at NOLA on the Square, where they play one to two times a month, and at Wallace's Whiskey Room & Kitchen, where they perform every third Friday of the month. In between those performances, The Flow Band can be found all over the city at everything from festivals to college campuses.
"Festivals are my favorite place to play," says Finney. "Those outdoor, all-ages spaces."
Reggae music, with its origins in Jamaica, tropical drum beats, and dancehall rhythms, is typically a warm weather genre, so winter months are slower for The Flow Band. But the group tries to play at least two shows a week. Beginning Fri., Feb. 22, The Flow Band is starting a series of pop-up concerts, the first of which takes place at Chief's Cafe in Oakland.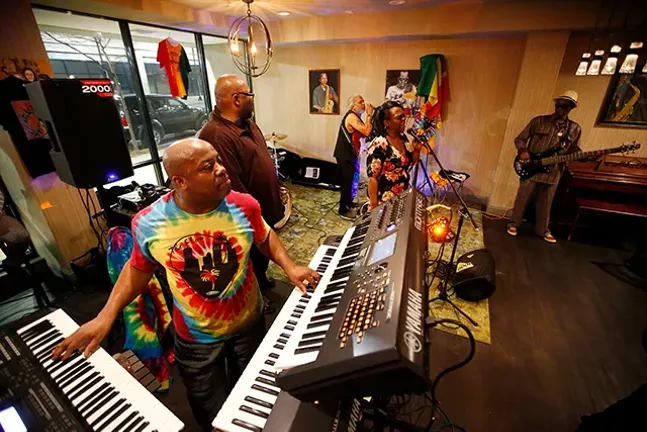 "We looked for small venues that don't normally have entertainment to help them increase their clientele for the evening, like little cafes," says Finney. "We do the nightclubs and the restaurants and the bigger venues and everything, but sometimes you have to do things in the community. It's right on the bus line, people can walk, it's centrally located, easy to get to, a lot of foot traffic, and no cover charge."
Occasionally, The Flow Band extends its musical services to public schools or daycare centers. "We try to do little 30-minute shows for the kids. They dance all over the place; they love it."
The luxury of choosing their performance schedule didn't come right away. When The Flow Band first started, finding places to play was extremely difficult. In the 1980s, the genre the group is known for had yet to make its way to Pittsburgh.
"It was like 'Reggae, what?' We weren't in, like, New York or Florida, or California, places where they really knew about it," says Finney. "A few did know about Bob Marley, but it wasn't really popular."
The Flow Band put up flyers, made cold calls, sent snail mail, and used word of mouth to try and get gigs. "It's not going to come to you, you have to grind, and you have to hustle," says Finney. "Like the rappers say, 'get out there and get it'."
The hustle paid off. Along with playing every Thursday at the now-closed Anthony's in South Side, The Flow Band performed every Tuesday for almost two years at the Crawford Grill when the Hill District restaurant was still open. They were the only reggae band to ever play there.
One would think that after 30-plus years of performing in the same city, a band would lose its relevance and people would tire of seeing them perform. But Flow Band has stood the test of time.
"You're having fun and jamming, but there's a business side of it too," says Kinney. "We encourage people to get up and dance, we limbo, 'how low can you go.' You get a free t-shirt. People love that. That's what makes it so enjoyable and memorable and club owners want you back, and people want to see you again because they had a nice time with a nice vibe, drama free, no negative vibes."