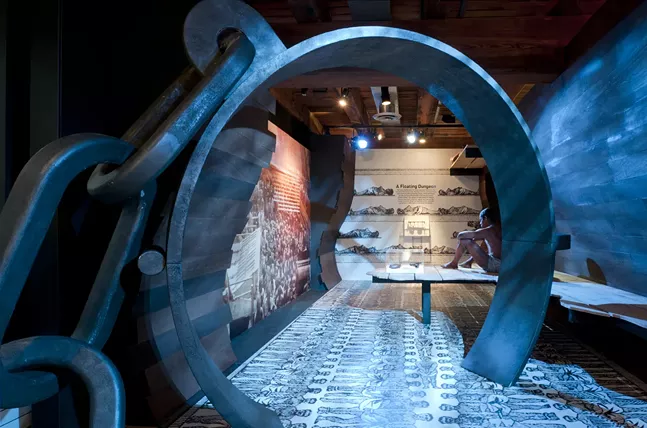 Part of Pittsburgh City Paper's month-long celebration of Black History Month
The work of Black Lives Matter activists will go down in history as helping to keep police and lawmakers accountable for their actions towards the treatment of Black people in our country. Here in Pittsburgh, hundreds took to the streets just last year after 17-year-old
Antwon Rose Jr.
was shot and killed by an East Pittsburgh police officer. When artist Alisha Wormsley's
"There Are Black People in our Future"
billboard was removed, public outcry led to a program inspired by her work.
But visit the Heinz History Center in the Strip District, and you'll discover that civil-rights activism in Western Pennsylvania isn't exclusive to only current events; the importance of the Black Lives Matter activist movement becoming even more clear when you look at this country's past.
The History Center's
From Slavery to Freedom
exhibit showcases one of history's greatest examples of activism in Western Pennsylvania, when the Underground Railroad in Pittsburgh helped an estimated 100,000 slaves escape during the early 1800s.
The long-term exhibit at the museum highlights over 250 years of African-American history. Visitors can view tools, textiles, artwork, and paperwork from African slaves. Interactive touch screens allow guests to explore the local safe houses involved in the movement.
"The History Center showcases and interprets Western Pennsylvania's rich African American history and heritage year-round — not just during February, through exhibitions, public programs, publications, research, and more," says Samuel W. Black, director of the museum's African American Program. "That said, Black History Month is very important to our region because it gives us an opportunity to shine a spotlight on the life experiences, roles, and contributions of African Americans from Pittsburgh.
"Many people may be surprised to know that Black History Month is celebrated by nations around the world — it's not just an American thing. So it's also relevant from a global perspective to observe and celebrate Black history this time of year."
The History Center, located at 1212 Smallman St., is open daily from 10 a.m.-5 p.m. For more info, visit
heinzhistorycenter.org
.
After visiting the museum and seeing
From Slavery to Freedom
in person, get an even more in-depth look behind the exhibit in the
project's microsite
, an amazing online collective of historical info, images, and sound bites.