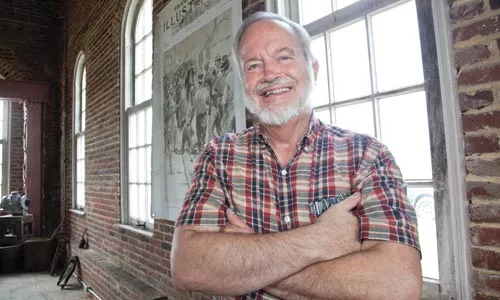 When Labor Day rolls around in September, it will be a strange first for retired professor Charles McCollester. It will be the first Labor Day following the recent closing of the Pennsylvania Center for the Study of Labor Relations, located at Indiana University of Pennsylvania.
"It marks the end of an era," says McCollester, a Mount Washington resident who was the center's longtime director.
"There will be a significant void left by this," agrees Paul Clark, who heads the Department of Labor Studies and Employment Relations at Penn State.
On paper, at least, the center is a victim of state budget cuts. But McCollester and others see it as part of a broader trend of downplaying the significance of organized labor. And at stake may be tens of thousands of dollars donated to the center by those sympathetic to the cause of labor.
The center's swift closing, on June 30, has surprised many: Clark himself wasn't aware of it until contacted by City Paper. Still, he says, it's not totally unexpected.
In the past 20 years, "many universities have disavowed any responsibility for doing [labor programs]," Clark says. "It's unfortunate to hear IUP is walking away from this responsibility."
The Pennsylvania Center for the Study of Labor Relations was established in 1976, with the mission of "providing training, education and technical assistance to union members, officers, and staff across the state." Along with being a home for labor-themed academic research, it also offered non-academic training -- offering workshops to teach labor representatives how to negotiate contracts, for example.
"The program was intended to have a major emphasis on training and skills for union workers," said Martin Morand, who helped found the Center in the 1970s.
McCollester ran the center from 1998 until 2009, when he retired shortly after having a heart attack. He's well known in local labor circles, and the author of The Point of Pittsburgh, a 2008 "people's history" that recounts Pittsburgh's history from a working-class perspective.
McCollester says the move is part of an ongoing trend in the school's Industrial and Labor Relations Department. "The direction the department was going in was HR," he says. As the school concentrated on teaching students how to be human-resource managers, "I was kind of like the 'Last of the Mohicans' there."
IUP spokeswoman Michelle Fryling said the move to close the Labor Center wasn't based on any shift in philosophy, or anti-labor sentiment. "It was funding," she says -- and the Pennsylvania State System of Higher Education (PASSHE) is to blame.
PASSHE, which administers IUP and 13 other state universities, provided $299,500 to the labor center in 2008-09. That amount was cut to zero in the most recent school year. Since then, Fryling says, the center had been operating on some left-over funds that have since run out.
PASSHE spokesman Kenn Marshall acknowledges that the state slashed funding as a result of budget pressures during the economic downturn. But he says the state didn't force the center's closure: IUP could have found the money elsewhere, though that might have meant taking money from other programs.
"It was their decision to close the center -- but obviously it was affected greatly by our ending funding," Marshall says.
McCollester goes further. If IUP "wanted it to survive," he says, "they would have reached out to the AFL-CIO" and other labor groups.
As it stands, though, McCollester is challenging the school's right to money already donated. He is seeking the return of $35,000 given by a family's bequest for labor education, and other money contributed by supporters.
The school plans to use that money for scholarships to benefit students in the Industrial and Labor Relations department. But McCollester says it was earmarked specifically for the labor center's mission, rather than for students who may someday be facing off against union leaders.
The money was given to the center, rather than to IUP itself, he says. And it "should be used for the purposes it was intended for. I don't intend to go away [over this issue]. I feel like I was entrusted with something."
McCollester has suggested he would like to use the funds for the Battle of Homestead Foundation. The group, where McCollester is president, works to "preserve, interpret, and promote a people's history focused on the significance of the dramatic labor conflict at Homestead, Pennsylvania." It sponsors films, readings, lectures, exhibits and events related to labor history.
Attorney Mike Healey, who has long represented labor causes, says he's exchanged letters with IUP over the issue. "Legal action will be considered," Healey says. "[W]e would hope it would not come to that."
IUP's Labor Center isn't the only victim of a weakened climate for labor education. "Not too many years ago, there were several labor-education centers at universities and colleges in Pennsylvania. And they're all gone," says center founder Morand. "It's the anti-union, anti-worker political climate that we are living in."
But IUP's center was an important resource for working people and labor historians, says Rosemary Trump, current president of the Pennsylvania Labor History Society. The society, which organizes labor conferences and dedicates historical markers that bring attention to labor-history issues, has received some funding from grants administered by the Center.
"It's an outrage that the modest program for labor at IUP for the entire state was not held in enough esteem by IUP management and the state system of education to continue the program," Trump says. "We have almost a million union members in our state paying taxes to support this university."
Trump, a former president of the Service Employees International Union Local 585, says the center provided vital training to union members: how to resolve a worker's grievance, for example, or how to conduct an arbitration hearing. "Unless your local union develops a program to provide that, there's [now] nowhere to get that," she says.
The center also supported cultural events. For example, it assisted the Labor History Society with putting up labor-themed historical markers throughout the state. Without the center's funding and other support, Trump says, "I think the Pennsylvania Labor History Society is at risk."
But all is not lost, contends Rick Bloomingdale, the new president of the Pennsylvania AFL-CIO. While he said he is disappointed by the loss of an important place to educate workers on health and safety issues, he is hopeful his group can meet with IUP leaders.
"The Center did great work, and I think there's a place for them," Bloomingdale says.
Bloomingdale took his leadership post at the beginning of June: The change in leadership, he says, is one reason unions weren't on top of the center's closing. "We're not giving up yet," he says.