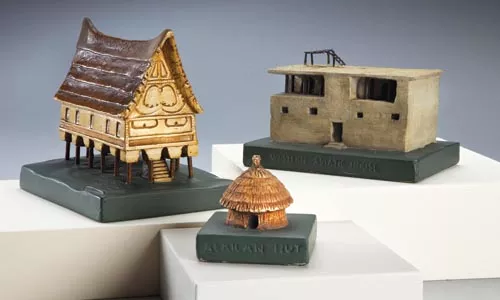 One evening an exasperated Herbert "Hib" Johnson, chief executive of Johnson Wax, phoned Frank Lloyd Wright. The story goes that during dinner at Wingspread, Johnson's adventurous Wright-designed home, water began leaking from the skylight onto Johnson's head. What was he to do? "Move your chair!" the architect supposedly quipped.
Clearly, the architect and the homeowner had different ideas about what a home needed to do. Revolutionize Modern architecture? Check! Keep water out? Let me get back to you on that ...
This issue is a subtext for the exhibit Imagining Home, at the Carnegie Museum of Art's Heinz Architectural Center. Whose ideas dictate what a home is or could be? Tracy Myers, curator of the Center and of this show, believed that with a broad question creatively posed she could base the exhibit primarily on material in HAC's existing holdings. "This is only the third time in 17 years that we have done a show based on our own collections," Myers says. "This was an opportunity to develop a new relationship based on a new approach ... to make some new discoveries."
She ended up formulating an exhibition in eight parts, "each one of which is like a little show." Reflecting in some portions the tastes of founding curator Christopher Monkhouse, the show includes a fair number of renderings of 19th-century residences, especially in the "Styles and Forms" section. These range from drawings by such textbook figures as W.R. Lethaby and Eugène-Emmanuel Viollet-le-Duc to the garishly cartoony Second Empire design by an unknown architect who drew shadows as if cast by multiple suns.
However elegant or vulgar, such works are invariably houses of luxurious scale, rendered as delightfully picturesque objects. A cautionary foil comes from the drawings of Charles Burchfield, whose Depression-era "Workers' Housing" and "House with a Frightened Face" are correspondingly bleak in rough, black strokes.
The "Modern and Contemporary House" section is especially appealing for its all-star flair. Lavish color renderings from Richard Neutra, and cogent thumbnail pencil sketches by Mies van der Rohe, have a common optimism about how the spare, unencumbered qualities of Modern architecture could improve home life. But the details, are, well, sketchy.
In more contemporary works, elegant watercolor sketches by Steven Holl portray a seemingly floating residence in Kauai. Winka Dubbeldam's acrylic conceptual model of a Gipsy Trail, N.Y., residence relates only tenuously to the built structure. These are beautiful objects by taste-affirming stars, but some of them really talk about home only as an image and cultural commodity.
Accordingly, Myers broadened her scope to a variety of accessible, enjoyable pieces "to give viewers of different backgrounds access to the show." Favorites among these are the series of small ceramic model homes made by the Pennsylvania Museum Extension Project, during the Depression, to teach schoolchildren social studies through varieties of residential structures -- Pueblo, Egyptian, Hindu and African (only one?), as well as a couple of modern American structures.
While this section maintains an object-oriented emphasis, the focus becomes global and vernacular, albeit through a not-entirely-enlightened 1930s lens. For a much more incisive architectural view on the politics of wealth, power and race, viewers can consider Estudio Teddy Cruz's design for a border residence and its accompanying video. The house is a beautiful construction, but the video explains it as part of a critique of globalization and border politics, not simply an esthetic delectation.
From the global to the local, doubtless the most truly homey work in the exhibit is Sheila Klein's "Your Room," a hanging square canopy of curtains, about 6 feet on a side and three layers deep, that viewers can open and close. Silky and cocoon-like, the piece is viscerally comforting. It is also instructive, as its nearly infinite permutations of openness and closure remind viewers about the many variations of spatial and material experience that are available without the help of a professional designer.
Peter Fischli and David Weiss's "Büsî" offers a related lesson. Their video, played on a small monitor on the floor, shows a cat lapping at a saucer of milk. Clearly the best aspects of home aren't necessarily shown in drawings or models.
Imagining Home continues through May 30. Heinz Architectural Center, Carnegie Museum of Art, 4400 Forbes Ave., Oakland. 412-622-3131 or www.cmoa.org