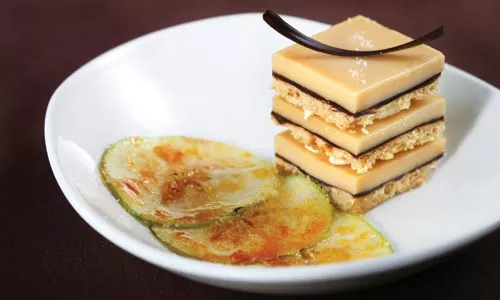 Location: 5501 Centre Ave., Shadyside. 412-683-3663. www.avenueb-pgh.com
Hours: Lunch Tue.-Fri. 11 a.m.-3 p.m.; dinner Tue.-Thu. 5-10 p.m., Fri.-Sat. 5-11 p.m.
Prices: Appetizers $8-11; entrees $9-26
Fare: Creative, contemporary American
Atmosphere: Sociable yet intimate
Liquor: BYOB; $5 corkage fee
Perhaps the curse of the dead-dining corner has lifted. In 10 years, no fewer than four establishments have set their tables in a certain Centre Avenue storefront. Yet whether due to bad management, bad location, bad juju or a combination of all three, no dining venue has made it work.
Now there is a fresh contender. The corner's newest tenant, Avenue B, has boldly taken over the space, telegraphing self-assurance and contemporary flair via its clean, modern signage (just the name and the silhouette of a chef's knife). Around the corner from the entrance, a once-blank wall now blooms with a colorful mural of a farm and the city beyond, a clear message that chef de cuisine Christopher Bonfili subscribes to current farm-to-table thinking.
Within, an almost cubic space has been cleverly divided to create a room simultaneously airy and intimate. Bright lights play off a sumptuous brown-and-eggplant color scheme to create pockets of privacy in a sociable setting. The décor's focal points are two large chalkboards listing the kitchen's daily offerings and the bulk of Avenue B's menu; only a brief, seasonal menu has been printed. From our table in the back corner of the restaurant, we could hardly see the chalkboards, but our friendly, knowledgeable server was able to recite every ingredient.
As for those ingredients, there are a lot of them. The baroque New American cuisine of the 1980s and '90s, with hand-snipped chives and raspberry coulis sprinkled indiscriminately on everything, has given way to the pared-down, pedigreed style of the new millennium (Niman Ranch this, Humboldt Fog that). But Bonfili is going back to the future with dishes that feature a half-dozen major components: meatloaf (Kobe, of course) with goat cheese and chives in the whipped potatoes and crispy onions and blistered tomato jam. With so much to digest -- literally and figuratively -- in every selection, it's a good thing the menu's length, if not its breadth, is restrained.
But it wasn't just the barrage of ingredients that made ordering tough. It was that everything looked so good, both on the chalkboards and on the plates being served to neighboring tables. In contrast to the days of over-the-top recipes, when the trick was finding a dish without any off-putting combinations, the descriptions of dishes at Avenue B sounded unerringly irresistible.
As a case in point, piquillo-pepper lasagna had a different filling in each layer: sweet roasted pepper, slightly bitter arugula, savory Portobello. Substantial squares of pasta divided the layers, and it all reposed on a puddle of arugula pesto ringed with a bit of balsamic vinegar, with goat cheese crumbled on top. Jason thought the flavors didn't quite come together as they might, but Angelique found their combination dynamic.
Avenue B's green-bean and sweet-potato tempura, far from the typical limp vegetables in greasy, deep-fried shells, featured a brittle, crackly coating that allowed the fresh flavors of the tender-firm veggies to bloom. Here, Jason appreciated that the beans outnumbered the potatoes; in equal numbers, the heavier, sweeter taters would have overwhelmed the brighter pulses.
An entrée of fresh, al dente trotolla pasta -- locally made in Irwin -- made an excellent base for several toppings: exquisitely tender, deeply flavorful beef short ribs; wilted Swiss chard; sweet-savory ribbons of crisped cipollini onions; earthy grilled mushrooms; and nutty pecorino Romano. Avenue B's take on a Caesar salad was the perfect accompaniment: grilled Romano lettuce delicately dressed in olive oil, lemon juice and white anchovies, topped with fluffy parmesan and served with a toasted ciabatta crouton soaked with more olive oil and salt.
Brown-sugar smoked duck sounded almost like candy, but Jason found it an appealing entrée. The bird, which Bonfili recommends cooked medium, was actually perfectly rosy within: succulent, meaty and not the least bit gamey. Smoky sweetness infused the meat, while mildly bitter, starchy arugula-potato pierogies provided counterbalance. More mysterious was the intention behind a pile of sautéed red peppers and onions. Though sweetly wonderful in and of themselves, they contributed nothing to the dish. A small purée of pumpkin fit the flavor profiles better, but was more extraneous sweetness on a plate delicately poised between savory and cloying.
Dessert, however, is no time for balance, and croissant bread pudding with homemade caramel-popcorn ice cream was an intensely indulgent celebration of butter in all its sweet, salty, creamy richness. Also rich, but tart, too, was lemon curd served in a paper-thin white-chocolate cup alongside cream-cheese ice cream and homemade graham crackers.
At Avenue B, the chalkboards tell you almost everything you need to know -- not just about the menu, but that here, food is art.
JR:
AB: