Shepard Fairey is the creator of the iconic Obama "Hope" poster. He's been admired by critics and guerilla artists, and just weeks ago he was the subject of a profile on CBS Sunday Morning. But Pittsburgh graphic designer Larkin Werner has a different perspective. To him, Fairey is the guy who is "picking on a baby."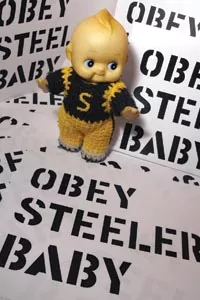 The baby in question is Steelerbaby, a blue-eyed kewpie doll clad in a knit black-and-gold uniform. Steelerbaby became an online hit -- he boasts more than 2,000 friends on Facebook -- after Werner created a Web site for the doll during the NFL playoffs in 2005. The following year, he started designing and selling Steelerbaby merchandise at the online store cafepress.com to satisfy demand for the doll Werner describes as "slightly creepy."
But early last month, Werner learned that Fairey's company, Obey Giant Art Inc., sent cafepress.com a cease-and-desist letter, informing the online store that Steelerbaby's merchandise marked with the word "Obey" was infringing on the artist's trademark.
The notice came as a surprise to Werner. For one thing, he says, Steelerbaby's line didn't pose much of a threat to Fairey. According to cafepress.com, Werner had made less than $70 in the previous three months for the sale of 16 items, 10 of which had "Obey" written on them.
But Werner says he's less concerned with the legal issue presented by the cease-and-desist letter -- he has no plans to fight Obey Giant Art about the trademark -- than he is with its hypocritical nature. Fairey, he argues, has bolstered his own career by appropriating images and infringing on the trademarks of others.
"[Fairey] has become sort of what he was rebelling against," says Werner, a partner at the North Side graphic-design firm Wall-to-Wall Studios. "He's ripped off political posters for a long time without attributing the source."
Today, Fairey finds himself in a legal dispute over his Obama "Hope" image, which became a national sensation and a symbol for the president's campaign last year. Fairey lifted an Associated Press photo for the piece, and the AP is seeking compensation for the copyright infringement. But before the AP could file suit, the artist sued first, claiming he drastically changed the nature of the photo for his artwork and, therefore, was not breaking copyright law.
Even before the AP dispute, Fairey was flaunting trademark laws. In fact, that's how the artist's "Obey" trademark was born.
The 39-year-old Fairey launched his career in the late 1980s. He quickly gained street cred by posting -- often without permission -- his signature image of professional wrestler Andre the Giant on buildings in various cities. Initially, the artist's rendering of the wrestler was accompanied by the caption "Andre the Giant Has a Posse." But Titan Sports, Inc. (now World Wrestling Entertainment, Inc.) threatened to sue Fairey for infringing on its trademarked name, Andre the Giant.
In response, Fairey changed the caption to "Obey." Since then, the word has come to identify the artist's brand.
"At the surface, it's really easy to say [Fairey] is a hypocrite," acknowledges Chris Broders, Fairey's partner in the Obey Clothing brand. "But where it starts to get tricky is when people take the 'Obey' mark and try to sell it. That's when it crosses the line.
"We're not trying to be hypocritical," he continues, "but we're definitely trying to protect our trademark."
Still, Werner says he has trouble understanding how Steelerbaby's use of the word "Obey" is infringing on Fairey's trademark. He says the use of "Obey" on merchandise was conceived from a line Steelerbaby voices on its Web site.
Steelerbaby's bare-bones site allows visitors to click on a number of different words and phrases -- "Here we go Steelers," "Doom wears a diaper" -- which are then voiced by the doll. Werner says it wasn't long until visitors took note of one particularly demonic-sounding phrase, "Obey Steelerbaby."
"It was a weird, hypnotic [phrase]," Werner explains.
Inspired by the popularity of the "Obey Steelerbaby" line, some of the merchandise he designed and started selling on cafepress.com in 2006 included the phrase. For instance, some items picture the doll standing between the words "Obey" and "Steelerbaby." Others simply show Steelerbaby standing below the word "Obey."
So when he learned last month that Fairey's company had an issue with his use of the word "Obey," Werner was confused.
"I didn't think I was ripping him off," he says. "The thread came from what the doll was saying. ... There is no graphic connection to [Fairey's artwork]. We don't even share the same market."
But representatives from Fairey's company, Obey Giant Art, say that doesn't matter.
"We have the trademark on ['Obey']," says Olivia Perches, who sent the cease-and-desist letter to cafepress.com. "Anything with 'Obey' on it they can't have."
According to Jeffrey Cadle, who practices trademark law for PicadioSneathMiller & Norton, P.C., Fairey's company has greater authority to enforce "Obey" because it is a registered trademark, which "gives you the right to use your trademark nationwide."
"In order to maintain trademark rights, parties have to actively pursue infringement," he continues. "I'm sure that's why Steelerbaby received a legal notice."
Still, Obey Giant Art's case isn't so cut-and-dry, says Cadle, especially since there are a number of factors that play into trademark disputes. If the matter ever went to court, he says, the company would have to argue successfully that Steelerbaby's merchandise was confusing consumers. "They would have to say that the product is causing ... people to think it's coming from Shepard Fairey," Cadle says.
But Werner says he has no intentions of putting up a fight.
"It's most likely going to be a colossal waste of my time," he says. "For me to spend money to rectify this is silly."
Ever since receiving the cease-and-desist letter, Werner says all of Steelerbaby's merchandise showing the word "Obey" has been removed from the online store. While he's still miffed by Obey Giant Art's move, Werner says Steelerbaby is moving on.
"He's taking it all in stride," jokes Werner. "He's not going to be hung up on some street-gone-corporate artist."