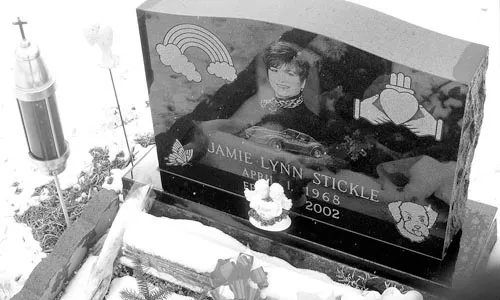 Five years after Downtown bartender Jamie Stickle was found dead in a burned-out Jeep in front of her North Side apartment, her friends are preparing a memorial for her -- again. And they are still left with the same unanswered questions.
"The police, I kind of gave up on them," says Stickle's mother, Marge Walls, of Uniontown.
At 3:45 a.m. on Feb. 8, 2002, emergency crews found Stickle's Wrangler fully engulfed in flame, and 33-year-old Stickle dead at the wheel, outside her isolated apartment on Chesbro Street. She had spent the night working at, and then visiting, several Liberty Avenue bars. She had also experienced a painful breakup with a long-time live-in girlfriend that week. A trail of blood led from her front door to the Jeep, along with scattered money, mace and makeup.
Yet the police have been unable to rule her death a homicide because the cause of the fire remains unknown, and no marks of other trauma were detectable during the autopsy on her badly charred body.
"Can we get a ruling on the death?" says a frustrated Scott Noxon, who describes Stickle as "a close friend.
"I think this [memorial] is probably going to be the end of it -- it's probably already in the cold-case file," he adds. "We wanted to do one last thing to remember her."
Noxon is currently the owner of Pegasus and Sidekicks, where Stickle once worked, and he is leading the effort to decorate the 800 and 900 blocks of Liberty Avenue with luminaria and ribbons on Feb. 8. He will also be handing out buttons to bar patrons with the slogan "United for Jamie" -- the name of the group that, five years ago, raised a $25,000 reward for information about Stickle's death. The reward remains unclaimed at the local Lambda Foundation, says Walls.
"It's still an open case," says Pittsburgh Police spokesperson Diane Richard, adding that "no determination if it's actually a homicide" has been made even today. "But it is pending further investigation."
"I always kind of wish that there was" a break in the case, says Walls. "It amazes me, in that big city, no one has come forward."