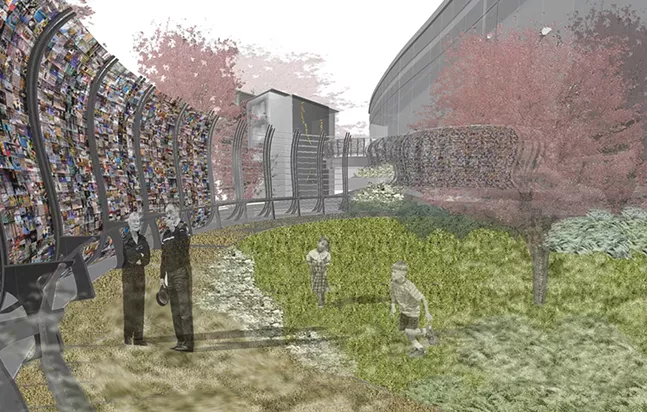 How do you get to the Lower Hill? Go out Sixth Avenue and turn left on Centre? The storied, traditionally African-American neighborhood has long since been replaced by the Civic Arena at the dawn of the 1960s, and now for something for which we are still waiting.
We have a recent hockey arena and a couple of hotels, but the central parcel is all asphalt and infrastructure, still awaiting redevelopment. Getting to what was once a culturally vibrant and densely inhabited neighborhood is more a state of mind than a navigation exercise. You need to engage generously with people who recall what the place was once like, then you need to think creatively.
That's why "Curtain Call," the landscape and rain garden, proposed to be built along the west side of PPG Paints Arena, is important. The work of Oakland, Calif., based landscape architect Walter Hood, "Curtain Call" would bring back recollections of the Lower Hill as it was through literal images and more metaphorical experiences. But the project is still awaiting most of the estimated $1.5 million needed for its construction, as it has been since 2009.
That year, the Sports and Exhibition Authority, which was nearing completion of the hockey arena, staged a design competition. Hood won for a designed landscape along the steeply sloping edge the building next to Epiphany Church.
"Like many people who go to the Hill, I was attracted to August Wilson," Hood explains. "Curtain Call" plays on the idea of the displaced neighborhood residents coming back "for another round of applause," he says. A series of four terraces with connecting stairs progresses down the side of the building. Navigated with curving paths, they are planted with native species. For a water-gathering landscape, Hood plans motion-activated speakers that play R&B songs on the topic of rain for a multi-sensory experience. At their outer perimeter, gardens are enclosed by undulating steel structural frames connected with steel tension wires. These become a lattice for translucent acrylic tiles printed with photos, 5,000 in total, conveying the history and experiences of the Lower Hill. These walls are backlit by the setting sun and glow evocatively.
In the world of landscape architecture, Hood is an acclaimed designer and popular speaker. Though little known in the Hill District before this project, he quickly earned a reputation as "a landscape architect, artist, and rock star," says Terri Baltimore, Vice President for Community Development at the Hill House. His reputation comes not simply from beautiful-looking projects, though they are, but also from his generous talent for having grassroots engagement. Baltimore says Hood "came in with open arms, a real sense of partnership ... and respect for the community."
Photos in "Curtain Call" came not from archives, but from a series of neighborhood barbecues at St. Joseph's House of Hospitality, "the best backyard in the Hill District," where events took on "a really cool art vibe," Baltimore recalls. Hill House team members scanned the images and continued to collect associated stories that reinforced the sense of reconnecting with history.
So why isn't the project funded yet? Impressed by Hood's international reputation and methods of community engagement, the Heinz Endowments offered $200,000 of support in 2016, explains Janet Sarbaugh, Vice President for Creativity. "But it's contingent on the rest of the funds being raised," she adds. Hood notes that his firm is completing an updated cost estimate for this purpose.
Sallyann Kluz, Director of the Office of Public Art notes "there has been a lot of work happening behind the scenes to look for creative sources of funding, but ... they just haven't hit the mark yet."
Observers may look on in frustration at the ten-foot-plus bronze statue of Mario Lemieux scoring against two defenders. Placed on site in 2012, it was funded by a consortium of more than 25 companies affiliated with the arena and the hockey team for an undisclosed cost.
According to the SEA, though, funding is not so easily forthcoming for "Curtain Call." Says SEA Director Mary Conturo, "we are still trying to raise funds. We don't have a firm timeline or schedule at this point."
Kluz noted, "Curtain Call is a promise that was made to the Hill District. It is important to reflect on what it means for the promise to be lingering."
Realization of this project would be a significant step in bringing the historical identity back to the Lower Hill.