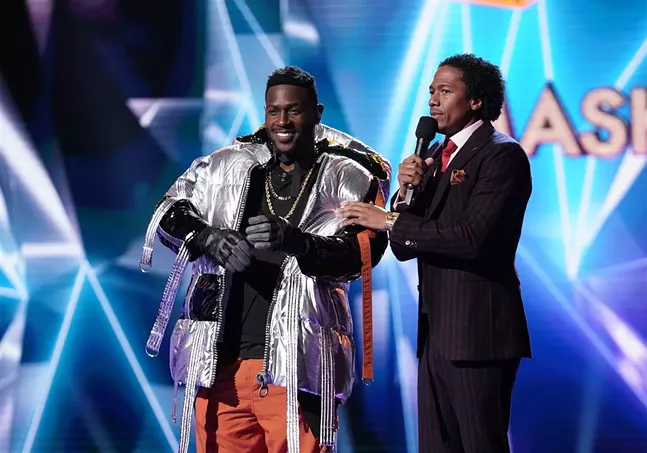 Last week, Fox premiered
The Masked Singer
, a new singing competition show whose only confirmed contestant is Pittsburgh Steeler Antonio Brown.
The Masked Singer
is adapted from a Korean show with a similar format, which makes sense because American producers would never come up with something this creative. The show features 12 contestants whose identities are concealed by elaborate animal costumes that look straight off an haute couture runway at a furry convention. Viewers are told that the contestants under the costumes are celebrities that have a combined 65 Grammy nominations, 16 Emmy nominations, four Super Bowl titles, and other accolades.
The panel of judges are mostly disaster celebrities in need of goodwill. There's loud anti-vaxxer Jenny McCarthy, mildly disgraced crooner Robin Thicke, former Pussycat Doll Nicole Scherzinger, and comedian Ken Jeong, who seems nice and should get out while he still can (he is also a medical doctor and should talk to McCarthy about vaccines.) It's all hosted by Nick Cannon, whose appearance I don't have the vocabulary to describe.
In the first episode, we meet six of the contestants: deer, lion, monster, hippo, peacock, and unicorn (the rest will be revealed in the second episode). There are three eternally long rounds where two of the masked contestants "compete" against each other by "singing" and "dancing." Ultimately, just one contestant gets eliminated each episode and only then is their identity revealed.
The peacock performs "The Greatest Show" from
The Greatest Showman
. The lion performs "California Dreamin'." The hippo does Bobby Brown's "My Prerogative." The contestants sing through a mesh voice hole in their costume and the enthusiastic audience reacts like they were paid large sums of money to do so.
The judges speculate who's under the costume, throwing out guesses like Bella Hadid, P. Diddy, Paula Abdul, Madonna, Odell Beckham Jr., and Penn Jillette. All of these are, of course, impossible guesses because none of the contestants can be more famous than the judges and the judges are barely famous.
Finally, hippo is chosen for elimination and he slowly removes his animal head to reveal the human head of Antonio Brown, wide receiver for the Steelers. The judges are incredibly shocked, as they listen closely to Nick Cannon yell "ANTONIO BROWN" because they definitely don't know his name. Antonio Brown flashes the gleaming smile of someone who only has to perform once on this show.
The Masked Singer
premiered to huge ratings and will likely continue to be a hit as viewers will not be able to resist the suspense of which celebrities are bored or broke enough to participate.