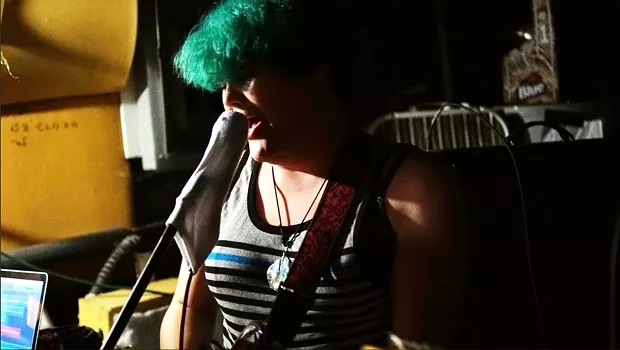 Every Monday,
CP
staff writer Jordan Snowden wraps up the weekend in local and national music news with #MusicMonday. Here's what went down in the past few days.
Local
Music lovers: looking for a way to get involved in the local scene? WYEP is looking for volunteers to assist with events, marketing, and office help.
Is one of your New Year Resolutions to volunteer more?

Become a public radio volunteer and see great concerts, festivals, events and more!

Learn more and sign up for our email list here. No minimum hour commitment required. https://t.co/LbiWG3ZSGR pic.twitter.com/rmZnQ2To8x

— 91.3 WYEP (@WYEP) January 7, 2019
After releasing
"Grifters"
on Friday,
Princex
went on to play a show at Café Verona, backed by Audrey (bass) of indie band Soft Girl, and Switch Please members, Adam Hawley (drums) and Jude Benedict Ess (second
vox
).
.@princ_ex at Café Verona, 4 Jan '19, 📸 by @thefatal_femme. Rad snaps from a dope show. 👍👍👍👍👍 pic.twitter.com/KTw1sV3ClO

— Good Employee (@GoodEmployeepgh) January 6, 2019
New music is coming Pittsburgh's way Friday. Folk singer Angela Autumn announced the release of her latest EP,
Rascal
.
Speaking of new releases, blues and funk group, Dan Bubien & The Delta Struts is dropping a new album on Feb. 1.
We are beyond excited to announce the official Release Date of our new studio album "Thieves & Yesterdays"!!!
We can't wait to share this music we created with you all!
See what people are saying about the album...
Pre-order your copy here:... https://t.co/gzgbmEXeUz

— Dan Bubien (@DanBubien) January 6, 2019
Whomps on a Wednesday? Yep, UK dubstep DJ, Caspa is making a stop in Pittsburgh Jan. 17.
This is a big one for Pittsburgh! Legend of Bass @caspaofficial is coming to the burgh. You DO NOT want to miss this one! Get at basstechnologypgh for more info and tickets.… https://t.co/6baTYm5YQ0

— Bassburgh (@BassburghPromo) January 6, 2019
Yes, Caspa @ Cruze is on a Wednesday
I would recommend calling off work Thursday the 17th
You'll still be hearing woobz in your head at that time

— Sammy Pgh (@Sammy_PGHadgett) January 6, 2019
Local hip-hop artist, Lexa Terrestrial is getting candid about mental health, depression
and
anxiety, and trying to break through in a male-dominated music scene in her new YouTube docuseries.
so, I released a docu-series on a YouTube. I'm no Shane Dawson but i appreciate the (+) response in regards to its entirety.
it was a lot of work. but there's a lot i need to stop hiding...
thank you... https://t.co/c6v1Xb34re

— Lexa Terrestrial (@LexaTerrestrial) January 7, 2019
✖

National
Rapper R. Kelly released new music amid the premiere of
Surviving R. Kelly
, a lifetime docuseries that sheds light on Kelly's sexually abusive behavior and pedophilia. Now, his music sales have skyrocketed, sparking even more controversy on social media.
How is it that R Kelly's music sales have spiked (substantially) since the release of the docuseries Surviving R Kelly? I need some help in understanding. What am I missing??? pic.twitter.com/pysqVxLzyi

— Jada Pinkett Smith (@jadapsmith) January 6, 2019
Idt it's in support of him, I think it's more so people going back and listening to his music to catch all the lyrics they missed where he's been "subliminally" telling us of his behavior this whole time.

— Sterling Winston (@Stew_Wins) January 7, 2019
Kanye West created a new weekly event called Sunday Service in which he performs gospel version of his songs, old and new. The first show took place yesterday, and of course, his wife had to tease the event.
Our new Sunday Service is starting. Check out the rehearsals on my Instagram stories ✨

— Kim Kardashian West (@KimKardashian) January 6, 2019
That choir SLAYED their vocals!!

— KKWStyle2017 (@kkwstyle2017) January 6, 2019
What's Yeezy up to?https://t.co/9r6U4qAxw6

— XXL Magazine (@XXL) January 7, 2019
J. Cole confirmed the release of
Revenge Of The Dreamers 3
with the picture seen below on his social media accounts.
Bet. On the way. pic.twitter.com/gbqDdVbTp0

— J. Cole (@JColeNC) January 7, 2019
Soon after, other Dreamville Records artists came forward with similar pictures, signaling massive a compilation project.
@JColeNC thank you for having me🙏🏾🙏🏾🙏🏾 pic.twitter.com/mnGA60dete

— REASON TDE (@reasonTDE) January 7, 2019
Revenge of the Dreamers III gonna be so fire

J Cole
JID
Bas
Earthgang
Ari Lennox
Cozz
Omen
Lute

ON THE SAME PROJECT pic.twitter.com/cHfHAcSuyM

— HipHopShark 🦈 (@TheHipHopShark) January 7, 2019
That's all for today. Tune in next week for another installment of #MusicMonday.
so, I released a docu-series on a YouTube. I'm no Shane Dawson but i appreciate the (+) response in regards to its entirety.
it was a lot of work. but there's a lot i need to stop hiding...
thank you... https://t.co/c6v1Xb34re

— Lexa Terrestrial (@LexaTerrestrial) January 7, 2019