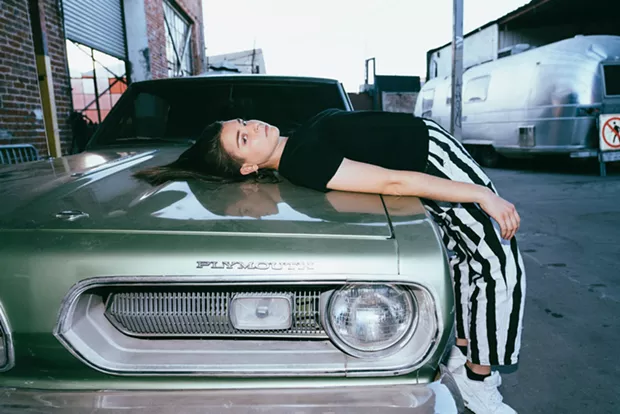 Somme has had a huge 2018. After dropping out of college in an attempts to make music full time, the indie-pop singer released a self-titled EP on May 18 and then in October, put out her relationship-rebound mantra, "Broken Hearted Lovers."
In addition to her time in the studio, the San Diego native has been spent much of the year on the road. She recently started on her second tour of the year, which began with her opening for Flint Eastwood. Now, Somme - pronounced 'sawm' not 'some' - is rounding out 2018 with Eve 6 and Party Nails, Somme's roommate. Before the tour hits
Jergel's Rhythm Grille tonight
,
Pittsburgh City Paper
spoke with the rising artist about women in the music industry, the "Broken Hearted Lovers" video, and trying to make it in the music industry.
Where did the name Somme come from?
Well, it was originally going to be Pome, with a 'P' in front. I got that from a punk band called Refused, and one of their songs has that word in the name ("Bruitist Pome #5"). Then I realized there was already another artist with a 'P' in front, so my friend recommended trying another letter. We did a bunch of different letters, and then when we finally got to 'S' I was like, "That's kinda cool." Then I researched it a bunch and there are a ton of different meanings for it that
are
really cool. There's Somme in France, and the Battle of the Somme was like the bloodiest battle in French history. And then if you put an 'S' at the end it's a congregation of 'is' it means 'we are.' That's kind of my favorite meaning. But I have people come up to me at shows all the time and tell me different meanings for it which I think it really cool.
So, you left school in New York City to pursue music in Los Angeles. What was that like?
I only went to NYU for one semester, and I didn't love it. I kept seeing interviews with artists that were like – it probably was because it was weighing so heavily on my mind that I was noticing it so much – but I kept watching interviews with artists and they'd be like, "You don't really need to go to school for this, I did this on my own … " So I kind of decided that if I didn't love NYU then I would try to do my own thing and see how it worked out.
I moved to L.A., and luckily, I have a lot of family in L.A., so when I was getting my bearings there I lived with some family. Then I met and made a bunch of connections there. I got an internship at a recording studio and I feel like I was learning more about recording music not in school than I was in school, so I felt pretty good about my decision.
Now I've been in L.A. for two years, and I love it and I'm really happy with my decision because I don't think Somme would be a thing if I didn't go through all of that.
What was it like as a young girl trying to make it in the music industry in L.A.? It can be a very saturated field.
Yeah for sure, I mean it's still a struggle, without a doubt. I grew up in San Diego, and that kind of shaped how I see the music industry. There's not a lot of pop music there, and once I turned 14, I realized that I loved pop music. I think I tried to suppress it for so long because there's no pop singing in San Diego. So, I discovered artists like Robyn and Sia that made me realize pop music could be really cool. Then when I moved to L.A. it was awesome because there's so much pop music in L.A., which was super rad, but at the same time, there was the issue of not being able to find very many women to work with. I always try to make an effort if I can, to work with women but it's really hard. And also, as a woman, people don't really take you as seriously. But, I think I'm lucky being in L.A. that I can find the few – I mean there's a lot of women – but they're definitely harder to find than guys.
But, I live with Party Nails, who I'm on tour with now, and we love working together and it's super inspiring to work with another woman who is very serious about music and about women being equal in music. We just teach each other things because we both want to be able to do everything, so we don't have to rely on other people or especially other men to do things for us.
What is it that you love about pop music?
I just love how it makes me feel. There's always a pop song that I can put on for every mood.
There's
happy pop songs, and
there's
really sad pop songs. It makes we wanna dance sometimes, it makes me wanna cry sometimes. There's always a pop song that I can listen to.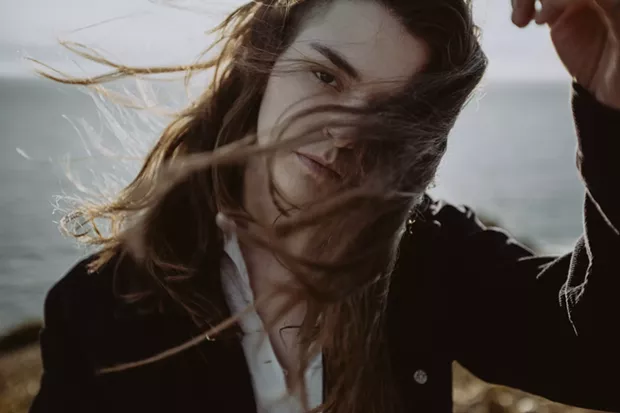 So your first album Somme was about a relationship and you just dropped, "Broken Hearted Lovers." Is that song about the same relationship? Will you tell me about it?
No, it's not actually. I wrote "Broken Hearted Lovers" pretty shortly after a breakup. The heavier feelings of the breakup hadn't really set in yet and I was just kind of ready to be a single, free, person – kind of just have fun and I was going out a lot. I met someone who had also recently gone through a breakup, and I quickly realized that we were both … not using each other because that sounds negative … but using each other to make ourselves feel better about our individual breakups. But I think it was kind of mutually understood, so there
wasn't
hard feelings about it, we were just having fun together and forgetting about our breakups. So that's kind of what the song is about, that person who never turned into a relationship, it was just very casual. We were both sad and hung out with each other. Like the lyric is, "We can be broken hearted lovers / You can help me recover." That's kind of the whole gist of the song.
What was it like recording the music video for "Broken Hearted Lovers?"
Oh, it was so fun! It was crazy, we were in a warehouse in Los Angeles in 100-degree weather. It was super brutal, but it was really fun. Everyone was super awesome to work with. One of my best friends in the entire world Bia Jurema directed it, it was kind of her idea, the premise of the video. One of my best childhood friend's roommates – from when she was a freshman in college – choreographed the music video and found all the dancers for us. It was definitely really weird for me to learn how to dance, it's not something I've done since I was eight-years-old, but it was super fun and everyone was super encouraging.
That's awesome. Sounds like a lot of girl power.
Yeah, absolutely, there wasn't a single guy there when we shot that music video. It was an all-girl cast and crew.
How have you seen your career advance since you released your album, Somme, earlier this year?
Well, I'm sitting on a tour bus in the middle of Wisconsin right now. That is not something that I could have imagined earlier this year. This is my second Somme tour of the year, so it's very rad to be able to play these songs across the country and see people know the lyrics, and get to meet people that are listening to my music. I think that was something that I couldn't really imagine, meeting the people that are listening to my music, so it's really cool to meet them and see what they have to say about the songs and how they've affected them, and just get to sing them back to them and dance and have fun.
Oh, I'm sure. What was it like the first time that happened? The first time you met a fan?
Well, on this last tour the fan that sticks out the most is this girl Brooke who came to three shows on the tour. She came to the San Francisco, Los Angeles, and Albuquerque show. She drove to all those and she got a set list from one of the shows and tattooed one of the song titles in my handwriting on her arm, which is pretty crazy; it's super rad. I just saw her a few days ago at the L.A. show for this tour and she's always super nice.
So, you've done all this in a year. Where do you think you'll be in another year from now?
I'm writing another EP that I'm hoping to put out around spring or summer time. And to just keep touring and keep putting music out and hope people just keep listening and liking it.