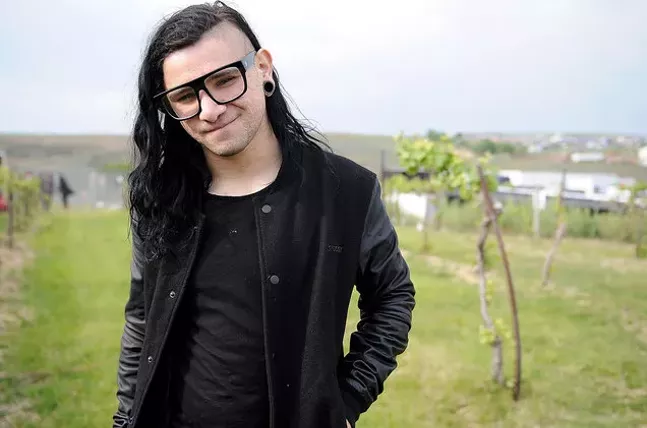 Every Monday, CP staff writer Jordan Snowden wraps up the weekend in local and national music news with #MusicMonday. Here's what happened in the past couple of days.
Local
Indie dream-pop band, Sleep Movies dropped a psychedelic music video for "Clouded," a song off their debut album,
Sleep Movies Drinks the Potion
.
Current obsession: The mesmeric minimalism of experimental project @fuckwebmd's music video for "Clouded," a hazy, disorienting soundscape pulsing with urgency like spiraling down a black hole. Don't let the sparkle of keys fool you: there's darkness here. https://t.co/HB3G512Wuq

— The Music Mermaid (@themusicmermaid) December 9, 2018
ATTN local bands, keep a close watch on Deutschtown Music Festival's social media pages today. HughShows are looking for two acts to perform at next year's event.
Stay tuned to all @DMusicFest channels tomorrow (12/10)
We are introducing TWO opportunities for bands perform on one of our 4 outdoor stages.
Congratulations to Ryan Hoffman and the @rh_pioneers who attended the #HughShowsHoliday movie & won a Main Stage spot in '19! pic.twitter.com/W3kMNXAjM4

— HughShows (@HughShows) December 9, 2018
The Pioneers, an indie band with modern synth folk arrangements won a main stage spot at the HughShows Holidays movie screening.
Thanks again Hugh! The movie was great - and we're excited for this summer. https://t.co/CFJzdJoNeR

— rh_pioneers (@rh_pioneers) December 10, 2018
Online sales are quickly selling out for the Legendary Album Series: Grateful Dead's American Beauty. Featured musicians include Eric "Pappy" Weingrad, Jill Simmons, Addi Twigg, Randy Baumann, Bob Banerjee, Chris Colditz, Joey Waslousky, Read Connoly, and David Tauberg.
WYEP is also giving away a pair of tickets for the event.
Ho ho ho! We are playing the role of Santa and giving away tickets to the Legendary Album Series: Grateful Dead's American Beauty at the @RexTheater on December 30th.

Enter to win here: https://t.co/A7WPnetsPY pic.twitter.com/hGHIH1bpzS

— 91.3 WYEP (@WYEP) December 10, 2018
Local rock band The Hawkeyes released a new song "A Stone's Throw Away" via Misra Records.
Hey Friends!
Please check out the first song "Stone's Throw Away, from The Hawkeyes record I've been working on.
It's been a blast writing and recording these songs with the guys.
Hope you dig it, more to follow!!
Thanks!! https://t.co/mqQJfVt2pC

— Sean McDonald (@ImSeanMcDonald) December 8, 2018
Live music lovers: Stage AE is holding a "Five Days of Giveaways" contest which includes prizes packages containing concert tickets and more. There is still time to enter all five contests!
On the Final Day of Giveaways, Stage AE gave to me...
- 2 tix to EIGHT shows of the winners choice in 2019
- A gigantic @CoorsLight
- A @mhl charcoal grill
- A First National Bank gigantic steel thermos and sweater

Enter to win here: https://t.co/DkzFnJgt4Y pic.twitter.com/5mocsyxPK7

— Stage AE (@Stage_AE) December 7, 2018
Upcoming events to be aware of:
Tickets are on sale now for Queen + Adam Lambert Live in Pittsburgh!! 👑 https://t.co/tOGkJuuY4p pic.twitter.com/Qgu9XZ8ssj

— Live Nation Pgh (@livenationpgh) December 7, 2018
My new band plays its first show Dec 22nd opening for @BeachBunnyMusic & @_fieldmedic.

All Ages. @RobotoProject. No booze. $10 ONLINE, $12 DOORhttps://t.co/os5ZZW60FM pic.twitter.com/diyZs5AzIx

— 🖤 princex mags 🖤 (@princ_ex) December 10, 2018
National
The remainder of Justin Timberlake's 2018 Man of the Woods tour has been postponed due to bruised vocal cords. Because of this, Timberlake's 2019 rescheduled tour dates conflict with next year's Coachella Music Festival. So the pop-singer has been forced to pull his scheduled appearance at the California show. Coachella attendees aren't disappointed.
If Gambino and Kanye are indeed the other 2 headliners, @Coachella needs to replace Justin Timberlake with a woman/female led group or they will face the wrath of the internet. Janet Jackson, Rihanna, Adele are worthy. Ariana's tour conflicts. Cardi B has an outside shot.

— Jeff Jacobson (@jeffjacobson) December 6, 2018
Justin Timberlake rescheduled his December shows to the same weekend as @coachella does this mean someone has blessed us and removed him from that lineup?!?!?!

— LK (@kropp_top) December 6, 2018
It's Ariana Grande's time to shine! After the success of her song "thank u, next" and the accompanying music video, Grande added nine shows to her upcoming Sweetener tour.
Ariana Grande has announced additional shows for the North American leg of the #SweetenerWorldTour in Chicago (4/8), Los Angeles (5/7), Miami (6/1), Brooklyn (6/15), New York City (6/19), Washington, DC (6/21), Boston (6/22), Philadelphia (6/24), and Toronto (6/26)! pic.twitter.com/Uh4lGdcIr0

— Music News & Rumors (@MusicNewsRumor) December 10, 2018
Lucky us, Grande was already scheduled to make a stop in Pittsburgh.
@ArianaGrande i can't wait to see you in pittsburgh next year!!!! WHY CANT JUNE COME FASTER 😩

— Marina Hamdan (@MarinaHmdn) December 10, 2018
If anyone is having trouble picking a gift for me i really want @ArianaGrande tickets when she comes to Pittsburgh. Please and thank u, next.

— CourtDee (@CourtDee3) December 10, 2018
EDM and ... Kingdom Hearts? You read that right. Electric music guru, Skrillex, teamed up with Japanese-American singer-songwriter and producer, Hikaru Utada to create the theme song for Kingdom Hearts III.
Here's a sneak peek at how the epic adventure begins 👀

Check out the #KingdomHearts III opening movie trailer, featuring the first listen of @utadahikaru & @skrillex's song "Face My Fears"! 🎶

Pre-order the song from 9pm PST today/12am EST tomorrow!
👉 https://t.co/jtrdcWyMrt pic.twitter.com/4mcMarIO9E

— KINGDOM HEARTS (@KINGDOMHEARTS) December 9, 2018
congratulations man, i know how much KH means to you! this mix gives me goosebumps. i keep thinking about how it captures the essence of 2018's popular electronic music in very much the same way the PlanitB remix did in 2002. 🥳

— porter robinson (@porterrobinson) December 10, 2018
That's all for today, folks. Come back next week for another #MusicMonday Wrap-up.