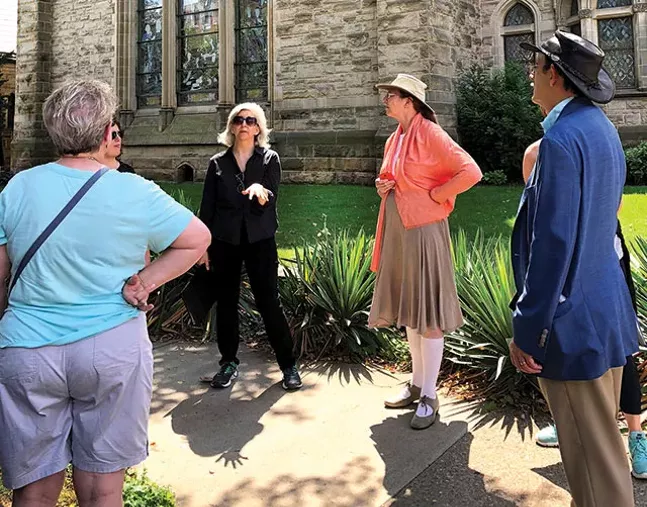 For years, people went to the North Side to watch the Pirates or Steelers, then quickly left for home lest they be stuck in what was considered a high-crime area. That perception has changed over the past three decades due to an influx of cultural attractions, restaurants and bars, and residences. But a big part of the North Side's cultural legacy has been overlooked — until now.
Arlan Hess, owner of City Books, is leading "Art & Literature in Old Allegheny, 1830-1920," a series of intimate tours featuring landmarks connected to local luminaries such as Gertrude Stein and Martha Graham.
"I get a lot of tourists in the store asking what else is there to do here, what is nearby," says Hess. She notes that the tours, limited to four people at a time, are through Airbnb. "Half of my business is from tourists."
"Art & Literature" was inspired by a New York Times article about tourists renting a room at a bed-and-breakfast over a bookstore in Scotland. Renters then run the bookstore for a week.
Hess wasn't sure she wanted to cede control of her shop to tourists, but the idea of conducting a walking tour appealed to this former professor of literature and creative writing at Washington & Jefferson College. She conducted a few beta tours with friends before ending up with the current version, which starts with Mary Roberts Rinehart's former residence on Beech Avenue.
"Very few people know who Mary Roberts Rinehart is," says Hess. The mystery novelist wrote The Circular Staircase, which sold 1.25 million copies. "So, we start off right away where they learn something completely new about an amazing writer from Pittsburgh."
Other stops include the house where poet Robinson Jeffers was born (Ridge Avenue), and Willa Cather's home from 1896-1906.
After the 90-minute walking tour, a light lunch is served at City Books. Between those activities is a rare highlight for bibliophiles. Hess distributes white cotton gloves and the attendees get to handle her collection of antique books, some of which are almost 300 years old.
Art & Literature in Old Allegheny, 1830-1920Times and dates vary. $40. City Books, 908 Galveston Ave., North Side. citybookspgh.com

tweet this
"I have one Bible that's written in Greek and then all of the footnotes are written in Latin," she says. "It must have belonged to seminarians from around 1760. There are names written on the front-end paper, and I think it's because the book was handed down from person to person."
Hess also hosts Shelf Life, a literary talk show on PCTV21. The program has featured local writers including Sherrie Flick, Sharon Dilworth, and J.D. Barker.
The walking literary tours take place on select Saturdays and Sundays (Hess makes sure she avoids conflicts with Steelers games), and must be reserved through the Airbnb link.
Follow featured contributor Rege Behe on Twitter @RegeBehe_exPTR