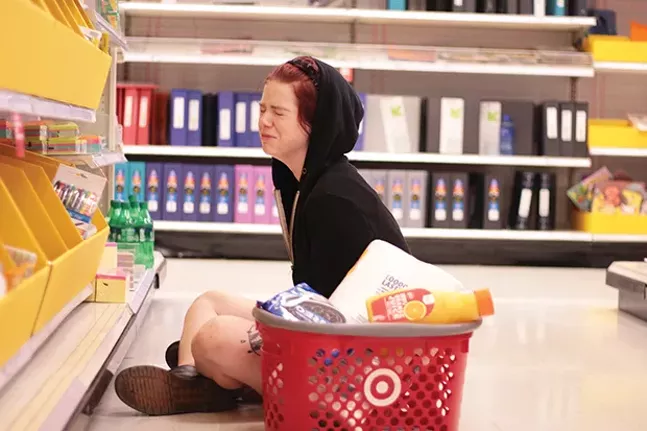 The stereotypical cuisine for cash-strapped college students usually falls between pizza and instant ramen. But Pittsburgh students who want to maintain a healthy diet face numerous obstacles, including limited on-campus dining and the food deserts of Oakland and Downtown.
Zuri Kent-Smith, a senior at the University of Pittsburgh, lived in the dorms for the first two and half years of his college career, including as a resident advisor. Throughout that time, he had a meal plan that cost thousands of dollars per semester. The Pitt website lists 2018- 2019 meal plans — which are required for incoming students living in the residence halls — as running between $2,450-$3,975 per semester.
The fees are comparable to nearby Carnegie Mellon University, where first year students choose from a variety of plans that range from $2,984-$3,322 per semester.
Kent-Smith says that while Pitt's meal plans make eating convenient and let him save money, the campus lacks options for students with dietary restrictions. As a result, he had to give up being vegetarian. "There weren't enough non-meat options that were actually good," he says.
He adds that when Pitt's on-campus dining facilities do cater to vegetarian and vegan lifestyles, they tend to go for "really complex, abstract meals" as opposed to focusing on just making "simple food that tastes good."
"They love doing these quinoa and tomato salads and all this stuff, and they never taste good, and they're always dry and super cold," he says.
Kent-Smith now lives off campus in Oakland and admits that eating without a meal plan poses challenges, as the surrounding area lacks a grocery store with affordable food options. Without ready access to places such as Giant Eagle, Aldi, or Trader Joe's, he opts for cheaper restaurants along Forbes Avenue or shopping at nearby drugstores.
Fellow Pitt student Samantha Bastress, who is also a senior, resided on campus during her first year and had a meal plan. She agrees that the school offered limited fresh, healthy options, adding that most snacks and hot food to-go were either fried or "really calorie-dense."
However, she has seen an increase in offerings for vegan and vegetarian students, including more options at the salad bar. There is also soy milk and other alternative milks for those who are lactose intolerant.
"I'm not vegan myself, but eating with my vegan friend in the dining halls was rough," says Bastress. "She often would get the same type of meal — just a simple stir fry with black beans to make a complete protein. I think it got boring for her."
Bastress went off campus after her freshman year and now lives in Oakland with her roommates. Like Kent-Smith, she admits living close to campus often means having trouble accessing healthy, affordable food. She and her roommates get around it by buying groceries together and cooking communally, making food in bulk so they can easily microwave a meal when they get home from class.
"A typical meal in my house usually involves a pasta or rice base, with lots of seasonal vegetables," she says. "We try to make as much from scratch as possible, including our breads and vegan ice cream."
Tucked back away from the bustling traffic of Fifth Avenue, Chatham University is even more cut off from readily available food sources. While the dining page on the university's website touts its commitment to providing fresh, healthy food for a variety of diets, Alie Davis, a senior commuter student at Chatham, hasn't found that to be the case.
"There is rarely any variety as far as healthy options on campus," she says. "There are always salads in the cafe, but usually only one vegetarian option, if any."
Available options also aren't affordable. As a result, she keeps instant food on hand, in case she doesn't have enough money to buy food on campus.
Costly meal plans are more essential for students living at Point Park and Duquesne universities, where choices are mostly limited to trendy, expensive restaurants or fast food. Kaylee Kearns, a junior at Point Park, commutes to school from Elizabeth and usually packs a lunch to save money. She considered a meal plan but found the ones offered too expensive and not worth the money. She occasionally purchases snacks from the school's Point Café or at restaurants in nearby Market Square.
"I've heard some students say they love living Downtown and it's nice to have so many food options, but at the same time it can get really expensive," she says.
Keith Paylo, vice president of Student Affairs and dean of students at Point Park, says he and the general manager of food services are trying to better cater to students. Three years ago, they switched food providers to CulinArt and have since expanded offerings in the school's various dining facilities, including a larger salad bar and high-quality sushi.
"I don't see our students as large fast food eaters," says Paylo, adding that students even opt for healthier options off campus, such as the nearby Hello Bistro.
Because there are no grocery stores Downtown, Paylo says the on-campus Point Café serves as more of a convenience store for students by selling items like microwavable meals and half-gallons of milk. The university also runs weekend shuttle services to the Waterfront and Shadyside, where students can buy groceries at Market District or Whole Foods.
While improving any on-campus dining experience would help, Kent-Smith prefers the idea of opening regular grocery stores with reasonably priced food near campus.
"If we did solve the issue of having no grocery store, there would be no need to get a meal plan for a lot of people, because they're expensive for low quality food," says Kent-Smith.