When I walked in to Coughlin's Law, a new Mount Washington restaurant named for a set of aphorisms from the 1988 movie Cocktail, I found myself struggling to pigeonhole it. Was it a classic ale house? A modern update? A grille and bar? More bar or more restaurant?
The first thing I noticed was the view of Downtown's skyline (obviously). The second thing was a strong scent of oak. It reminded me of a fresh fire, bacon freshly cooked, and immediately started my stomach growling.
As we sat down and looked at the menu, I found myself a little overwhelmed. There were six sections to pick from, including a diverse selection of appetizers ranging from hummus to charcuterie to chicharrones (fried pork belly or pork rinds).
To start, my dinner date and I ordered bacon lollipops, which are exactly what you would think: crisp bacon wrapped in a ball, stuck on a stick, and served with chipotle syrup. The syrup was amazingly sweet and the perfect balance to the saltiness of the bacon. I would have drank it on its own.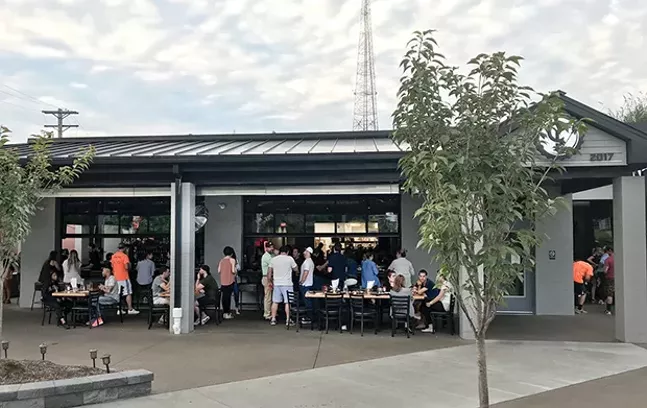 Instead, I choose an ale for my drink (it's an ale house, after all). Knowing almost nothing about beer, other than the fact that I enjoy it, I asked the waitress to recommend something.
She offered the Station 33 Firehouse Ale, a customer favorite brewed by North Country Brewing in Slippery Rock. The beer was light, something your friend who only drinks clear liquors might be able to enjoy.
For my entree, I decided on the eponymous Coughlin's Burger. I felt like if they were willing to put a name on it, the burger must communicate something important about the restaurant as a whole. I was right.
The burger was served on a small, round plate and was covered in a glass bowl, like the one covering the rose from Beauty and the Beast. The waitress set it down in front of me and lifted it up, releasing a small cloud of steam that traveled over the burger and gracefully down the plate.
After figuratively picking my jaw off the floor, I realized that pork belly, chili slaw, bacon jam, smoked aioli, cheddar, and pickles all piled on a hefty meat patty made a tall burger, maybe too tall to tackle by hand.
With the help of my knife and fork, I dug in. The crunch of slaw and sweetness of bacon jam created an interesting, satisfying bite. The burger was filling, and I regretted having an appetizer after leaving a defeated bite I couldn't manage to get down on the plate.
Overall, the atmosphere was welcoming and the outside bar made for a great afterwork stop. The price point seems right for the quality and presentation and the food proves it's not just an ale house, but a restaurant that can stand on its own.