It's hard to talk about screen printing in Pittsburgh without mentioning Andy Warhol. The artform was the Pittsburgh-born artist's favorite technique, seen in pieces like his iconic screen-printed portraits of Marilyn Monroe and Mao Zedong on display in the permanent collection of the North Side museum named for him. So, yes, you will see his influence at Fine Print: An Exhibit by PULLPROOF Studio, currently on display at 707 Penn Gallery in Downtown Pittsburgh. But while Warhol might be the most well-known artist who used the medium, today's artists who have followed in his footsteps have taken the artwork in exciting new directions, bringing updated subjects, media, and humor to the artform.

Screen printing is no longer limited to just simplistic portraits printed in overlapping plates of different hues.
Fine Print features the work of nine studio artists from PULLPROOF Studio, a membership-based printmaking workshop and artist collective in Pittsburgh's Garfield neighborhood. "Screen printing for me is like the democratized version of photography and painting," Aaron Regal, one of the PULLPROOF artists in the 707 Gallery show, told Pittsburgh City Paper when the studio first opened its doors last year. "It's a way of making my work accessible, distributable and inexpensive to own. It's also an incredible propaganda tool for communicating to people, making them think or even changing their minds about things."
Regal's "If You Don't Have a Seat at the Table, You're Probably on the Menu" is a highlight in the exhibit, entwining the title words cut-out ransom note style with a photograph of a table full of happy people ready to feast, turning what would have been a cheerful family portrait into an incredibly disturbing image — in the best kind of way.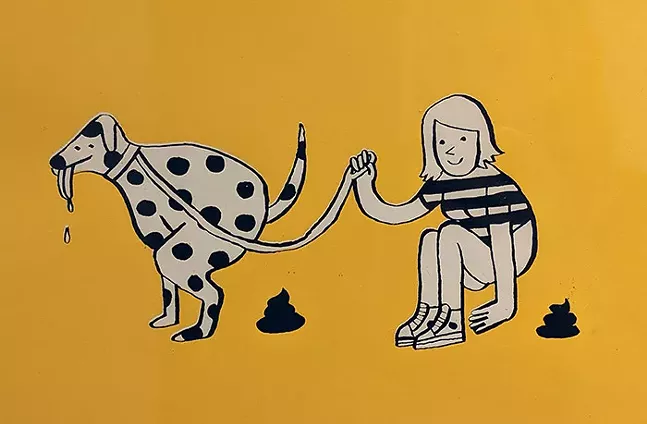 Artist Christina Lee also plays with the juxtaposition between cute and evil in her eight-piece set of adorable colorful prints featuring dark messages. "I'll Have a Double Vodka Soda" is engraved into a tombstone in one; on another, a girl holds a dog on a leash, both squatting with an adorable pile of shit beneath both of their butts. "Shock/awe and humor are two emotions I enjoy evoking in people," Lee, who illustrated this year's City Paper Winter Guide cover, shared with CP in an interview back in January.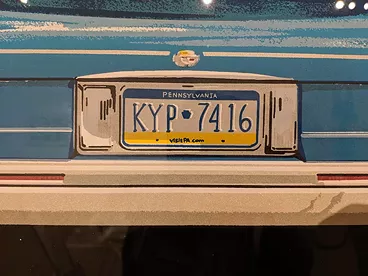 Fans of Warhol's work will gravitate to Anna Shepperson's silkscreened prints of fruits, with amazingly bright colors drawing viewers in from across the room. Other works in the show include "Atoms are Made of Empty Space Suit" by Harriet Smith, a pair of overalls covered in '80s-inspired urban screen-printed designs; pretty landscape prints with tongue-in-cheek surprises by Matthew Van Asselt; two pieces by Matthew Constant which combine screen printing with paintings; a playful mixed-media piece by Max Emiliano Gonzales that mixes found objects with acrylic paint and screen prints; and an impressive silkscreened print by Charlie Barber which automobile collectors will surely dig.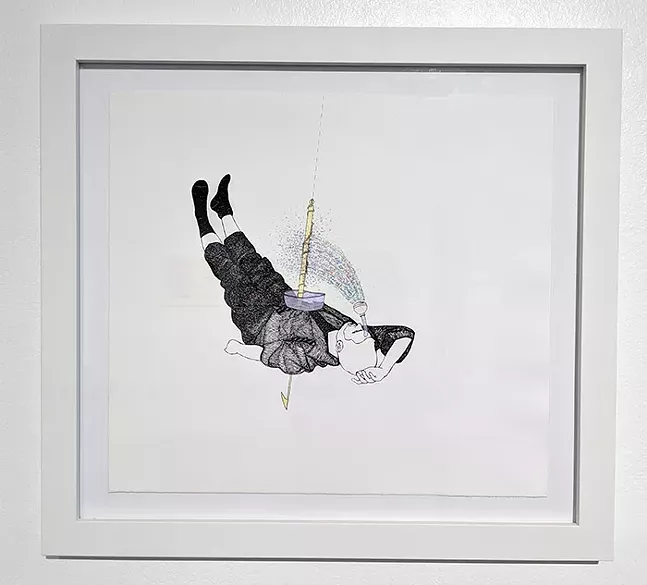 But it's Jon Irving's three pieces which are the most intriguing, and the most puzzling. Mostly black and white with small splashes of color, the artwork invites you to get up close to inspect the details not easily spotted from across the room, like the multi-colored minuscule words spelled out repetitively that look like confetti or streams of water from afar. And random sharp objects stuck inside the subject in the prints, like a harpoon in "Things Haven't Been the Same Since the Rats Left." They're gorgeous illustrations, though I'd be lying if I said I understood the artist's intentions. But, the pieces speak to the exhibit's overall theme of taking the art of screen printing to new forms and showing the talents and diversity of the new wave of Pittsburgh artists giving new life to the medium.
And the best part? You can take some of the artists' work home with you. A table in the gallery displays zines, prints, notebooks, and other screen-printed items created by the artists in the show. For only $12, you too can own Lee's Kim Kardashian Coloring Book.