Savory Bread Pudding
LUCCA by Chef Nathan Eddy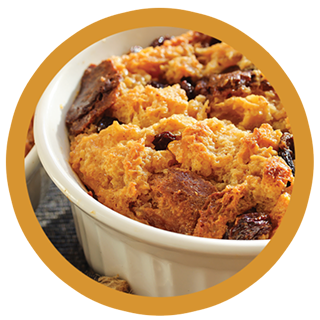 Oakland
luccaristorante.com
Bread pudding isn't only for dessert. This savory bread pudding preparation creates a fabulous protein side. It's balanced with sweet and savory and serves well alongside turkey, duck and chicken.
Ingredients:
1 loaf rustic Italian bread

2 cups heavy cream

6 eggs

3 tbs garlic powder

1 tbs all spice

1 tbs each - cinnamon and nutmeg

2 tbs each - rosemary and sage

½ cup each - chopped carrots, mushrooms and onions

Instructions:
Use loaf of rustic Tuscan bread. Remove crust and dice. Whisk together 2 cups heavy cream and 6 whole eggs. Set aside. Roast carrots, onion and mushroom over medium heat until soft. In a large bowl, add to the bread mixture, garlic powder, all spice, cinnamon, nutmeg, rosemary and sage. Add in roasted carrots, onion and mushrooms. Fold in egg mixture and stir together making sure bread is coated. Divide equally into 6 ramekins, place in water bath covered with foil and bake for 30 minutes at 350 degrees. Uncover and brown an additional 15 minutes. Salt and pepper to taste.