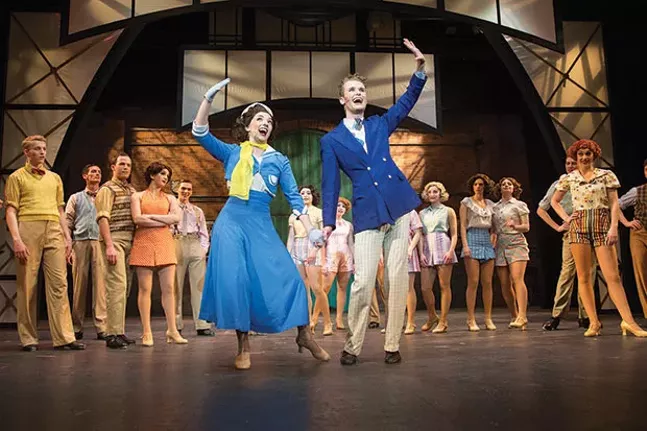 Next season, the Pittsburgh Playhouse disappears.
It won't vanish, but it will cease to exist as a performing-arts space when the theater and dance students of Point Park University move to a newly-built space Downtown. There are a few more shows left in the season, but the current production, 42nd Street, is the last musical that'll ever be seen at this fabled Pittsburgh landmark. And I can't think of a better send-off.
Based on the 1933 film, 42nd Street opened on Broadway in 1980 and is the quintessential backstage musical: Peggy Sawyer lands a spot in the chorus of a big B'way show and winds up going on in the leading role. ("You're going out there a kid, but you've got to come back a star!") It's fitting that a space which has hosted so many musicals would take a final musical bow with a show saluting musicals.
But that's just the half of it. Over the last few centuries, I've seen a number of glorious theatrical events at the Playhouse. This production of 42nd Street ranks as one of the best.
Director/choreographer (and Point Park alum) Eileen Grace was in the first national tour of 42nd Street and has used original director/choreographer Gower Champion's work as the vehicle to spotlight a cast of such forceful, scalding talent that, at times, you're overwhelmed and breathless. The friend with whom I saw the show couldn't believe these students weren't adults with years of experience under their belts.
Thanks to the mesmerizing work of Grace, every single person on that stage explodes their considerable talents straight to the heavens. Whether dancing, singing or playing the comedy, there is — and I know this sounds impossible — not a single flaw to be seen.
Halle Mastroberardino is a whirling flash of energy and charm as Peggy, with tap-dancing skills that'll leave you slack-jawed. Jeremy Spoljarik and Nora Krupp, as the show-within-the-show's director and diva, turn in velvet performances, textured and expertly underplayed. Kayla Muldoon and Gabe Reed get deserved laughs in their character roles, and Kurt Kemper and Emily Stoken sing and dance like they invented it.
I happily salute the incredible work of musical director Camille Rolla and her orchestra; Michael Montgomery's costuming; and Johnmichael Bohach's settings, lit by Calvin Anderson.
Whoever is buying the building may not need to hire bulldozers to knock it down, since the power of this production is practically nuclear.