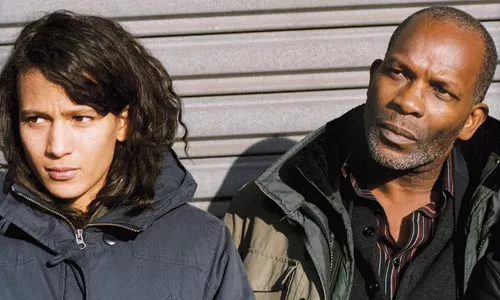 Claire Denis' film is a deceptively lean look at a handful of contemporary Parisians, whose ordinary lives nonetheless reveal much. Lionel (Alex Descas), who operates a suburban light-rail train, and his college-age daughter, Joséphine (Mati Diop), share an apartment on the outskirts of town. Their routines are intimate, and familiar without explanation. Both are engaged in ongoing, if initially unclear, intimate relationships with two other residents of their building: Gabrielle (Nicole Dogué), a middle-aged cab driver, and Noé (Grégoire Colin), a contemporary of Jo's.
This is not a film for those who require explicit narrative, such as a clear domestic crisis followed by resolution. Denis' canvas is a series of regular days, from which the patient viewer can glean both obvious and subtle shifts that are indeed momentous. (Denis devotes much time to simply filming train tracks: Trains travel the same way each time, yet carefully observed, every journey is different.)
In the meditatively paced, observational 35 Shots, everyday rituals flesh out the characters and their interdependence -- an after-work drink, a morning jog, a casually eaten dinner -- while two unexpected occurrences prove to be catalytic. One is certifiably dramatic, while the film's most clarifying shakeup is simply an unforeseen night out at a café, where the four main characters take turns dancing.
Running through it all are life's grand shifts, which are hard to snapshot -- mortality, the interdependency of families (or relationships that substitute for such) and the (often small) adjustments made to ensure that life goes on.
The film's title derives from Lionel's theory that only some of life's moments should be marked by such a significant amount of drink. The hard part, Denis suggests, may simply be noting such markers as they slide by in the day-to-day. In French, with subtitles. Starts Fri., Jan. 1. Regent Square