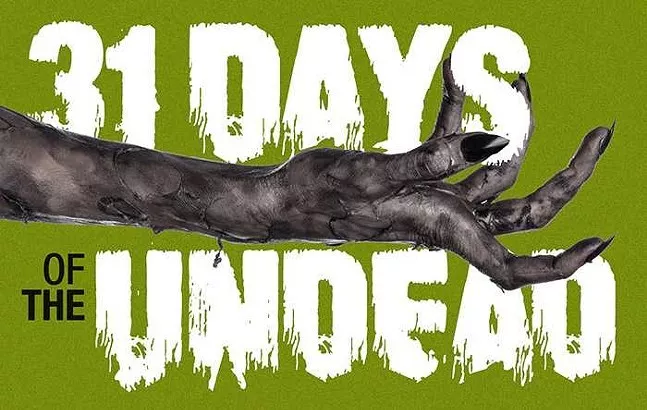 In honor of
Romero Lives!
, the city's month-long George A. Romero tribute,
Pittsburgh City Paper
presents 31 Days of the Undead, a series of reviews and essays about zombie media. Look for new posts going up every day from now through Oct. 31.
iZombie (2015-2019)
When my mom first made me sit down to watch an episode of
iZombie
, a cop-drama-comedy with an undead twist, I was skeptical. Zombies, cheap wigs, less-than-convincing acting? Nothing about the CW show made me think, "I want to watch this."
Fast-forward a month and I'm three seasons in, squeezing episodes between deadlines and homework assignments.
The show, loosely adapted from the DC Comic series of the same name, is a modern reimagination of the zombie trope in which zombies are mostly human until they're hungry. Liv Moore (Rose McIver) is a medical resident-turned-undead medical examiner, closeted to all but her closest confidante and co-worker, Dr. Ravi Chakrabarti (Rahul Kohli). After realizing what her new cravings mean, Liv leaves her fiance and spins her now white-blonde hair and pale skin as a stylistic choice to family and friends.
Liv's role as a medical examiner for Seattle P.D. gives her easy access to food. But satisfied cravings aren't the only thing being served — with every brain Liv eats, she also takes on the memories and personality traits of the person it once belonged to. She realizes the memories of murder victims are often useful for solving their cases and spins her supernatural zombie abilities as psychic ones.
After convincing newly appointed Detective Clive Babineaux (Malcolm Goodwin) of her "psychic" abilities, Liv partners with him to solve murders across the city.
Between eating hot sauce-soaked servings of brains, closing cases, and constantly changing personalities, Liv finds it increasingly harder to hide her zombie reality from those closest to her. Her relationships with ex-fiance Major Lillywhite (Robert Buckley) and district attorney assistant roommate Peyton Charles (Aly Michalka) are put into jeopardy by her new life.
It isn't long after waking up dead, however, that Liv realizes she's not the only zombie in Seattle. Blaine McDonough (David Anders) was infected at the same party as Liv. While Ravi has been working on a cure for Liv and to prevent the virus from spreading, Blaine has been infecting Seattle's elite, attempting to build an empire of undead.
Whether you're a fan of supernatural TV shows or cop dramas with a hint of comedy,
iZombie
is a perfect show to cozy up to this fall. With five seasons (it wrapped up earlier this year), even if you can binge an entire season in a week, there is still plenty of
iZombie
to last you through the season.