This was a pretty good year at the movie theaters, but TV has been giving the big screen a run for its money. The small screen in 2013 had some clear front-runners, like moody late-'60s Mad Men and Breaking Bad's wrenching final season. But there was other good stuff that was less hyped, tucked away on a far-flung cable channel or otherwise may have escaped one's notice.
Here's a sampling of what I dug this year: It's mostly new shows, and nowhere near definitive. The gloomy winter months are a perfect time to catch up with these shows via DVD, online streaming or on-demand cable.
I lovelovelove serial dramas, so 2013 was a great year for me and my TV. The British police procedural Broadchurch was a well-done take on the familiar: how a murdered child upsets the social equilibrium of a small seaside town. See this version before the American remake.
Over on Sundance Channel: Combining a procedural with gorgeous New Zealand scenery and an off-kilter subplot about a new-agey feminist camp, Jane Campion's Top of the Lake turned over a lot of unsettling rocks. Rectify was slow, moody and didn't have a lot of plot, but for the patient, it was a fascinating character study of a man released — but not exonerated — after two decades on Death Row.
FX continues to turn out quality genre entertainment, including The Americans, a 1980s period drama about Soviet spies working undercover in suburban Washington, D.C. It's as much a domestic melodrama as it is a thriller, an awkward dance of spycraft and marriage. The Bridge, adapted from a Danish show, started strong and wobbled a bit toward the end when it got caught in the serial-killer rut. But it had real strengths: a great performance by Demain Bichir, a messy milieu (the Juarez-El Paso border) and fascinating side characters. Fingers crossed for season 2.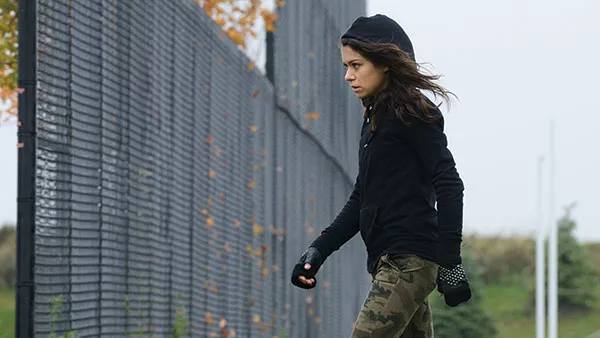 It was buried on the BBC America channel over the summer, but the thriller-with-sci-fi-overtones Orphan Black proved that entertaining TV can be low-budget, shot in generic Canada and headed up by a kick-ass woman. Actually, make that several women, as lead actress Tatiana Maslany delivered an amazing performance as a variety of clones.
Another show floated across BBC America that, even though it was about zombies, didn't get much attention. Mini-series In the Flesh was a darkly humorous look at how awkward life was for "rehabbed" zombies returning home.
The toughest show to talk folks into watching this year was HBO's Enlightened. But this awkward dramedy created by Laura Dern and Mike White about an imperfect woman (Dern) who finds purpose (sort of) in corporate whistle-blowing was my favorite show of the year: funny, sad, familiar, uncomfortable. I power-watched seasons 1 and 2 in less than a week. HBO cancelled it, but it wraps up well.
In the easier-laughs department: You either get Kenny Effin' Powers or you don't, and I'm in the camp that says Danny McBride's wildly profane and intentionally offensive HBO comedy Eastbound and Down is smarter than it seems. Season 5 was a near-perfect rollercoaster of Kenny's highs and lows, culminating in — shock! — personal growth.
Lovable, shaggy Irishman Chris O'Dowd anchors Family Tree, Christopher Guest's comedy for HBO about a man finding himself by tracing his oddball ancestors in the U.K. and the U.S. The show features a lot of Guest regulars, plus a woman who speaks through a monkey hand-puppet.
New TV Never Really Ends: I don't have Netflix, though Santa just brought it. So I haven't caught up on Orange Is the New Black or House of Cards, two shows I like the sound of and look forward to watching soon. I've also got the buzzed-about French undead show The Returned piled up on the DVR.
Also making my must-see list in 2013 were: Showtime's Masters of Sex, HBO's Veep (season 2 saw improvement) and Girls (ditto), and still more Justified.
And as a bonus, my pick for kookiest but still-serious reality show ever was Iceberg Hunters. This Canadian six-parter screened on the Weather Channel, and depicted a Newfoundland family shooting bullets at icebergs to break them up, "harvesting" the ice with a boat and selling it for fancy bottled water. TV: It brings you the world.