Between sports championships, global summits and a recession-resistant economy, Pittsburgh got a lifetime's worth of media coverage this past year. One way or the other, we kept finding ourselves in the national -- and even international -- spotlight. How did we handle the media attention? Were we ready for our close-up? We decided to take a look back at the year's highlights and lowlights to find out.
The verdict? Pittsburgh held up pretty well, all things considered. But if the world's economic leaders wanted to meet in Scranton next time around, that would probably be OK with us.
Jan. 5
Steelers linebacker James Harrison is named the NFL's defensive player of the year, but spends much of 2009 giving offense. He refuses to meet Barack Obama after winning the Super Bowl, then his pit bull attacks three people, including a child. Finally, his mother is arrested in Akron after a brawl during a Steelers loss. Look out: If the Steelers don't make the playoffs, things in the Harrison household might get testy.
Jan. 9
tENTATIVELY, A cONVENIENCE pulls together 22 local musicians to perform HiTEC, a improvisational game-based musical piece. sOUNDS cOOL.
Jan. 15
The Pittsburgh Public Theatre stages the local premiere of Mary Zimmerman's Metamorphoses, an acclaimed retelling of ancient Greek myths like Orpheus and Eurydice, and Eros and Psyche. With such visual treats as a full-size onstage swimming pool, the Public gives local stage productions an early high-water mark to beat.
Jan. 31
The night before the Steelers would take on the Cardinals in the Super Bowl, Mayor Luke Ravenstahl parties with rapper Snoop Dogg. Critics wonder whether the incident makes it harder to take the mayor seriously. By year's end, they'll be wondering if it makes Snoop harder to take seriously.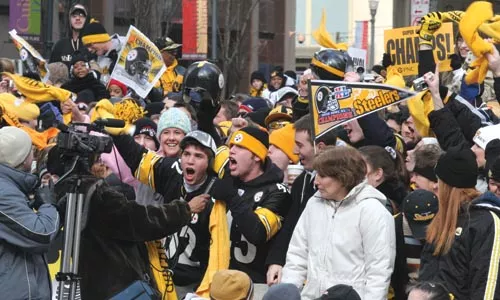 Feb. 1
The Steelers earn a sixth Super Bowl with a 27-23 win over the Arizona Cardinals. The victory, on a last-minute pass from Ben Roethlisberger to Santonio Holmes, had fans on the edge of their seats -- and bookies reaching for their defibrillators.
Feb. 19
Pittsburgh City Councilor Patrick Dowd announces he's running for mayor against Luke Ravenstahl. Like former mayor Pete Flaherty, Dowd pledges to be "nobody's boy." Sure enough, on Election Day he turns out to be an orphan.
Feb. 25
Braddock Mayor John Fetterman rounds out a mini-barrage of national media coverage by appearing on The Colbert Report. Comedian-commentator Colbert quips that the 6'8" Fetterman might be an irradiated comic-book hero. When plans are later announced to close Braddock Hospital, though, Fetterman will prove powerless before Dr. Doom and the rest of the UPMC board.
Feb. 27
Told that courtroom proceedings in the Richard Mellon Scaife divorce are taking place behind closed doors, City Paper tries to open the proceedings -- or at least get an explanation about why they're closed. Arguments ensue over the next few months, and CP manages to at least unseal the court order that's keeping the case under wraps. In the process, Scaife and his estranged ex-wife find someone they dislike more than each other: us. Let the healing begin!
March 9
Franco "Dok" Harris, son of the football legend, takes a break from running the family business -- and being involved in role-playing games -- to announce that he's running for mayor. Unfortunately, even in Dungeons & Dragons there's no saving throw against the third-party curse.
March 17
City council passes an ordinance banning couches from city porches -- a response to post-Super Bowl celebrations in which college students set the furniture on fire. Given subsequent events, maybe it would have been smarter to tax the couches instead?
April 4
At the Mattress Factory museum, local sculpting legend Thaddeus Mosley opens Sculpture (Home/Studio), a huge show of his work from the previous 10 years. Mosley's penchant for working with salvaged wood -- and the forest-like exhibit of vertically oriented sculptures -- give new meaning to the term "home-grown talent."
April 4
Three Pittsburgh Police officers -- Paul Sciullo III, Steve Mayhle and Eric Kelly -- are gunned down in Stanton Heights. Evidence suggests the alleged shooter Richard Poplawski subscribed to right-wing extremist views, including fears that government would take his guns away. Poplawski is so despised, though, that even Fox News hasn't offered him a show.
April 11
Former presidential candidate Alan Keyes kicks off a tax-season round of "tea parties," with a speech on the North Side. Exactly one week after the Stanton Heights shooting, Keyes exhorts his audience to cling to guns so they can "defend [our] liberty against the depredations of a government no longer committed to it." Can't imagine why this guy keeps losing elections.
April 14
After 43 seasons of bringing world-class poets to town, the International Poetry Forum holds its final reading, announcing it couldn't raise the money for another season. Language-lovers are left feeling that funders underestimate the value of a few well-chosen words.
April 28
After serving 44 years as an elected Republican, U.S. Sen. Arlen Specter switches teams and becomes a Democrat. It's a model display of bipartisanship: Now voters in both parties can feel aggravated by him.
May 4
The Port Authority announces plans to overhaul its entire route structure in the years ahead. In an effort to streamline the system, the number of routes and stops will be cut dramatically. Even routes that remain will be given new route numbers. The practice of drivers pulling away just as you are running up to the stop, however, will continue.
May 19
After boasting that she had no fear of defeat, Pittsburgh City Councilor Tonya Payne loses her seat in the Democratic primary. She later mails voters a letter -- at taxpayer expense -- complaining that she is "shocked" they would believe "distorted information surrounding my character." Yes, nothing convinces voters you're on the up-and-up like sending them a boastful letter at their own expense.
In other city-council action, first-time candidate Natalia Rudiak faces split opposition in District 4. Rudiak has a post-graduate degree, and is somewhat younger than dirt. Despite these political handicaps, she wins.
May 28
In its surprise announcement that the G-20 summit of world leaders would take place here in September, the White House cites Pittsburgh's transformation into a "green" city. Locals pause from shipping coal, drilling for gas and paving over farmland to acknowledge the honor.
May 29
Local party-metal band Awesome Party ups the ante for all local bands, by releasing its debut album at the Tennyson Lodge's Bare-aoke night. How do you top a release show that's ... topless?
June 12
The Pittsburgh Penguins defeat the defending champion Detroit Red Wings in Game 7 of the Stanley Cup finals, thereby humiliating former Pen Marian Hossa ... who left the team because he thought the Red Wings had a better chance to win. Pens fans revel in the sight of Hossa weeping openly. As an aside, the victory also earned Pens the Stanley Cup.
June 14
With a Sunday-night concert by The Wailers, the 50th Three Rivers Arts Festival -- first to occupy the reconfigured Point State Park -- successfully concludes its shortened, 10-day incarnation (down from the previous 17 days). Good omens: The fest was spared the driving rainstorms that usually turn our funnel cakes to mush.
June 28
Celebrated TV pitchman and McKees Rocks native Billy Mays dies. Stunned fans console themselves by telling a surprising number of jokes about Oxi-Clean.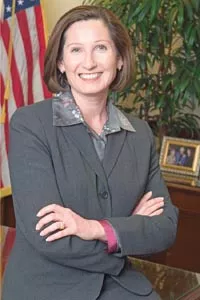 July 2
U.S. Attorney Mary Beth Buchanan's crusade against porn comes to an end when California porn producer, Rob Zicari, and his wife, Janet Romano, are sentenced to one year in prison for making hardcore adult videos. It certainly wasn't the climax that Zicari and Romano are used to.
July 7
Less than two years after buying the 140-year-old Iron City Brewery and promising to return it to its former glory, the company's owners cease operations at the Lawrenceville plant and move brewing operations to Latrobe. At least now you don't have to feel guilty for not drinking it.
July 10
KDKA morning anchor Sonni Abatta leaves the station for a job in Orlando. All over town, male viewers can suddenly be heard exclaiming, "I never realized this before, but local TV news is just a bunch of weather reports and traffic accidents!"
July 10
Def Leppard plays the Post-Gazette Pavilion. Attempts to appreciate this "ironically" fail utterly.
July 16
Takeover UK snags the cover of City Paper -- just days before we discover the band has been dropped by its label. The group breaks up shortly afterward. And yet, bands still ask to be featured on the front page.
July 20
Steelers quarterback Ben Roethlisberger is accused of sexual assault in a civil lawsuit filed by a Reno, Nev., casino hostess. It turns out that what happens in Reno (allegedly, according to legal pleadings that are as yet unproven and deserve a full hearing before a jury) doesn't stay in Reno. Please don't sue us for this joke.
July 24
When 100 union members and activists protest for better wages outside Mayor Luke Ravenstahl's office, a city employee chains and padlocks the front door ... a visual that guarantees the protest 10 times as much media coverage. Note to Ravenstahl administration: If you're going to take the PR hit that comes with acting like a despot, it's more effective to shackle the demonstrators.
July 30
Congressman Jason Altmire tells Fox News that for him, "first and foremost," health-care reform "is all about reducing the cost of health care," rather than providing more coverage. We're still waiting for the day Altmire votes against a defense bill because, first and foremost, the military needs to reduce the cost of going to war.
Aug. 9
The Rivers Casino opens its doors and packs the house on its opening weekend, as slot-machine gambling officially arrives in the city. But since then, revenues have been well below expectations, with the casino's bonds downgraded to junk-bond status. Good thing the North Side has some pawn shops nearby: Management can get in line right behind its own customers.
Aug. 14
A gunman enters an LA Fitness center in Bridgeville and opens fire on a women's exercise class, killing three and injuring nine others before killing himself. After the rampage, reporters turn up a blog authored by the shooter, George Sodini, in which he discusses his hatred of women. Copies of the blog can still be found online. Thanks for bringing us closer together, Internet!
Aug. 15
The city launches an "iBurgh" application that allows residents to report potholes and other problems by iPhone. Thanks to the new technology, citizens' complaints can be ignored more efficiently than ever.
Aug. 19
Generic drug-maker Mylan sues the Pittsburgh Post-Gazette for its reporting on the company. Apparently, the best cure for a PR headache is a dubious lawsuit designed to cow reporters into silence. But isn't the idea to sue companies that actually have money?
Sept. 3
In case anyone wondered whether City Councilor Jim Motznik was fit to be a district judge -- an office he ran for and won -- he removes all doubt during a council debate. After being told a proposed tax-relief bill was illegal, he replied: "Big deal." Here comes the judge -- ready or not.
Sept. 4
The city orders the Brew House Association to vacate its premises because of building-code violations. The South Side landmark, a former brewery, began reinventing itself three decades ago with squatters who gradually turned a vacant brewery into live/work space. But somehow, we're not surprised. "Artist lofts" that artists could actually afford? It was too good to last.
Sept. 7
The Pirates lose 4-2 at home to the Chicago Cubs for their 82nd loss of the season, thus cementing a record-breaking 17th straight losing season. Remember the days when we were happy they didn't move out of town?
Sept. 17
Years in the making, and four years after the death of its namesake playwright, the August Wilson Center for African American Culture officially opens with an evening of live music and dance. The building looks out on the Hill District, the Pulitzer-winner's home neighborhood, and features street-level picture windows -- just the connection to everyday life that informed Wilson's monumental plays.
Sept. 17
Mayor Luke Ravenstahl convenes the first meeting of the Lesbian, Gay, Bisexual and Transgender Advisory Council. Sure, the county passed an anti-discrimination bill this year, but this marks real progress for the LGBT community too. Now they have their own commission for the mayor to not think about ever again. Just like everyone else!
Sept. 18
State environmental officials announce that over the course of three weeks, pollution had killed all animal life in more than 30 miles of Dunkard Creek, along the West Virginia border. Investigators later trace the pollution to several West Virginia coal mines. West Virginia, apparently, thought a little more wouldn't hurt: The state allowed mine discharges to resume in December.
Sep. 24
The city lays down "sharrows" -- shared-lane markings indicating high cyclist traffic and pointing out the importance of sharing the road -- on Forbes Avenue in Squirrel Hill. The markers connect with bike lanes already installed in the East End. Now if we could just convince our fellow drivers that those lanes with the little bike stencils aren't turning lanes ...
Sept. 25-27
World leaders and the global media descend on Pittsburgh for the G-20 global economic summit. There's some scattered vandalism in the East End, but very few protesters ever show up. (It's not like the Steelers won the Super Bowl or anything.) Aggressive police tactics -- including the use of a new-fangled "sound cannon" -- manage to corral a slew of complaints anyway. These guys are professionals: They're going to crack down on dissent even if demonstrators don't show up.
Sept. 25
Sure, Tim Kaulen's big opening night had to compete with the G-20. But if the summit proved how to take a lot and accomplish very little, the Pittsburgh Center for the Arts' Artist of the Year offered the opposite: large-scale sculptures based on vintage children's toys, and assembled from scrap metal, that would grace the arts center's lawn into the winter months.
Oct. 1
At a charity event, Mayor Luke Ravenstahl demonstrates his commitment to free speech by telling American Civil Liberties Union head Vic Walczak to fuck himself. Scores of reporters are in attendance: They demonstrate their commitment to free speech by not reporting on the incident.
Oct. 1
The state of Pennsylvania finally passes a state budget, 101 days past the deadline ... balanced with $250 million from table-game revenues that don't exist yet. In fact, our legislators are already bungling the seemingly straightforward task of legalizing table games. Who says Harrisburg never plans ahead? They've already got an early start on next year's budget crisis.
Oct. 6
The deficit-ridden Carnegie Library of Pittsburgh announces it will close five branches, including the system's oldest, in Lawrenceville. The news prompts an uproar, and highlights the fact that city taxpayers contribute just $40,000 a year to the libraries -- roughly half of one day's overdue-book fine for each city resident. The simple solution -- have everyone keep books a few days overdue -- goes ignored.
Oct. 6
Dan Onorato announces -- surprise! -- that he's running for governor. His official campaign kickoff -- at the IBEW hall in the South Side -- is disrupted by demonstrators upset at police actions during the G-20. They are quickly arrested after scuffling with other attendees. If Onorato is smart, he'll arrange to have lefties arrested at every campaign stop, especially in rural counties.
Oct. 14
City Paper reports that after months of preparation, Kuhn's is wavering on plans to build a grocery store in the Hill District. The neighborhood, which has been without a supermarket for decades, again begins entertaining offers from other grocers. Dreams have no expiration date.
Oct. 17
The opening of "Obey Giant" artist Shepherd Fairey's big retrospective, at the Warhol, is among the year's biggest arts events. The celebration is boosted by the street artist's (legal) postering campaign on buildings around town -- and only slightly marred by his days-earlier admission that he lied about the copyrighted photograph on which he based his iconic Obama "Hope" poster.

Oct. 18
Steelers kicker Jeff Reed is cited for disorderly conduct after allegedly taking a threatening stance in the face of police officers already busy citing teammate Matt Spaeth for public urination. The incident raises disturbing questions about Reed's behavior: If he's willing to stand up to cops, why can't he at least look capable of tackling during kick-off returns?
Oct. 19
State Rep. Daryl Metcalfe (R-Cranberry) sends out an e-mail charging that any veteran who warns of the dangers of global climate change is "a traitor." The remarks provoke outrage from around the state, and GOP leaders respond forcefully ... by promoting Metcalfe to a committee chair the following month.
Oct. 21
During a mayoral debate, independent challenger Kevin Acklin accuses Mayor Luke Ravenstahl of having "a very intimate relationship" with little-known politico John Verbanac. This captures voters' interests for about three-tenths of a second, until Acklin claims that Verbanac's relationship just involves writing speeches and urging self-interested policies on the mayor.
Nov. 3
Luke Ravenstahl wins his re-election bid, ensuring a new millennium of peace and prosperity.
Nov. 5
Giant Eagle opens a gi-normous new Market District in Robinson, featuring some of the fanciest and priciest groceries in town. Typically, though, what excites Pittsburghers most is the fact that you can buy a six-pack there. How easy are we to please?
Nov. 5
A statue of the late Fred Rogers by Robert Berks is unveiled on the North Shore. Some detractors complain it looks like the beloved children's-show host is made of mud. But if anybody appreciated that any good Neighborhood has squishy, fun-to-play-with mud, it was Mr. Rogers.
Nov. 9
Mayor Luke Ravenstahl unveils a controversial "tuition tax" to help raise $15 million for the city's ailing pension fund. Universities complain that students are already cash-strapped ... and to oppose wasting students' money, they begin taking out large newspaper ads every single day.
Nov. 9
The state -- whose lawmakers earlier threatened to close state parks to save money -- opens some 32,000 acres of state forests for deep drilling of the Marcellus Shale natural-gas deposits. If future campers ever find their access to parkland restricted, they might want to disguise their tents as drilling rigs.
Nov. 13
"Carbon pollution threatens our future and human life itself," declares U.S. Sen. Bob Casey in a speech at Carnegie Mellon University. He goes on to advocate weaker targets for reducing greenhouse-gas emissions -- and more help for coal companies. A proposed topic for Casey's next speech: "The definition of cognitive dissonance."
Nov. 20
Local rock legend Donnie Iris, at a concert at Diesel, unveils his latest release: a beer called King Cool Light, now available at a smattering of local bars and distributors. While it's low on calories, we're confident that it's tasting better than a light beer's got a right to.
Nov. 23
Ravenstahl and his wife, Erin, announce their separation, just in time for the holidays. They also announce they've hired Richard Sprague, a high-powered Philadelphia attorney, to sue any media outlet that reports any claims that could defame them. This raises a thorny question: If reporters can't repeat statements that might harm Ravenstahl's reputation, how will they cover his speeches?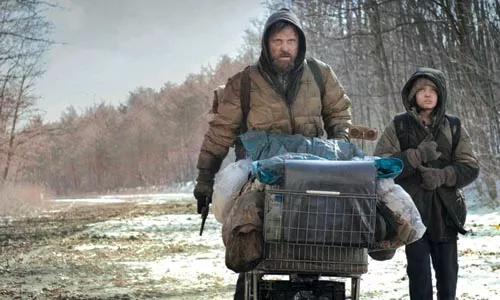 Nov. 25
Numerous articles tout Pittsburgh as a great place to ride out the recession. And according to director John Hillcoat, who filmed much of The Road here, it's not a bad place to ride out a global catastrophe either. Pittsburghers may be relieved to learn that, according to the film -- which is released today -- the post-apocalyptic landscape is no bleaker than Brownsville in January.
Dec. 1
Outgoing City Councilor Tonya Payne loses her post as chair of the Democratic Party's City Committee after using Facebook to launch an unsuccessful general election write-in campaign. Looks like someone needs to rewrite the "Activities" section of their profile.
Dec. 2
CBS pulls the Pittsburgh-set medical drama Three Rivers from its schedule, owing to bad ratings and poor reviews from critics. Maybe the show should have done more filming in Pittsburgh itself: Everything else that happened here this year got at least one fawning story in The New York Times.
Dec 14
With financial aid including more funding from the city, the Carnegie Library's board of trustees put off closing four library branches for at least a year. Although the ways of plugging a $1.5 million budget deficit include a 1 percent tax on table games at the Rivers Casino, the board decided that was better than gambling with the libraries' future.
Dec. 19
Proving that in this town, just watching and playing games isn't enough, the Carnegie Science Center opens its revamped Highmark SportsWorks. The interactive exhibits about the physics of sports and more include a human yo-yo (the You-Yo) and "the world's largest bubble-hockey table." We're still waiting for the exhibit that explains why Ike Taylor can't catch a football.
Dec. 21
Pittsburgh City Council unanimously approves legislation guaranteeing prevailing-wage jobs to service employees working at large city-subsidized developments. Smart move: The way the city budget is going, elected officials might need to pick up side gigs.
Dec. 30
City Paper editorial staff runs out of fresh ideas, and falls back on re-publishing last year's news, dressed up with some lame jokes. Bring on 2010, already.