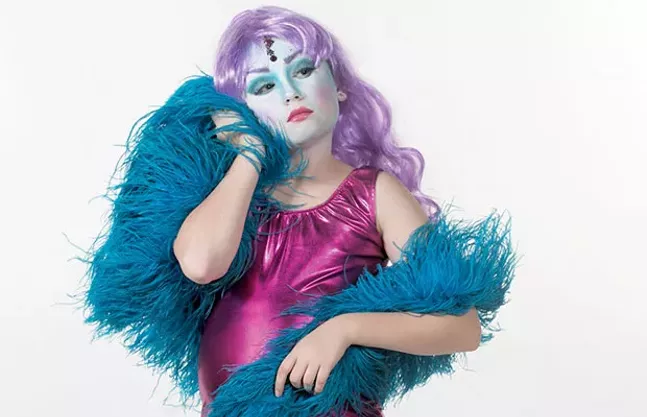 Drag queens and kings perform as caricatures of gender, playing up the most extreme ends of the gender spectrum and creating larger-than-life characters who entertain through their exuberance or humor, and sometimes both. Drag artists lip-sync and perform routines that push boundaries to make crowds respond with laughter or screams of delight.
The art of drag has been around since the late 19th century, but drag is part of popular culture now. Its popularity is, in part, due to the smashing success of TV's RuPaul's Drag Race, a highly entertaining drag competition and reality show that wrapped its ninth season this summer. In the city of Pittsburgh, there are places where you can see local and national drag performers bring the house down, be it Blue Moon, in Lawrenceville; Cruze, in the Strip; or Glitter Box Theater, in Oakland.
In addition to being a space of gathering for the queer community, drag shows have been a central component of the LGBTQ civil-rights movement. Queens have been central to the revolution since its inception, leading the protests and riots in the Compton Cafeteria, in 1966, and New York City's Stonewall Inn, in 1969, pushing back against police brutality and discrimination.
Drag continues to be a place where queer folks can push boundaries, especially when it comes to gender identity. And it is in this space of gender exploration that Esai Varela, a 12-year-old drag queen who performs as E! The Dragnificent, thrives. It's all a part of their mission to change the way people see gender.
E!, a musical-theater student at the Pittsburgh Public High School for the Creative and Performing Arts, first got the itch to take up drag performance around the age of 10.
"I was in a show called Come Play With Me, and I saw all the lovely drag queens there, but also knowing so many drag queens my whole life, it just made me want to do it because it looked really fun," they say.
From the time E! was walking, their mother Dre Varela confirms they were playing with traditional gender boundaries.
"They were putting on my stiletto heels when they were 3. I once found a bright red pair of my stilettos under the crib, and I asked my roommate at the time if he put them there," laughs Varela. "Then I caught Esai shuffling around in them, in nothing but pull-ups, and I was like, 'Oh my god!'"
But that's not the only thing that defines them. E! loves comedy, is a member of the Hope Academy at East Liberty Presbyterian and is also a ukulele enthusiast.
And the arts definitely run in E!'s family. E!'s father is a visual artist, and Varela is a burlesque and variety performer. When E! was 4, Varela ran a dance studio out of the home.
"I had a dance studio in my house, and since I produce a burlesque and drag troupe, all my friends would be over, and we'd be rehearsing," says Varela. "I had a roommate at the time who was a very flamboyant drag queen himself, so Esai was always around very colorful people and would get into the costumes."
E! would tag along to rehearsals all over the city dressed in princess gowns.
"It had never even occurred to me that E! would want to perform in drag," says Varela. "But [performing] is something that's always been in his blood, and it was just what he gravitated toward."
On the Facebook page for E! The Dragnificent, Varela posts videos of her child in extravagant, creative costumes. In one video, E! uses a sparkly, blue bed canopy as an ornate crown and veil.
"They've always lived in my closet, so much of what I buy ends up in theirs, and because so many of my friends also perform, E's always getting hand-me-downs of makeup and costumes," says Varela. "They're really lucky!"
E! has two "fairy drag fathers," as Varela calls them, a couple living in Columbus that hand down all their costumes to E!. Additionally, other queens and dancers share looks and makeup with E!, and the queen community has also been supportive and full of advice.
"They tell me to keep up my fire, and keep doing what I'm doing because it'll all pay off, and that feels amazing," says E!. "They're really supportive."
And so far, that advice is ringing true. After just a few years of drag performances, E! The Dragnificent will be headlining at the Austin International Drag Festival the second weekend of November.


E!, who uses they/them pronouns, is an active proponent of changing the way people view gender. They believe gender is a constricting construct, one that they actively push against. To fundraise for E!'s trip to Austin, the family made shirts with a photo of E! vogueing on it, paired with the message: "Let's tell the world to unlearn gender!"
"I think that unlearning gender means boys and girls should express themselves the way they want to and without people telling you, 'You're a girl, so you should be doing this' or 'You're a boy, you should be going over here.' It's this big giant thing, and it's so hard for people to feel just one way or the other," E! says.
Discussions about gender are happening all over the world. And although many indigenous people, non-Western cultures and intersex people have long believed there are more than two genders, the conversation about gender is starting to get louder in the United States.
During last year's presidential election, the topic of gender became a talking point when the candidates discussed the rights of trans people to use the bathroom that matches the gender they identify with. In early October, California became the first state to legally recognize a third gender option on official documents. And some colleges are beginning to establish preferred name and pronoun policies to ensure students are addressed correctly.
In addition to debates about allowing trans people to use their preferred restrooms, there are also conversations about ensuring public places have gender-neutral restrooms for those who exist outside of the binary male-female definitions. That's where E! lives, and they say it can be hard to exist in a world that refuses to let you properly express yourself.
Through drag, E! says they find freedom from rigid gender roles and expectations. Drag performers across the gender spectrum play with the absurdity and exaggerations of gender presentation.
"[Drag] has gender in it because there are queens that are nonbinary that play a big femme personality of a woman, or it's a man who plays a woman that has a big personality, or a woman who plays a man," says E!. "And it all has to do with gender."
City Paper sat down with E!, in October. With full makeup on, E! looks older than 12, carrying themselves with a sense of confidence as they donned their blue wig and shiny pink jumpsuit, covered in a thin layer of glitter. But E! also has a sweet little voice and a silly sense of humor.
"You can never have too much glitter," E! says.
On Sat., Nov. 11, in Austin, E! will be performing a Madonna montage of "Lucky Star," "Vogue," "Frozen" and "Hung Up." They'll also be performing "It's Oh So Quiet," by Bjork.
When CP asked E! how they felt about performing at their biggest show yet, they admitted to being "nervous-cited," a combination of excited and nervous, of course.
It's a pretty calm and measured response for a 12-year-old who is about to perform with some big-name drag stars from around the globe, including one of their favorite drag queens, Latrice Royale.
"She's very funny, and she has a great laugh that's very long," says E!. "She's amazing!"
"Esai is pretty naive about most things. They just have no concept that any of it is a big deal. I think it's because E!'s been around performing all their life, and so they have no concept that this is that big of a deal," says Varela. "They're very lucky in that way."
When CP asked what they're most excited about for the upcoming show, a warm smile spread across their face before they said, "I'm most excited about getting up there and performing as myself."