DANCE
71. Catapult: The Amazing Magic of Shadow and Dance
A dance performance like no other,
Catapult
tells a story using the art of shadow dancing, where dancers perform from behind a screen to produce silhouettes of various landmarks, animals, and objects.
7:30 p.m. Thu., Oct. 10.
101 Sixth St., Downtown. $30-50.
trustarts.org


LIT
72. The Moth Pittsburgh GrandSLAM Story Championship
The Moth takes the stage at the Carnegie of Homestead Music Hall for a battle of words with the Pittsburgh GrandSLAM Story Championship. A handful of storytellers will compete to see who can tell the most compelling tale.
7:30-9:30 p.m. Fri., Oct. 11.
510 E. 10th Ave., Munhall. $27. librarymusichall.com
MUSIC
73. Tributefest 10 Friday Night
Head to Cattivo for the first night of Tributefest 10, an annual event featuring live bands performing as legendary music acts. This year's participants will play as The Kinks, Blondie, Simple Minds, and more, all while raising money for Humane Animal Rescue.
Fri., Oct. 11- Sat., Oct. 12. 146 44th St., Lawrenceville. $10.
cattivopgh.com
COMEDY
74. That Golden Girls Show! A Puppet Parody
Sophia, Rose, Blanche, and Dorothy are back ... in puppet form! Pay tribute to the hit comedy about the lives and loves of four women in Florida with a night out at this touring Off-Broadway production.
Fri.,
Oct. 11-Sat., Oct. 12. Byham Theater,
101 Sixth St., Downtown. $25.
trustarts.org
ART
75. This Skin of Ours
Curated by Liz Park, this show focuses on the largest and most exposed human organ: the skin. On view at Miller ICA at Carnegie Mellon University, the group exhibition includes photography, painting, installation work, and silkscreen on paper.
Sat., Oct. 12-Sun., Nov. 17.
5000 Forbes Ave., Oakland. Free.
miller-ica.cmu.edu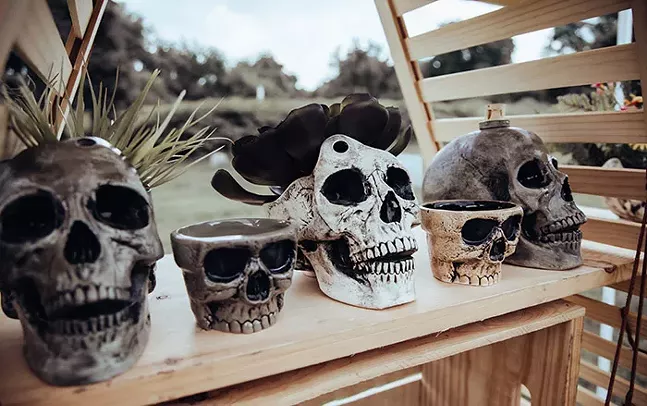 FAIR
76. Darksome Art & Craft Market: Every Day is Halloween
If you start looking for Halloween decorations as soon as the fireworks go off in July, this event was made for you. Paintings, jewelry, clothing, and more will be available to purchase from about 50 "weird and spooky" artists.
12-5 p.m. Sat., Oct. 12. Union Project, 801 N. Negley Ave., East Liberty. darksomecraftmarket.com
FAIR
77. Dormont Street Fair
Hang out with your neighbors and make new friends while perusing craft vendors, stuffing your face with local food, and listening to live music at one of the city's most down-to-earth neighborhood parties.
3-10 p.m. Sat., Oct. 12. Potomac Avenue, Dormont. Free.
boro.dormont.pa.us
DRAG
78. RuPaul's Drag Race World Tour
Based on the hit reality competition series, the show goes on a wild journey with intergalactic queens and drag performers Asia O'Hara, Aquaria, Detox, Monet Exchange, Naomi Smalls, Plastique, Violet Chachki, and Yvie Oddly.
8 p.m. (6 p.m. for VIP guests)
Sat., Oct. 12. Heinz Hall, 600 Penn Ave., Downtown. $57.75-167.75.
pittsburghsymphony.org
ART
79. An Art of Changes: Jasper Johns Prints, 1960-2018
Explore six decades of work from one of the country's most influential artists, known best for helping to usher in the modern pop era with his minimalistic but colorful images of flags and targets.
Sat., Oct. 12-Sun., Jan. 19. Carnegie Museum of Art, 4400 Forbes Ave., Oakland. $12-20.
cmoa.org


OPERA
80. Don Giovanni
What better way for Pittsburgh Opera to open its 81st season than with Mozart's legendary
Don Giovanni
? The timeless tale focuses on the eventual comeuppance of a smooth-talking jerk named Don Juan and, fun fact, marks the very first use of a trombone in opera (whoa!).
Sat., Oct. 12- Sun., Oct. 20. Benedum Center, 237 Seventh Ave., Downtown. $14. pittsburghopera.org