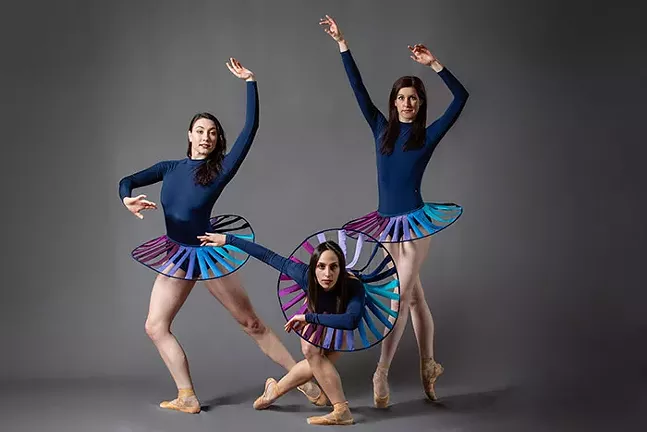 DANCE
41. Beatles & Bach
Modern rock meets ballet when New Hazlett Theater presents
Beatles & Bach
. The show includes all-new choreography by Texture Contemporary Ballet and original live musical accompaniment by the symphonic Pittsburgh-based rock group, Cello Fury.
Fri., Sept. 27-Sun., Sept. 29
.
6 Allegheny Square, North Side. $20-30.
newhazletttheater.org
ART
42. Factory Installed 2019
This series will highlight pieces from the archives of late artist Greer Lankton. Also included are new, site-specific installations by Jon Rubin, Tra Bouscaren, Naomi Draper, Nathan Hall, Patte Loper, Pepe Mar, Adam Milner, and Patrick Robideau.
Opens Fri., Sept. 27.
Continues through 2020. Mattress Factory, 500 Sampsonia Way, North Side. $10-15. mattress.org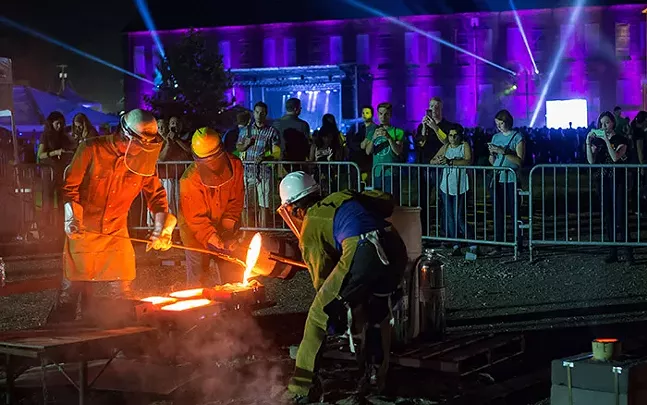 FESTIVAL
43. Festival of Combustion
Pay homage to Carrie Furnace's roots with a celebration of all things fiery, metallic, and hot. Hands-on demos will teach guests skills like glassblowing, iron casting, and welding. If you're more of a hands-off combustion fan, enjoy food trucks, beer, a maker marketplace, and music from Nikki Lane.
1 p.m. Sat., Sept. 28. Carrie Blast Furnaces, Carrie Furnace Blvd., Rankin. $30. riversofsteel.com


STAGE
44. Mystery Science Theater 3000 LIVE: The Great Cheesy Movie Circus Tour
Grab your red jumpsuit and join the crew of Gizmonics Institute to revel in the absurdity of Jean-Claude Van Damme's ninja-ghost movie
No Retreat, No Surrender.
Show creator and longtime host Joel Hodgson will appear with robots Tom Servo, Crow, and Gypsy, to riff on cinematic sculch at the Byham Theater.
7 p.m.
Sat.,
Sept. 28. 101 Sixth St., Downtown. $35-55.
trustarts.org
RACE
45. Great Race
Pittsburgh has a lot of pretty good races, but only one that's truly Great. Since 1977, the annual fun-run has brought locals together for scenic runs across Pittsburgh neighborhoods. Options include a 5K, 10K, and shorter versions for youngsters.
6 a.m. Sun., Sept. 29. Three Gateway Center, 401 Liberty Ave., Downtown. rungreatrace.com


FEST
46. Pittsburgh Latino Festival
. To celebrate Pittsburgh's Latino community, all of the Latin inspired food trucks in the 'Burgh will be gathered in one place for a day of delicious family fun.
11 a.m.-4 p.m. Sun., Sept. 29. Strip District. Free. "Pittsburgh Latino Festival" on Facebook
MARKETPLACE
47. Sneaker Convention
The experts all agree: Feet are important and should be treated with respect. And there's no better way to show them love than with a new pair of fresh kicks courtesy of VizDaGenius' sneaker convention at Spirit, featuring music from DJ Spillz and vendors happy to trade/sell/buy to your heart's content.
11 a.m. Sun., Sept. 29. Spirit, 242 51st St., Lawrenceville. $10. spiritpgh.com
GAMING
48. Super Smash Bros. Tournament
Melee for a mural as Roboto hosts a Super Smash Bros. tournament to help fund an upcoming painting at the venue. If altruism isn't your thing, don't worry: the top three contenders will split a prize pot.
12 p.m. Sun., Sept. 29. The Mr. Roboto Project, 5106 Penn Ave., Bloomfield. $5. therobotoproject.com
FOOD
49. Western PA Lamb Cook-off
Thanks for mutton. This year's Western PA Lamb Cook-off is sure to be a blaaaaaast, featuring a cook-off between 10 collaborative chef teams from Pittsburgh's most celebrated restaurants. Attendees get unlimited tastings, giveaways, and a swag baaaaaaag.
2 p.m. Sun., Sept. 29. 26th St., between Railroad and Smallman St., Strip District. $65-100.
tablemagazine.com/lamb-fest-1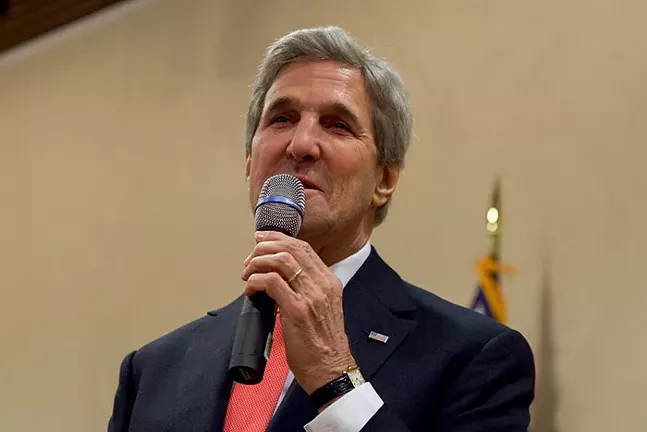 LECTURE
50. John Kerry at Pittsburgh Speaker Series
Kicking off the 2019-2020 season of the Pittsburgh Speaker Series is former United States Secretary of State John Kerry. The series features a lineup of influential personalities, and future events include Susan Rice, Bob Woodward, and Jason Alexander. There are seven lectures in total and tickets can only be purchased as a package.
8 p.m.
Wed., Oct. 2. Heinz Hall, 600 Penn Ave., Downtown.
pittsburghspeakers.org