MUSIC
31. Steel City Ska Fest 2019
Third-wave ska, two-tone ska, traditional ska — listen to all the ska until the word ska starts to sound weird. Featuring Mephiskapheles, The Independents, The Burnrides, Catbite, and more, Steel City Ska Fest 2019 will have a type of ska for every ska lover.
5 p.m.-12 a.m. Sat., Sept. 21. Spirit, 242 51st St., Lawrenceville. $25.
steelcityskafest.bpt.me
ART
32. Etna Art Tour
Just 10 minutes from Downtown Pittsburgh, the borough of Etna is evolving into a hub for local artists. Explore the charming neighborhood with live painting, art exhibits, studio tours, and live music at this fifth annual art tour.
5-9 p.m. Sat., Sept. 21. Butler Street, Etna. Free. "Etna Art Tour 2019" on Facebook
ART
33. Fringe Benefits
The artist-run, woman-owned CDCP Project Space presents a collection of artwork by its staff members. Curated by Casey Lee Droege, the show includes works by Candace Opper, Corrine Jasmin, Eriko Hattori, and Nicole Czapinski.
Sat.,
Sept. 21-Oct. 20.
317 S. Trenton Ave., Wilkinsburg.
caseydroege.com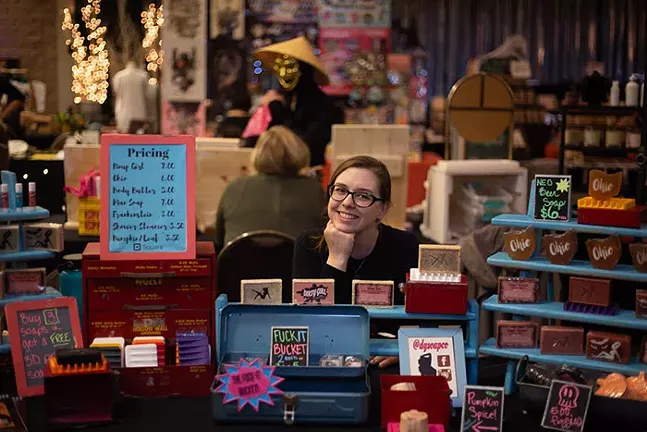 FAIR
34. Bitchcraft Fair Pittsburgh
Like to dabble in the occult? Wish you were BFFs with Sabrina or Hermione? Embrace your resting witch face for a festival full of like-minded artists, mystics, and (alcoholic) spirits. Costumes are encouraged.
11 a.m.-7 p.m. Sun., Sept. 22. David L. Lawrence Convention Center, 1000 Fort Duquesne Blvd., Downtown. $10.
bitchcraftfair.com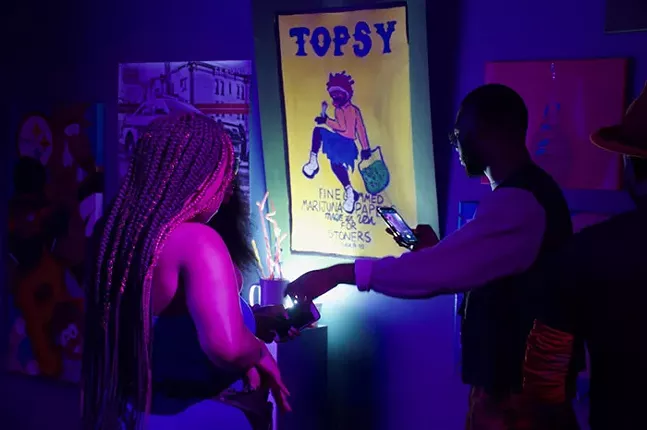 ART
35. The FTR is BLK
For one night only, an interactive art and fashion show at Glitter Box Theater will showcase the work of Black artists with a fashion show (and competition), live mural painting, raffles, food, drinks, and more.
8 p.m.-1 a.m. Thu., Sept. 26. 460 Melwood Ave., Oakland.
theglitterboxtheater.com
HAUNTED
36. Phantom Fright Nights
Is there anything scarier than riding a roller coaster in the dark? Pittsburgh's beloved amusement park goes dark for Halloween, bringing goblins, cobwebs, fog, and ghoulish treats to the popular attractions.
Fridays and Saturdays, Sept. 27-Oct. 26, and Sundays Oct. 13 and 27. Kennywood, 4800 Kennywood Blvd., West Mifflin. $20-50.
kennywood.com


DANCE
37. MICHIYAYA Dance
New York-based dance company MICHIYAYA Dance will bring its multimedia show
Gurih
to The Andy Warhol Museum for one night. The show, which focuses on the "queering of our senses through a multicultural lens," will feature dancer Belinda Adam.
8 p.m. Fri., Sept. 27. 117 Sandusky St., North Side. $12-15.
warhol.org

DANCE
38. Olivier Tarpaga's When Birds Refused to Fly
Renowned dancer and choreographer Olivier Tarpaga brings a new dance-theater work focused on (and scored by) the Burkina Faso group Super Volta Orchestra, a band that "evoked the transforming energies that surged across African nations" in the 1960s.
Fri., Sept. 27-Sat., Sept. 28. Kelly Strayhorn Theater, 5941 Penn Ave., East Liberty. Pay what makes you happy. kelly-strayhorn.org
PARTY
39. The Garden of Eden: A Body Positive Party
Shed your inhibitions and more when There Ultra Lounge presents this body-positive, clothing-optional party. Hosted by Pittsburgh Area Naturists, a local group that embraces nudity in social and recreational settings, the event celebrates all body types in a safe, welcoming environment.
8 p.m.-2 a.m. Fri., Sept. 27. 931 Liberty Ave., Downtown. Free. Registration required.
facebook.com/THEREUltra
STAGE
40. Evil Dead the Musical
If you combine the
Evil Dead
movies and
Army of Darkness,
you get a chainsaw, a handful of one-liners, and lots of blood. If you add music to that cornucopia of the macabre, you get
Evil Dead the Musical.
Sit in the first few rows if you're brave enough to handle "the splash zone."
Fri., Sept. 27-Sat., Oct. 19. Gargaro Theater, 327 S. Main St., West End. $40. pittsburghmusicals.com.